Hard work = results for Soccer Academy keeper
May 21, 2009
by: Dan Tierney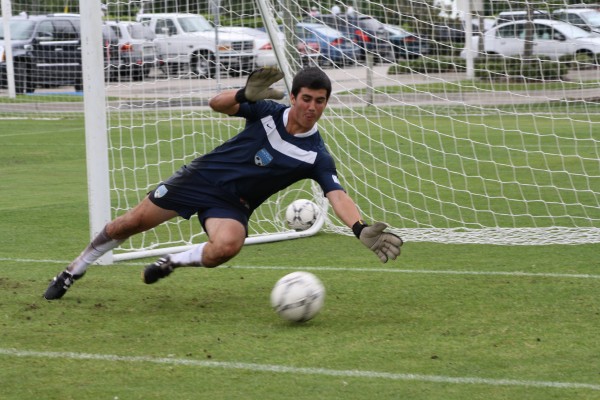 Mauro Martin had an option last weekend: hit the road for Miami or hit the books for his upcoming finals.
After a year of living on his own and maturing at the IMG Academy soccer program, the rising junior goalkeeper knew the right choice to make.
"I stayed back," he said. "I've learned from living on my own that I have to be smart and make good decisions."
On the field and off, Martin has grown in his first year at IMG. A native of Spain, Martin and his family moved to Miami three years ago. He played for a local club team and his school team, but realized he needed more to have the best shot at playing in college.
With practice occurring only a couple days per week in Miami, Martin had an awakening after arriving at IMG.
"When I came in," he said, "I thought I'd be at about the same level as the other keepers. But I realized that their technique was much better - they were a lot cleaner. They got to the second balls and rebounds so much better. And you really had to plan your time. With practice and school and weights, it takes up a lot of time."
Soon, Martin adapted and began working harder than he ever had before. He began dividing his time better. He interacted with other students from around the world and now knows enough Portuguese to hold a conversation.
IMG Academy soccer program goalkeeper coach Scott Bowers has seen the difference.
"He's gotten bigger and stronger and improved his technique," Bowers said. "Just by cleaning up his technique, he's gotten more confident and played better."
Added Martin: "I've improved so much and am much more mature now. My time here has made me see how much you really need to want something to achieve it. You have to fight for it."
Quick hits with Mauro:
Favorite team: Real Madrid. I dislike Barcelona a lot.
Favorite Player: (Real Madrid and Spain National Team goalkeeper) Iker Casillas
Attending a Real Madrid/Barcelona game: My mom didn't let me. She was too scared. It gets pretty crazy, especially when Real Madrid loses. There are a lot of fights. Fans for Real Madrid start picking on everyone, even if you're a Real Madrid fan. They just want to take their anger out on someone.
Whom he least wants to face taking a penalty shot: I've never thought about it, but probably (Barcelona's) Lionel Messi.
What he most misses from Spain: Saturday and Sunday soccer with my friends. The whole town goes to watch the local team, so it's really exciting.
What he likes most about the U.S.: The opportunities to advance my future. There are a lot of open doors.