Kuhns set to re-join ALL-MADDEN Mini-Camp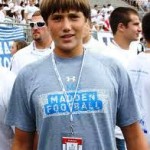 IMG Academy football alum quarterback Colar Kuhns will re-join the academy this summer to receive quarterback training with Director Chris Weinke, and to make his second appereance at our annual (invitation-only) ALL-MADDEN Mini-Camp July 27-29.
A rising junior, Kuhns attends Calvert Hall College High School in Baltimore, Maryland. As a sophomore, Kuhns threw for 1,840 yards and 21 touchdowns with a 72.6% completion percentage at the junior varsity level. An expected starter at the varsity level this fall, Kuhns attended the Rivals.com 5-Star camp this past winter and was selected the #1 quarterback in attendance by evaluators over many talented signal callers along the east coast.
Kuhns has received early college interest from likes of Ball State, Colorado, Colorado State, Georgia, Maryland, Notre Dame, Oregon, Oregon State, Rutgers, Illinois, Purdue, Rice, and Yale.
We look forward to Kuhn's arrival vying for ALL-MADDEN honors.