U-14 Boys Region Cup Weekend Wrap-up
March 03, 2009
by: IMGSoccer1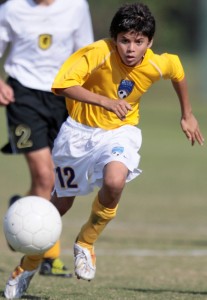 The U-14 boys, Coached by Nolan Sheldon won all three matches in their first round of Region C matches. A sound game plan and execution of that plan propelled the boys over each of their opponents.
IMG vs. Dunedin 2-1
The IMG Academy soccer program U-14s were forced to battle the entire match in order to earn all 3 points in the first match of Region "C" Cup. The match began with IMG dictating the majority of the play, but only creating a few promising attacks. The referee's influence in the match turned in IMG's favor, when he awarded a "questionable" penalty midway through the first half, with Gianluca Carbone converting. The second half produced high intensity, attacking soccer from both sides, with Dunedin scoring early in the second half to equalize the score at 1-1. With only minutes remaining, Gianluca, from his left back position, struck again with a penetrating run on a pass from Jose Pablo Covarrubias. IMG, thanks to the sound play of the back four, led by Cameron Tally and Enrique De Anda, were able to keep Dunedin from equalizing and won 2-1
IMG vs. Seminole 6-0
IMG scored early and never looked back as they rolled to win their second game 6-0. Omead Sinai impressed throughout the match with his versatile ability to play out of position and still strongly impact the game. Jose Pablo was a constant threat and was able to get on the scorer's sheet. The combination play and defensive capabilities of Jeronimo Mata and Dylan Christie eased the responsibility of the back four and allowed IMG to push both outside backs, Gianluca Carbone and Will Smith, into the attack consistently throughout the match. This constant threat was too much for Seminole to match and was a big reason for team's success.
IMG vs. HCU 3-0
IMG got off to a hot start scoring 2 goals within the first three minutes of the match and kept constant attacking pressure on the opposition throughout the match. Alex Aldana, Enrique Pena, Anthony Coit, Joshua Ruckdeschel and Nick Pennebacker entered the match early in the first half to continue IMG's quality attacking play, adding the third and final goal soon after being introduced.
The weekend was a success and IMG advanced to the next round of the Region "C" Cup, set for March 14-15. Miyoshi Nagoya (two clean sheets), Cameron Tally and Omead Sinai were steady performers throughout the weekend and the team will look to them for similar performances in the next round.