U-19 Boys advance to FL Cup Finals
March 08, 2009
by: IMGSoccer1
The U-19 boys advanced with 2 wins and 1 tie to play Lakeland FC in the Florida Cup Finals. Both teams are familiar with each other, meeting during group play which ended in a 2-2 draw.
Consistent play from the team landed them a spot inn the finals after defeating SWFL United Academy in the last group match 2-0. Scoring his second goal of the tournament and the game winner, Ben Leisveld caught the end of a cross that was the first step to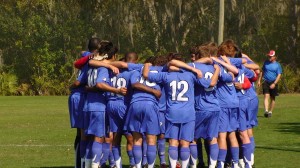 the championship match. Late game heroics by Diego Rodriguez added to the score after a direct kick from 30 yards out skipped past SWLF goalkeeper.
The steaks are high and the team is ready to complete this weekend with a win.
Good Luck Team!!!