Young Manny Ramirez being Manny is all good
April 11, 2012
by: largeinc
Cite: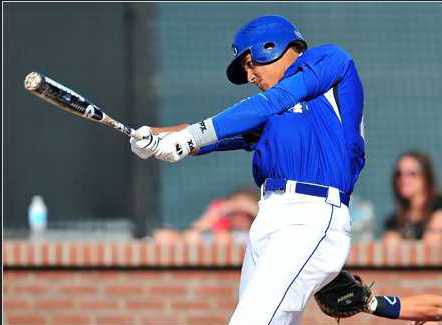 FULLERTON, Calif. - Manny (Ramirez) being Manny has a much different connotation around Bradenton, Fla. than it does around Major League circles. 
Make no mistake, the 17-year-old junior who plays first base and outfield for IMG Academy (Bradenton, Fla.) is in many ways a spitting and smitten image of his father, the 12-time All-Star, nine-time batting champion with 555 regular-season home runs and a major league-record 28 post-season dingers. 
There's the waggle of his ultra quick hands around his right ear as the pitch is being made, the explosive bat – the ball jumps right off of it – and the enormously warm and engaging smile that could brighten any dugout. 
"I love baseball," said the soft-spoken teen Tuesday after his team's 7-5 win over nationally ranked Spanish Fork (Utah) in the Hard 9 National Classic. "My dad never pushed me to play but it's just something I've always loved to do. I was always around clubhouses watching big leaguers. I knew that's what I wanted to do."
At 6-foot-2, little Manny is not so little. He's taller than his dad by two inches and at 215 pounds he's stout but also more angular. He does share his dad's lack of sheer foot speed, however. 
The cleanup hitter grounded sharply into two double plays in this particular game and he was replaced by a pinch runner after walking in the sixth inning. 
But he's no slow poke either. 
Like his hands, his feet are quick as he showed in the second inning, diving to his right to glove cleanly a rocket grounder off the bat of Colin Argyle. 
Ramirez jumped quickly to his feet, hesitated ever so slightly, but threw a strike to Florida-bound shortstop Cameron Varga, who returned a bullet back to Manny to complete an impressive 3-6-3 double play. 
Watching Ramirez somehow get back to the bag so quickly brought a fast smile to the face of IMG head coach Jason Elias after the game. 
"I had one image cross my mind when I watch that play unfold," Elias said. "It was Manny taking ground balls at lunch every day. That play was simply a testament to Manny's hard work and dedication. He's an amazing kid." 
NO ENTITLEMENT
The elder Ramirez was known for his work ethic certainly on the offensive side. But defense? Not so much. 
And the sometimes-crazy antics dad showed in the field and on the base paths – earning him crazy "Manny being Manny" video clips – isn't on his son's radar. 
Quite the opposite, in fact.
By all accounts, young Manny is simply solid oak - a constantly, consistently work in progress. He has big-time talent and loads of upside and judging by his work ethic, we won't be wasting any of it. There is definitely no "i" in this Manny.
"With Manny, there is no arrogance, no ego, no sense of entitlement," Elias said. "He's the type of guy who is the first on the practice field and the last to leave. He's always working on something." 
Evidently young Manny being young Manny is all things good and responsible and exemplary. When asked what kind of teammate the younger Ramirez is, Elias said: 
"Phenomenal. He's the guy. He's the guy everyone looks up to. If Manny is having a tough day at the ballpark you'd never know it. He still has the same tenacity. He still has the same energy. He's the consummate team player. He's the kind of guy you want the rest of your guys to emulate." 
That certainly played out against Spanish Fork. 
Between hitting into two double plays, he struck out as well. But his body language was still upright. He sprinted between innings. He joked and encouraged and engaged with teammates. 
Afterward, he gladly accepted an interview request and answered every mundane question he's been asked about being the son of a baseball legend like he was asked for the first time. 
So, how does it feel when your name is announced and the fans "ooh," and "ahh," and expect you to hit a home run every time? 
"I can hear it sometimes," he said. "And I get a little antsy because I want to do extra for them and my team. But I've realized I can do only what I can control." 
That's something Elias and the IMG coaching staff spent many hours talking with young Manny about. Judging from how relaxed he appears on the field and in interviews, it's all paid off. 
"Listen, this is a hard game anyway and if you feel any extra burdens or pressures, it's exponentially tougher," Elias said. "We just talked to Manny and told him to play as well as you can every day – be the best player YOU can be. 
"On top of that, enjoy and embrace the fact your dad is a major leaguer. But of course be your own person as well." 
The younger Ramirez appears to be soaking it all in and enjoying each moment.
HIGH CEILING
He lives with his mother at the renowned 400-acre training facility that started in 1978 with Nick Bollettieri's Tennis Academy but has expanded into a multiple sports. Notable baseball alums include Gary Sheffield, Adam Dunn, Ben Sheets and Nomar Garciaparra. 
"It's America's playground," quips Elias. 
After spending his freshman year at American Heritage, Ramirez led the IMG junior varsity team in hitting last year and this season he's hit cleanup or No. 5 in the lineup on the big team. 
Heading into today's season-ending third-place game at Cal State Fullerton, he's batting .306 with two doubles, a home run and 12 walks in 62 official at-bats. 
"The improvement we've seen over the last two years is remarkable," Elias said. "He's got a very high ceiling. It's going to be fun over the next 365 days to see what's going to happen to him."
That could be said for his father as well. 
The elder Ramirez has apparently found peace after hitting bottom last season when he faced a 100-game suspension for violation of Major League Baseball's drug policy.
He subsequently retired on April 8, 2011.
But after reconsidering, and coming to grips with some demons, Ramirez asked and was granted reinstatement and is now serving 50-game suspension. He signed with the Oakland A's – his sixth team – and when the suspension is over he'll have just turned 40-years-old next month. 
"I'm a new man who found new happiness in God's word," he told reporters last month. "Right now, I have a peace I never experienced in my life. … Sometime you don't appreciate what you have until you lose it, and that's what happened to me. Now I appreciate my family more, my kids, the game. I've got a beautiful wife. I've got my kids, my family and I'm getting my career back. It's been a blessing." 
The younger Ramirez said he's happy baseball is back in his dad's life. "It's really exciting to have him play again," he said. 
Young Manny seems genuinely excited and grateful for all things baseball, especially his experience at IMG. 
"It's been great," he said. "It's great that my family allows me to go there. That they support me in every way. I appreciate it each and every day."