Student Athlete of the Week: Chandler McGruder (Football)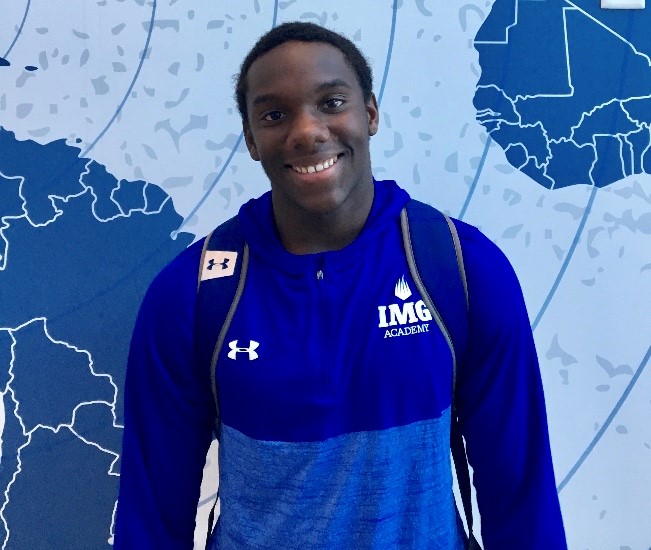 Chandler McGruder is a junior football student-athlete at IMG Academy, and he has been striving to excel through both academics and athletics since he enrolled in 2017. As a member of several student clubs and organizations and an outgoing classmate and teammate, McGruder is making a significant on the community around him. He enrolled at IMG to continue improving, and he's been enjoying the "close proximity to his friends." He feels that school has made him more mature and helped him manage his time better.
For these reasons, McGruder earns this week's Student Athlete of the Week!
Get to know Chandler:
Hometown: Indianapolis, IN
How many years playing football: 15 years
Coach: Coach Carnell, Cadillac Williams
Position: Running Back (RB)
Awards/Records: Rookie of the Year
Student Clubs/Organizations: JAM Club, KEY Club, Student Activities, National Honors Society, NSHSS, Student Ambassador, SAAC
What do you want to study in college: Nutritional Science with a pre-med focus
Best Advice Received: "Seek ye first the Kingdom of God, and His righteousness, and all else will be added unto you."
Hobbies outside of school: Music, anime, poetry, writing
Favorite Book: Hatchet
Best sporting event ever attended: Mater Dei
Pre-game match playlist: Praise is what I do - William Murphy
Best on-campus event: Special Olympics
Favorite Singer: Antonio Harper and Xian X
Favorite Actor: Kevin Hart
Favorite Movie: Star Wars III Revenge of the Sith
Favorite Local Restaurant: Bubs Burger
Favorite Vacation Spot: Australia
Sports Role Model: Trey Sanders / Noah Cain
Favorite athlete, or team: Dallas Cowboys
What do you want to be when you grow up: Pediatric Interventional / MSK Radiologist
What inspires you to work hard in school and why: "I do everything for God. I give my best to him."
What would you tweet right now?: "The odds are never stacked against you if you have the resolve to never give up."
Editor's Note: IMG Academy features a "Student-Athlete of the Week" award while class is in session. Students are nominated based purely on academic achievements and are chosen by a committee of educators from our boarding school.