The IMG Camp Experience
View more details about camper life and our training methodology
Track & Field and Cross Country Camp Overview
IMG Academy track and field camps consist of event-specific training that's hyper-focused on proper technique, form, and mechanics. Coaches that have developed Olympians and high-level collegiate athletes and professionals instruct campers through the same drills and methodology utilized by these elite athletes.
Camp programs include small-group instruction as well as strategy and video analysis sessions. All track & field campers will receive a post-camp analysis report inclusive of coach feedback to ensure development continues following the program.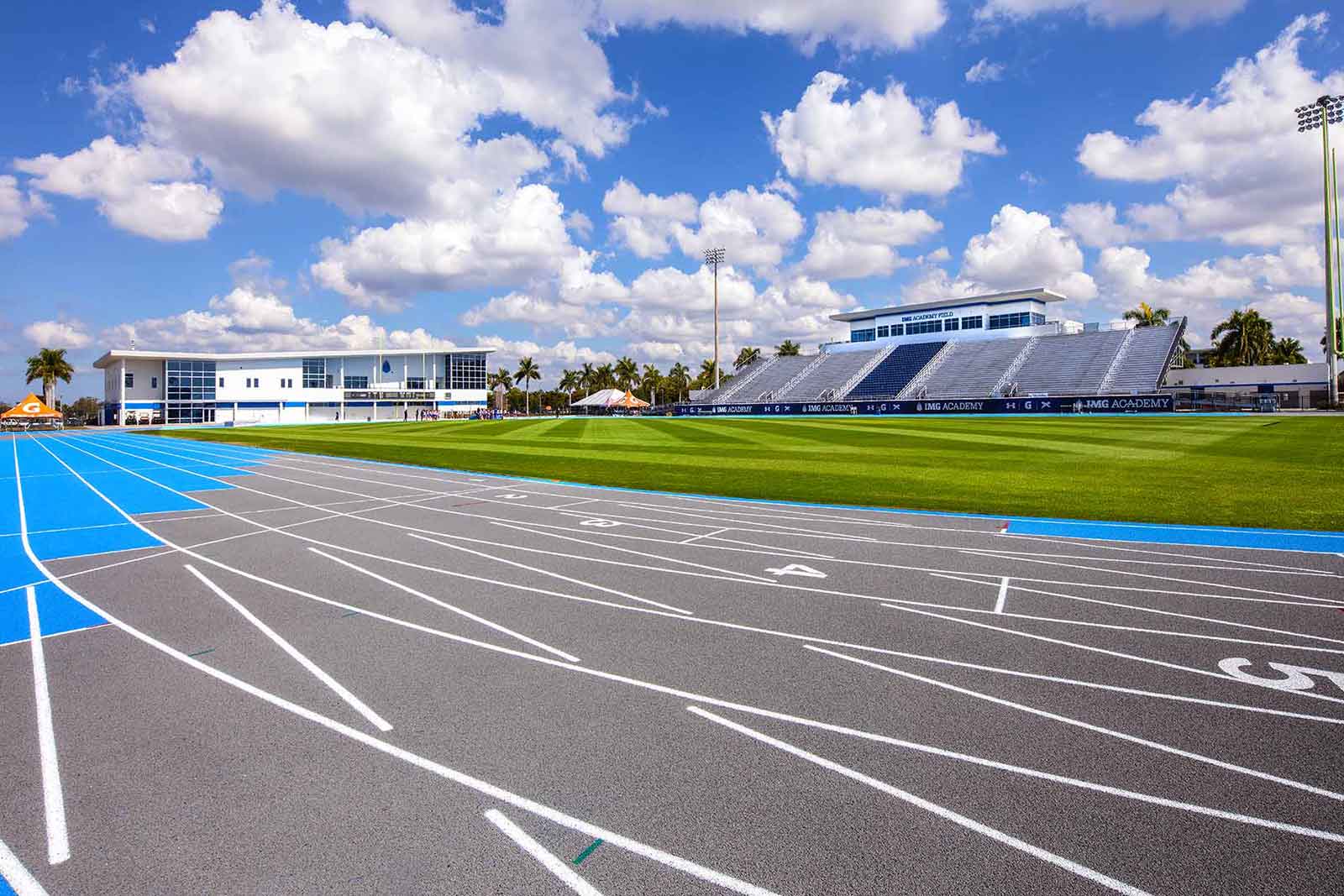 Training for Every Event and Skill
Depending on your goals, here are just some of the skills you will learn from our expert coaches:
SPRINTS
Start and acceleration technique, maximum velocity sprint mechanics, and relay exchange work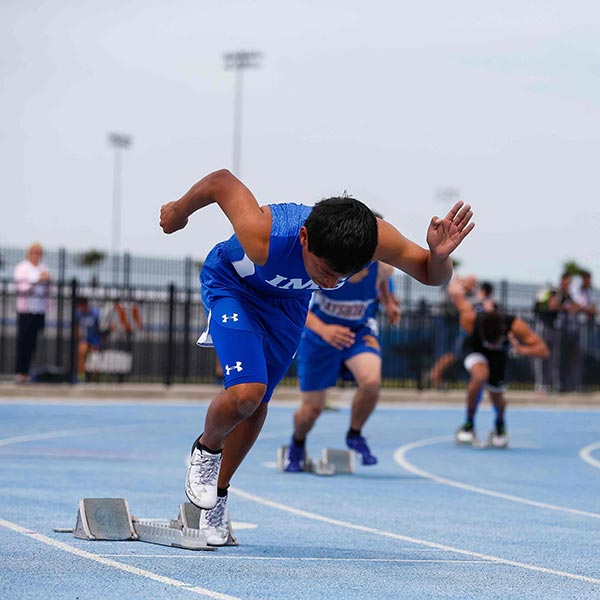 DISTANCE
Focus, proper mechanics, reprogramming the nervous system, reduce oxygen consumption, training techniques, and prevent injury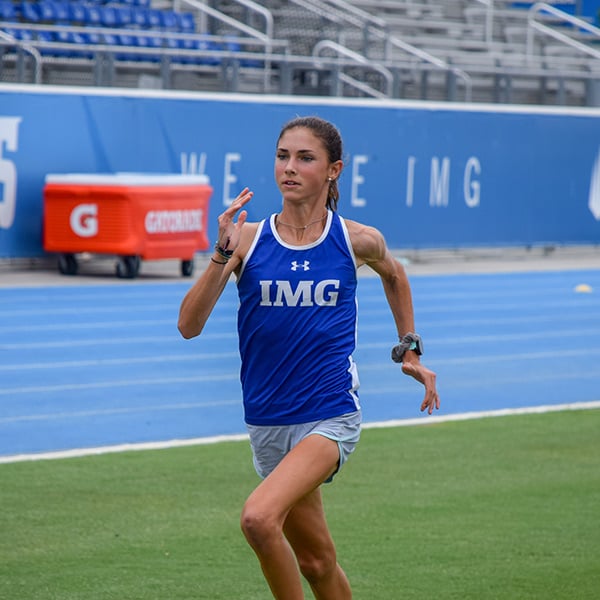 HURDLES
100/110m, 300m & 400m, proper hurdle technique, rhythm, perfect lead leg alternation, and race modeling strategy and tactics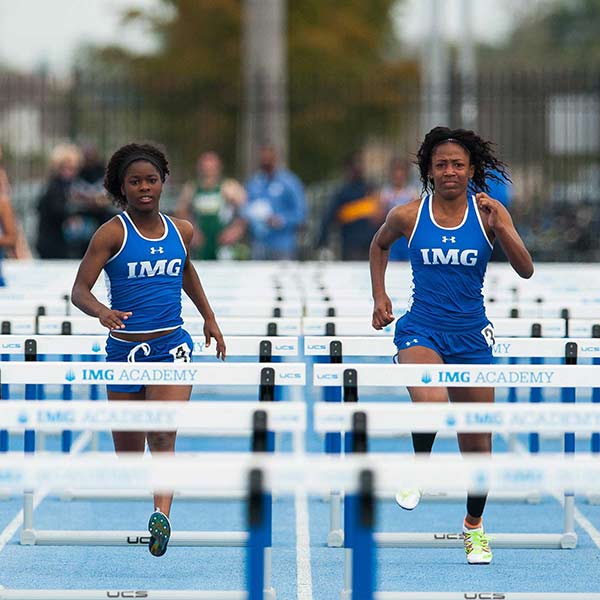 THROWS
Developing the relationship between the athlete and the implement; improving proprioception and technical throwing efficiency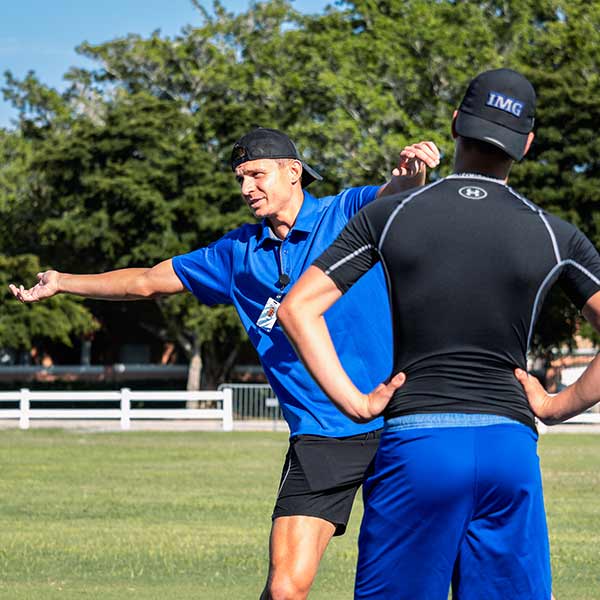 JUMPS
Sprint mechanics, preparation, take off, flight phase and landing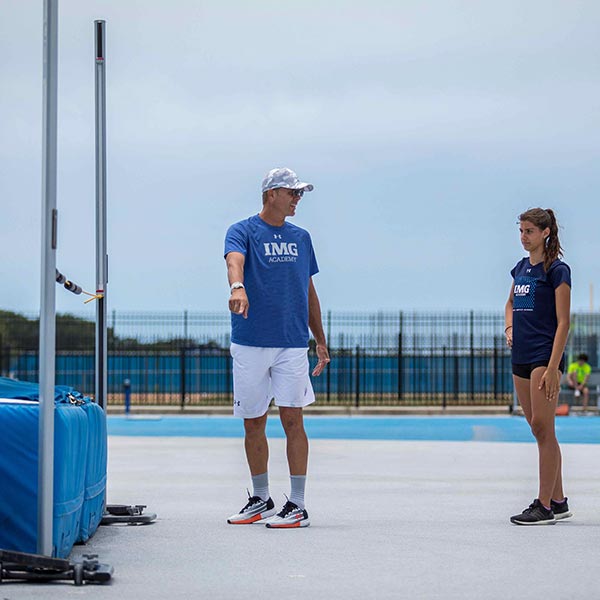 Track & Field and Cross Country Camp Training Specializations
All Total Athlete and Game Changer programs include training specializations that can be changed for each week of the camp. Athletes seeking to hone their skills outside of sport-specific training will benefit from these unique training specializations. IMG's expert coaches set athletes apart from their competition, and each session provides campers with takeaways that will significantly impact their game.
Strength & Power

Explosive resistance
Jumping and plyometrics
Efficient power development
Correct motor patterns
Speed & Agility

Linear acceleration
Maximum velocity
Lateral movement
Multi-directional movement and agility
Mental Toughness & Vision

Self-talk
Breathing
Imagery
Focus
Emotional regulation
Goal Setting
Nutrition for Athletes

The performance plate
Pre-competition fueling
Recovery
Fueling timelines
Hydration
Leadership & Communication

Team building
Verbal and non-verbal communication
Identity
Developing relationships
Inspiring and empowering yourself and others
SAT/ACT Test Prep
Semi-private and individualized classes with our test prep experts helps students prepare for their SAT or ACT college entrance exams. Instructors use official testing materials and offer techniques to help take the exams with confidence.
Athlete Assessment & Injury Prevention
Led by on-campus Johns Hopkins All Children's Hospital physical therapists, programming includes movement, strength, and flexibility analysis screenings as well as review sport-specific injury prevention tips. Campers will also learn corrective exercises along with ways to proactively reduce the risk of injury during sport.
College Recruiting Essentials
Campers will learn how to leverage Next College Student Athlete's (NCSA) online recruiting platform, build their NCSA profile, and target college programs that best fit their athletic, academic, and personal preferences. Sport-specific recruiting experts will coach campers on communicating effectively and creating quality connections with college coaches throughout their recruiting process. Receive the Champion-level NCSA service valued at $899 FREE with this specialization.
Learn more about NCSA
ESL
Campers will have a daily ESL course with weekly themes such as Inspiring People, Extreme Sports, the Endangered Planet, or Entrepreneurs. Instructors focus on communication skills, vocabulary development, conversation, short videos, and grammar as well as test preparation. For all options, please contact an advisor.
Expert Coaching
IMG Academy track & field and cross country camps are anchored by expert coaches with years of playing and coaching experience at the highest levels. Learn from the pros to gain insights and training methods to continue developing your skills.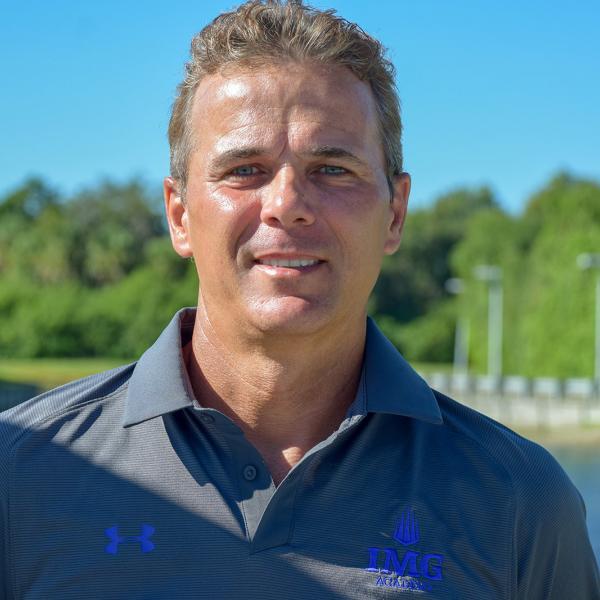 Coach Spotlight
Mark Napier - Director
Over the many years of coaching Mark has won numerous individual coaching awards and has achieved success at all levels from high school to college to professional. Mark's extensive experience with both women's and men's teams will serve him well in leading our boys' and girls' track & cross-country programs.
Sample Weekly Camp Schedule
AM

Session

PM

Session

Monday
CAMP TRAINING
CAMP TRAINING
Tuesday
CAMP TRAINING
CAMP TRAINING
Wednesday
COLLEGE RECRUITING WORKSHOP
REGEN SESSION
Thursday
CAMP TRAINING
CAMP TRAINING
Friday
CAMP TRAINING
TRACK & FIELD CAMP COMPETITION

Curriculum includes a college recruiting workshop and end of week competition.

IMG Camp Includes:

3 Strength & Conditioning Sessions
1 Mental Conditioning Session
Campers Train Here
8-Lane 400M Track

Between June 6th and August 8th, programming will be delivered on a new 80m/4-lane surface under the IMG Academy Stadium grandstands while the full track is resurfaced. The new surface will afford our campers the ability to train as usual and in the shade of a cooler environment.

Two pole vault runways with international-standard pits
Two multi-directional long jump/triple jump pits
Dedicated long throw areas with multiple circles and cages
Covered turf facility for speed and agility work

Evaluate bilateral hamstring strength and imbalance with analytics for number of reps, maximum and average force/torque, and monitoring trends
Performance & Sports Science Center
Mind Gym for mental conditioning sessions and vision training

Fit Lights, DynaBoard, and cognitive perceptive technology

Strength and conditioning equipment
Classrooms for nutrition and leadership training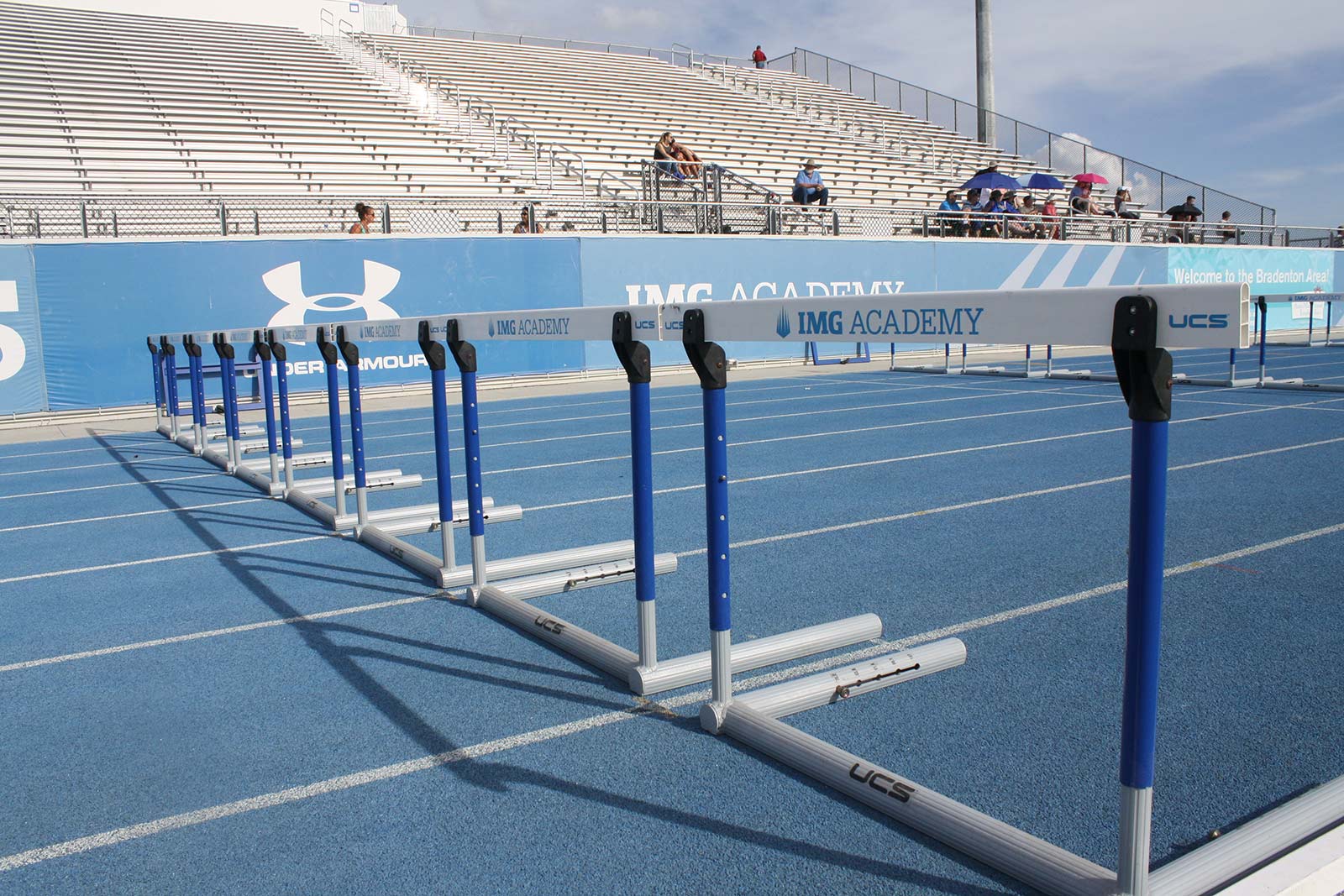 Track & Field and Cross Country Coaches
Load More
Book Your Camp
Online Camp Builder