download our admissions guide
Girls Soccer Academy Overview
IMG Academy's girls soccer program's impressive collective tournament/league titles and number of elite collegiate student-athletes and national team players remains unparalleled globally. Combining challenging academic courses, competitive team schedules, a proven training methodology, and a global atmosphere, IMG Academy soccer is widely-recognized for its optimal balance and overall program structure.
IMG soccer is a direct pipeline to some of the nation's top universities as student-athletes have access the invaluable resources that ensure they're prepared and confident for the next level. Student-athletes show immense success both at the collegiate level and on their national teams after developing academically, athletically, and personally during their career at IMG.
Inside the IMG Academy Girls Soccer Program
Girls Soccer Program Structure
IMG Academy's girls soccer program is structured across 10+ months of training and competing. IMG's long term development model spans throughout a fall and spring season. IMG soccer student-athletes are introduced to the highest level of club league competition and tournament play. IMG's soccer program is built around our IMG Academy Soccer Performance Plan, which optimizes the development process by combining expert coaching with an annual competition schedule that's centered on individualized growth technically, tactically, and personally within a world-class setting.
IMG Academy's girls soccer program has defined age-specific workloads and training programs to ensure that student-athletes have a clear pathway to progress through the program and maximize their potential. Training includes team field sessions with an emphasis on decision making and tactical game management, individual development plan sessions inclusive of video analysis and team building / leadership, and games or scrimmages. The program has defined concepts for attacking, defending, and transition as well as set plays and systems of play that are executed across every team.
Throughout the program, IMG soccer coaches leverage their professional and collegiate experience and ensure that each student-athlete has the necessary tools to achieve their goals. IMG soccer coaches focus on developing the "competitor" through holistic training that includes positive decision making, accountability, and a commitment to excellence. Each student-athlete within the program is competitive and possesses key skills such as game insight and the ability to read plays, as well as position-specific qualities.
The program's global environment prepares student-athletes for the cultural experience of competing at the next level, whether that be in college or professionally. Student-athletes recognize the importance of a team atmosphere and develop lasting relationships with their teammates, coaches, teachers, and other support staff.
Student-athletes prioritize both academics and athletics as their schedule mirrors that of a collegiate program. Soccer training includes position-specific instruction as well as team strategies and foundational tactics, speed of play, and proactive thinking on the field. Skills such as strength and conditioning, communication skills, and leadership are also emphasized throughout the year to ensure maximized college recruitment opportunities.
IMG's girls soccer program and performance plan are built around periodization principles in 6-week cycles that include the following development modules:
Individual Training
Team Training
Athletic & Personal Development

Strength and Conditioning
Mental Conditioning
Leadership Development
Nutrition Training

Athlete Management System
Student-athletes meet with their coaches to set up an individual development plan with overall long term goals, short term measurable objectives, and mutually agreed upon outcomes over the cycle. Following the 6-week period, coaches and players review their progress and set new objectives when necessary ahead of the upcoming cycle. Four times a year, players receive a report detailing their progress and future areas of focus which include strength, agility, and endurance test results as well as video review.
Development Process
Pre-season
Competitive Cycle
Post-Season
Measure & Evaluate
Prepare & Play
Review & Prepare
August - September
September - April
April - June
Physical testing
Tactical, Technical, & Functional intro
Individual development plans (IDP)
Competition & tactical phase
College showcase competition
Performance statistics collection & analysis
IDP formal review
Physical testing
Season review
Post-season preparation
IMG ACADEMY GIRLS SOCCER COMPETITIVE PLATFORMS
Girls Academy (GA)
A new tier of competition developed by the DPL in April of 2020, this youth development platform was created for high level female soccer players in the United States. The Girls Academy embraces the desire of club members and GA players alike to maintain an unrivaled standard of excellence in coaching, competition, and regional and national showcase events throughout the year. The Girls Academy is committed to cultivating an environment that empowers each player to reach their best potential as an exceptional athlete and individual by celebrating the player's journey through competition, showcases, and camaraderie.
Following the 2020-2021 season, the GA invited IMG Academy to be one of 14 elite clubs in the Champions League. As a part of the GACL, IMG will compete in additional Champions League events along with our existing showcase, conference, and tournaments against the other top tier teams.
Development Player League (DPL)
Created in 2017, the Development Player League's mission is to develop the player and empower the person in a purposeful and memorable environment. They believe that through superior experiences, players will be able to showcase their talent, discover collegiate opportunities, and create community around the game. This standards-driven national league connected to the Girls Academy will encourage clubs to compete and grow, which maximizes the development of each player.
Athletic and Personal Development
Athletic and Personal Development plays an integral role in the overall development of each soccer student-athlete. Athletic and Personal Development instructors focus on crucial areas such as mental toughness, strength & conditioning, nutrition, leadership, life skills and character development, and more to ensure that IMG Academy soccer student-athletes not only have an advantage over the competition but understand what it takes to succeed in college, on national teams, and in life.
Learn More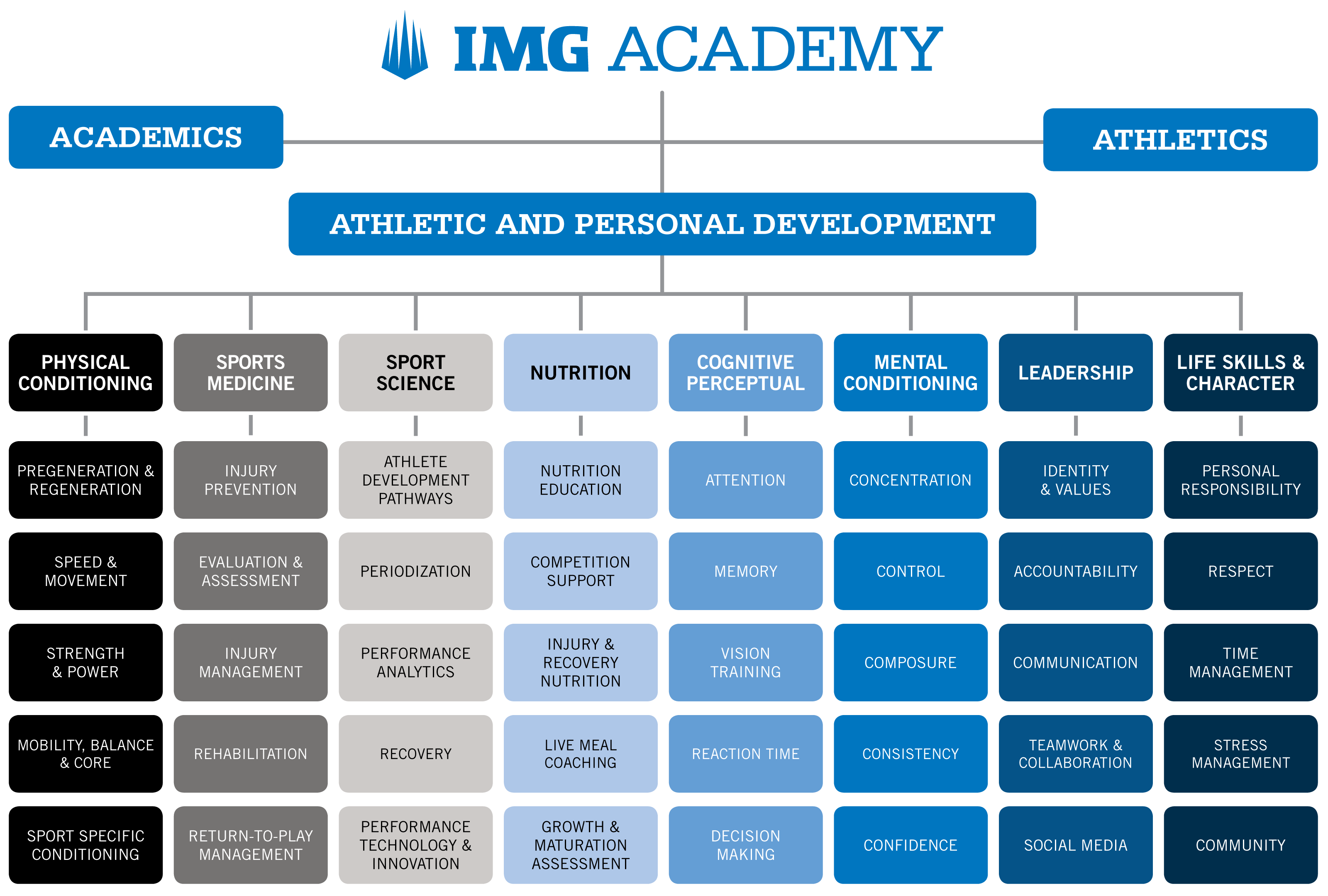 Academics
Grades 6-12
IMG Academy's collegiate-style schedule provides the ultimate preparation for student-athletes to succeed at the next level. Soccer student-athletes have the ability to select their courses and electives to identify their areas of interest ahead of enrolling into the collegiate program that best aligns with their academic and athletic goals. A dedicated college placement advisor as well as experienced coaches aid in the recruitment process from the beginning of a student-athlete's career through graduation and even beyond.
View Grades 6-12 Curriculum
Post-Graduate
Post-graduate girls soccer student-athletes benefit from a gap year at IMG without jeopardizing their NCAA eligibility. Post-graduates work with IMG's soccer coaches to create an individual development plan to improve physically, mentally, technically, and tactically. They also have access to standardized test prep courses for the SAT and ACT as well an opportunity to earn college course credit from IMG's campus. Post-graduates receive quarterly progress reports, prepare for college soccer ID camps, and may compete in certain U18/U19 leagues and games pending age eligibility and league exceptions.
Learn More about Post-Graduate
Program & Alumni Accomplishments
111 D1 commitments in last 5 years
2019 National Premier League National Semi-finalist (U19)
2019 National Premier League Florida Champions
2019 Florida Cup Champions (U17)
2019 US DA Playoffs Elite 8 out of 65 teams (U17)
2017-2018 #1 and #2 leading goal scorers in US Soccer DA U-17
2016-2017 U16 FNPL League Champions
U18 Ranked #1 in the nation after going 27-0-3 in 2014
5 Florida State Cup league titles
15+ Players invited to respective Junior National Team camps in last two years
25+ Players invited to U.S. National Training Centers
50+ Professional clubs and National teams trained and competed on campus in the past three years including: US Women's National teams, USYNT, Canadian Women's National, Concacaf Championships, ICC Futures, and more
2014 NWSL Rookie of the Year and 2015 NWSL Champion, Erika Tymrak