download our admissions guide
Track & Field Academy Overview
IMG Academy's track & field and cross country program has developed an unprecedented training methodology that's built upon a coach-led, athlete-driven environment. By placing an emphasis on personalized growth and development within a team atmosphere, student-athletes recognize not only what it will take to achieve their personal goals, but they are constantly driven by other individuals who have similar aspirations.
In addition to event-specific training and an annual competition schedule, student-athletes will be challenged in the classroom while also having a support system inclusive of teachers, academic advisors, a college placement team, and performance coaches. From setting records to being selected for invitational meets to committing to top Division 1 programs, IMG's track & field and cross country program remains a global destination for student-athletes seeking to reach the next level.
Inside the IMG Academy Track & Field and Cross Country Program
Track & Field and Cross Country Program Structure
IMG Academy's track & field and cross country program is the optimal college preparatory environment for student-athletes to receive both a challenging academic course load as well as a world-class athletic training.
Student-athletes receive individualized training plans and focus on intricate development cycles inclusive of base training, pre and post-competition, and regeneration.
Each student-athlete within IMG's track program receives:
An individual development plan
Individual development quarterly reports
A team competition schedule
A training group periodization plan
An athletic and personal development plan
A college placement plan
Every drill, sprint, exercise and practice is tailored to the student-athlete's individual needs to maximize efficiency, increase speed, and improve strength. Event-specific training includes weekly video analysis while more technical events may have more frequent video sessions throughout the week. Student-athletes will also work with their respective coaches to review video after competing.
IMG's student-athletes are exposed to elite training and conditioning plans created by world champions and Olympians. Track & field and cross country coaches focus on developing well-rounded student-athletes while enhancing each individual's specific event techniques.
Jumpers (triple jump, high jump, long jump, pole vault)
The end goal for IMG jumpers is to accelerate to a maximum controlled horizontal velocity with an accurate stride pattern. To achieve that maximum jumping potential, training is broken down to focus on these core areas:
Approach
Transition from the approach to the plant of the take-off foot
Take-off
Flight
Landing
IMG Academy coaches have developed structured training plans, regardless of a student-athlete's specific focus within this event. Training may focus on sprint mechanics, approach rhythm, ground force reaction, bar clearance (pole vaulters), power or speed, and more.
Sprinters & Hurdlers
IMG's sprint and hurdle student-athletes combine strength, power, speed, and technique to optimize specific time and distance parameters. Sprinters and hurdlers require great strength-to-body ratio, speed combined with horizontal velocity, and angular momentum for optimal results. Training includes block settings, conditioning, mechanical analysis, stride patterns, and more to address all aspects of competitive performance.
Throwing (shot put, discus, javelin, hammer)
Because throwers require great strength, arm speed, and excellent coordination, IMG throwers typically throw 5-6 days a week combined with four days of weight training. All throwers practice multiple throwing events while focusing on their respective primary event. Training focuses on technique, grip, rotations, turns, power vs. speed, and more.
Distance & Cross Country
IMG distance and cross country student-athletes combine strength, speed, cardio, and technique to optimize specific time and distance parameters. The total running volume of each student-athlete is incredibly individualized based on age and ability level.
Training incorporates drills that help develop biomechanical efficiency as coaches consider quality training a priority over quantity of total volume. Distance runners maximize their speed while minimizing the risk of injury while developing primary biological components that factor into positive performance outcomes.
For cross country student-athletes specifically, training is a combination of long-distance road work, trail runs, and track intervals to develop speed and endurance. An emphasis is also placed on running mechanics, recovery techniques, strength training, and nutrition. Specific paces and intensities ensure that the targeted energy and body systems are addressed.
Sample Track & Field and Cross Country College Planning Calendar
Freshman Year
September - November
Goal-setting begins for athletics and academics along with time management evaluation
Begin a college file
Meet with academic advisor to set up your academic plan for second semester
January - April
Research colleges and understand admissions requirements for a high-level list of schools
Goal setting for athletics and academics for spring semester
Develop list of personal preferences for college
Plan summer track and field schedule (if applicable)
Evaluate athletic progress and performance with coach
Set training goals for summer
Sophomore Year
September - November
Register for the PSAT and PACT tests
Narrow list of schools as applicable
Goal-setting for athletics and academics continues
Update athlete profile
January - April
Review and update college files along with athlete profile
Continue research on admission requirements for college list
Narrow list of schools to a top 10
Schedule unofficial visits with colleges over summer
Confirm summer competition schedule with coach and set goals for junior year
Junior Year
September - November
Update athlete profile and meet with coach regarding college selection process and to evaluate performance
Confirm SAT and ACT test dates for October through December
Apply to NCAA Clearinghouse
Complete two admissions applications for practice
Narrow list of schools as applicable
January - April
Schedule second round of SAT and ACT tests pending first-round scores
Evaluate list of schools and continue to narrow down
Schedule unofficial visits for summer
Schedule performance and college review with coach
Review summer plan and college visits along with athletic goals with coach
Senior Year
September - November
Set up official visits to college after coordinating them with coach
Schedule final rounds SAT and ACT tests
Meet with advisor to acquire transcripts, test scores, and all documents to send to schools and update NCAA Clearinghouse
Check on early admission applications and status
Reevaluate top schools and narrow search
Complete and send in all applications
Eliminate schools no longer of interest and order top schools accordingly
January - April
Review acceptances and scholarship opportunities with coach and advisor
Final college decision and signing date: mid-March
Finalize Clearinghouse information
Work hard over the summer to prepare for college!
Athletic and Personal Development
Athletic and Personal Development plays an integral role in the overall development of each track & field and cross country student-athlete. Athletic and Personal Development instructors focus on crucial areas such as mental toughness, nutrition, leadership, mobility, flexibility, character development, and more to ensure that IMG Academy student-athletes not only have an advantage over the competition but understand what it takes to succeed in college, at the professional level, and in life.
Learn More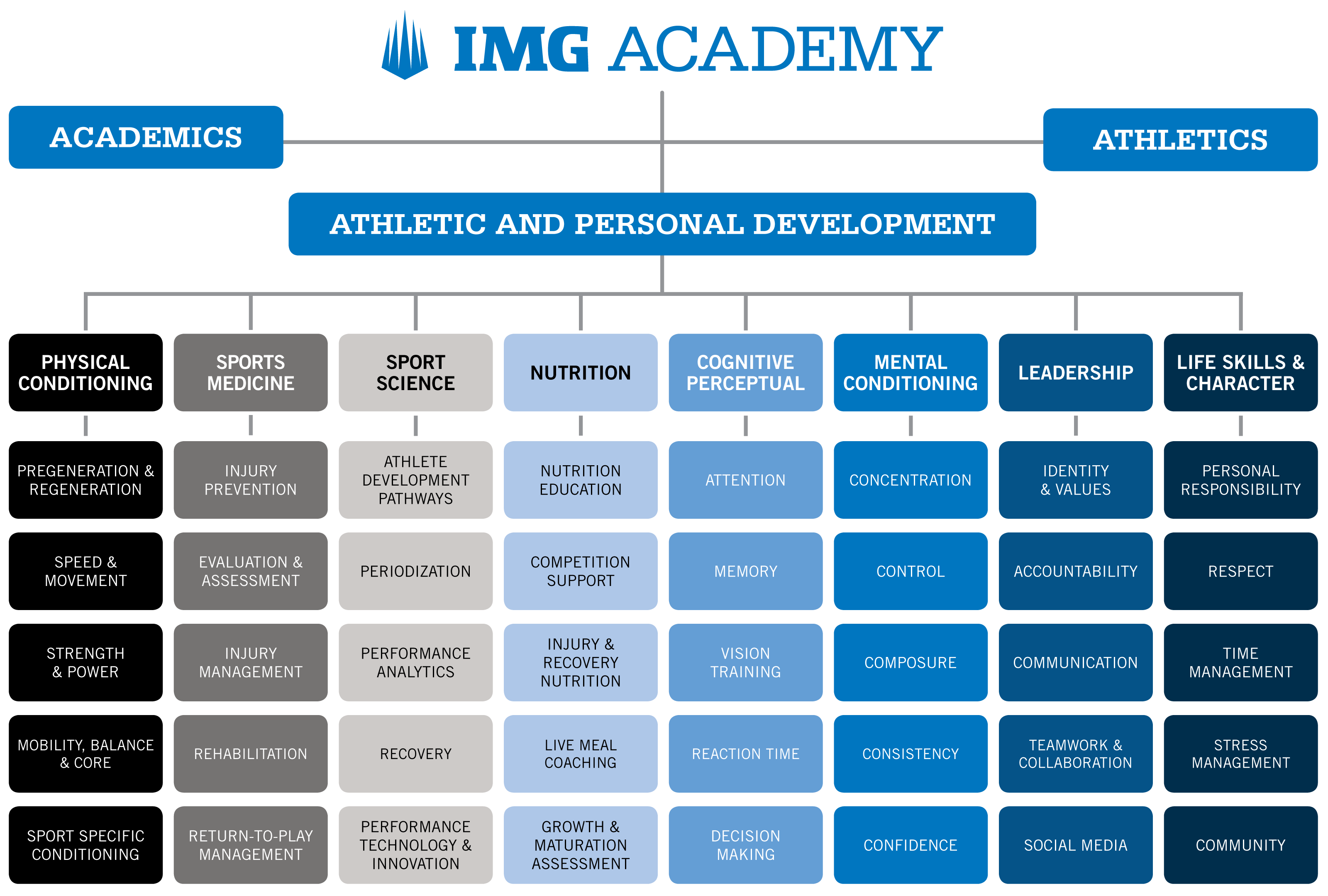 Academics
Grades 6-12
IMG Academy's collegiate-style schedule provides the ultimate preparation for student-athletes to succeed at the next level. Track & field and cross country student-athletes have the ability to select their courses and electives to identify their areas of interest ahead of enrolling into the collegiate program that best aligns with their academic and athletic goals.
View Grades 6-12 Curriculum
Post-Graduate
Post-graduate track & field and cross country student-athletes will benefit from a gap year at IMG with available standardized test prep, college course credit opportunities, college placement and recruitment advisement, and more. Post-graduates have a standard training schedule and compete in open competitions during indoor and outdoor season. Track post-graduates will benefit through individual event-specific training while getting stronger both mentally and physically. This program will also not jeopardize NCAA eligibility.
Learn More about Post-Graduate
Program & Alumni Accomplishments
22 D1 commitments
15+ Countries represented by athletes training with the program
15New Balance Nationals Indoor Qualifiers
5Top ten Indoor 2020 Rankings
2020Boys and Girls Champions - Goerge Jenkins Invitational, St. Cloud Invitational
2021Individual National Champions (Girls 200M, Boys 60M, Boys 400M)
Jaylen Slade2021 National Track and Field Athlete of the Year & Olympic Trials Qualifier
Technology & Facilities
8-Lane 400M Track

High-speed video analysis for thorough training to review practices and meets in slow-motion, instant replay, and more with the ability to share all content
Freelap & Brower Timing systems for portability, accuracy, and wireless capabilities

Four multi-directional pole vault runways with international-standard pits
Two multi-directional long jump/triple jump pits
Dedicated long throw areas with multiple circles and cages
Covered turf facility for speed and agility work
Performance and Sports Science Center
Mind Gym for mental conditioning sessions and vision training

Fit Lights, dynaBOARD, and cognitive perceptive technology

Yoga studio
Strength and conditioning equipment
Classrooms for nutrition and leadership training
Athletic training facility for recovery and regeneration, including hot and cold tubs
Track & Field Academy Photo Gallery
Admissions
All prospective student-athletes must submit a completed application, including academic records and recommendations.
Track & Field Program Tuition
For academic year 2022-2023, tuition ranges from $65,400 to $87,900 per year depending on age, boarding and grade of student-athlete. Go to our tuition page for the full sport-by-sport cost breakdown.
Track & Field Camps
A great way to learn more about IMG Academy is to attend a camp and see first-hand how to take your game to the next level.
Notable Track & Field Program College Commitments
Student-athletes receive guidance from college placement specialists and sport coaches for reaching their goal of playing their sport at the collegiate level. This work begins when a student enters upper school at grade 9 and above.