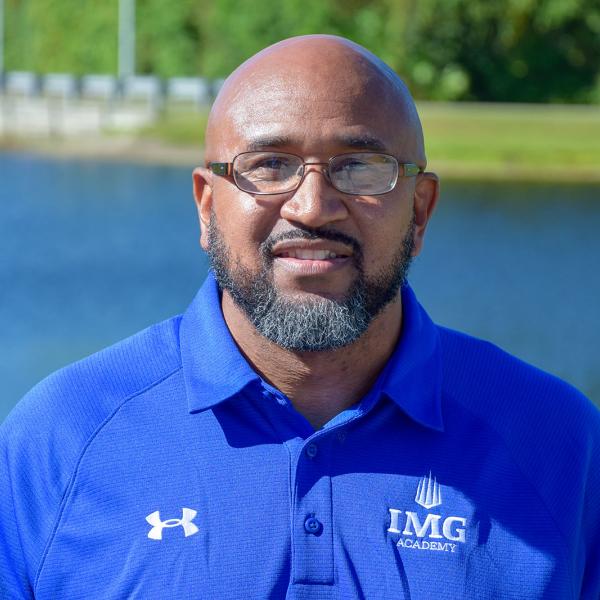 Elliot Washington
Coach
With IMG Since: 2018
Hometown: Bradenton, FL
Languages Spoken: English
About Me
Elliot Washington comes to IMG Academy after 5 season as the Head Coach at State College of Florida. Prior to coaching at State College of Florida, Mr. Washington was a successful Head Boy's Basketball Coach for 14 years at his alma mater Southeast High School in Bradenton, FL. Coach Washington was named "Coach of the Year" by the Florida High School Athletic Coaches Association (FHSAA) 5A District 16 in 2013 & "Coach of the Year" by Floria Association of Basketball Coaches. He earned his first Coach of the Year honor in 2004, from the Herald-Tribune Newspaper after a 23-8 season and a FHSAA Final Four appearance.
Mr. Washington was a 3-year starter for the Southeast Seminoles under Head Coach Bob Carroll. He led the team to a 51-10 record over a two year period. He represented the state of Florida in the North vs. South All-Star game in 1989 as a senior. From 1989-1991, he was a star player at Manatee Community College where he earned 1st Team All-Conference honors coached by Hall of Fame coaches Harry Kinnan and Chip Sines.
After graduating from Manatee Community College in 1991, earned a full scholarship to the University of Alabama in the Southeastern Conference. Mr. Washington was the starting point guard at the University of Alabama and earned the nickname "The Shot Doctor" for his ability to make last-second game winning shots during his career. Mr. Washington was coached by the egendary coach Wimp Sanderson, the Crimson Tide was overall 26-9 and advanced to the 2nd Round of the NCAA Tournament.
Education/Accreditations
Bachelor of Applied Science (B.A.Sc.)- Human Environmental Sciences, University of Alabama
Associate of Arts (A.A.)- Physical Therapy, Manatee Community College
Coaching Experience
Head Men's Basketball Coach- State College of Florida, 2013- 2018
Head Boy's Basketball Coach- Southeast High School, 2000- 2013
Assistant Coach- Manatee Community College, 1995- 1997
Assistant Coach- Southeast High School, 1993- 1995
Playing Experience
University of Alabama, 1991- 1993
Manatee Community College, 1989- 1991