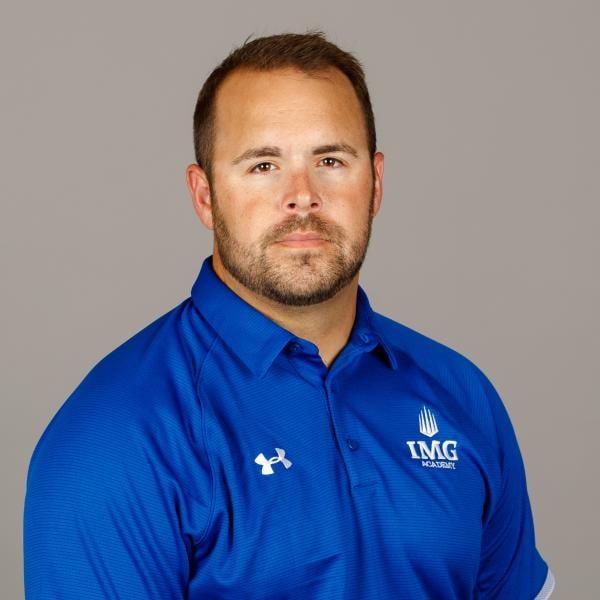 Kyle Brey
Head Coach - Varsity Team
With IMG Since: 2019
Hometown: Granger, IN
Languages Spoken: English
About Me
Brey comes from from Ardrey Kell High School in Charlotte North Carolina as the head football coach. A 4AA program with over 3,200 students is the largest public school in the state according to the 2017 enrollment. Brey lead Ardrey Kell to back-to-back NCHSAA playoff appearances along with their first conference championship is school history in 2018.
Previously, Brey worked at the University of Notre Dame in the athletic department. His title was Event Management & Olympic Facility Program Director. Previous to that, in 2016 Brey served as a quality control coach for the Ohio State Buckeyes football team. Coach Urban Meyer hired him in February and he worked closely with co-offensive coordinators Ed Warinner and Tim Beck. Brey arrived in Columbus after working for the past three seasons for coach Bo Pelini at Nebraska and Youngstown State University. He was an offensive graduate assistant working with the tight ends and offensive line for the 2013 and 2014 seasons at Nebraska – the Cornhuskers played in the Holiday and Gator bowls, respectively, those two seasons. Brey was the tight ends coach and co-special teams coordinator for Pelini at Youngstown State in 2015.
Brey started his coaching career at the University of Kansas, working as a quality control coach for Turner Gill in 2011 and as a graduate assistant for Charlie Weiss in 2012. Brey was a four-year letterman as a tight end and fullback for the University of Buffalo. In 2008 Buffalo won Mid-American Conference championship, the only football championship in school history, and advanced to the 2009 International Bowl against UConn. Brey comes from a coaching family, his father is the Head Men's Basketball coach at Notre Dame.
Education/Accreditations
B.A., Sociology, University at Buffalo, 2006-2010
Penn High School, 2002-2005
Experience
Head Football Coach, Ardrey Kell High School, 2017-2018
Event Management & Olympic Facility Program Director, Notre Dame, 2016
Offensive Quality Control, Ohio State, 2016
Tight Ends & Co-Special Teams, Youngstown State, 2015
Offensive Graduate Assistant, Nebraska, 2013-2014
Offensive Graduate Assistant, Kansas, 2012
Quality Control Special Teams, Kansas, 2011