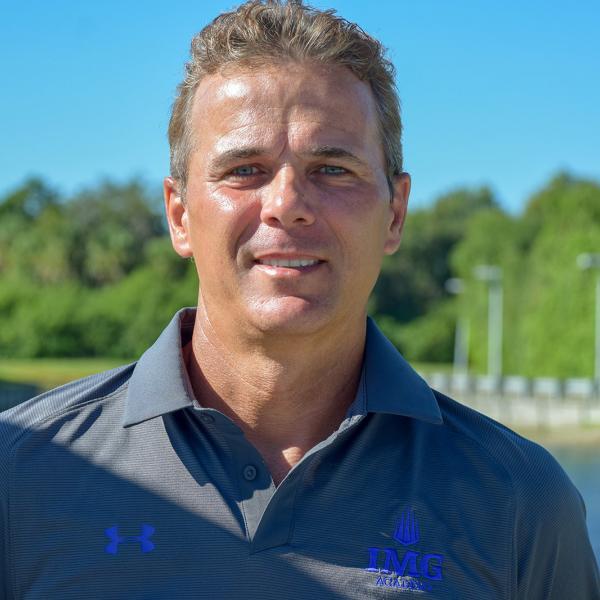 Mark Napier
Director of Track and Field
With IMG Since: 2018
Hometown: Forest City, FL
Languages Spoken: English
About Me
Mark Napier most recently served as Head Coach of Track & Field at Lakewood Ranch High School, one of the top high school programs in the state of Florida. During his 8 year tenure he coached 12 state champions / 2 state relay champions / girls' state championship team and 3 years where both his boys and girls teams had the highest Academic GPA in the state of Florida. With 8 years of high school and 20 years of college experience, Napier also works with the KAAF Top Junior Athletes in South Korea.
Prior to coaching Lakewood Ranch High, Mark Napier coached at Mississippi State University, Blinn Junior College, University of Wisconsin, University of Oklahoma and University of Northern Iowa. He has been an integral part of 4 NJCAA National Track titles, 30 Big Ten titles in track and cross-country, 1 Big Twelve title, and 2 Missouri Valley conference titles. He has coached 21 NJCAA National Champions, 7 NJCAA National Field Event record holders, 34 NCAA Conference Champions, 27 NCAA All-Americans, 4 Olympians, and mentored 12 NFL football players on speed and performance.
Over the many years of coaching Mark has won numerous individual coaching awards and has achieved success at all levels from high school to college to professional. Mark's extensive experience with both women's and men's teams will serve him well in leading our boys' and girls' track & cross-country programs. Mark was a decathlete, triple jumper, hammer thrower, team captain and two time Seminole Award Winner at FSU. Mark and his wife Karen have been married over 25 years and have three boys Josh, Hunter, and Nick, all D1 college track athletes.
Coaching Experience
KAAF National Junior Coach Liaison – Dague, South Korea
Lead Instructor - South Korean Junior Team / Professional Athletes and KAAF Coaches
Florida High School Coach of the Year / National Coach of the Year Finalist

Both boys and girls programs had back to back highest team GPA's in Florida

22 NCAA & NJCAA National Champions, 26 NCAA & 51 NJCAA All-Americans, 36 Conference Champions, and 55 NCAA qualifiers.
Responsible for coaching and recruiting 64 Academic All-Big Ten student athletes.
Have coached on a total of 33 Conference Track & Field Championship teams in 3 conferences (MVC, Big XII, and Big Ten).
NJCAA National Assistant Coach of the Year 4 times and 4 NJCAA National Titles
Coached 4 Olympians (Long Jump/Triple Jump/Decathlon/400m)
Coached 2 Visa Decathlon Members
Coached 6 U.S. vs. Germany Decathlon Members
Coached 1995 World Championship Bronze Medalist in Triple Jump
Coached 2000 Indoor USATF National Runner-up in High Jump
Coached and mentored 12 NFL players (most notably 10x All-Pro Joe Thomas)
Education/Accreditations
Masters of Science, Mississippi State University
Bachelors of Science, Florida State University