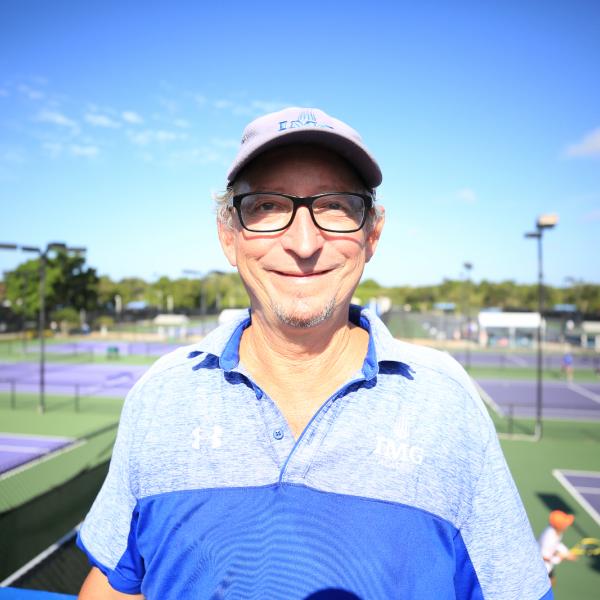 Pat Dougherty
Coach
With IMG Since: 1985
Hometown: Louisville, KY
Languages Spoken: English
About Me
Pat's association with the IMG Academy extends back to November 1985, when he created the first off-court "Hi-Tech" program. Hi-Tech was an all-encompassing, video intensive off-court experience where students were able to explore every fundamental aspect of tennis.
When it comes to tennis instructional videos, Pat is credited as having been one of the most prolific writers and producers of all time, with a body of work that spans over 25 productions. From the Bollettieri Series, Killer Forehand and Sonic Serves are among the best selling tennis videos in history. His work has been broadcast on the Tennis Channel and networks throughout the world. In 2007, Pat was contracted by Pepsi/Gatorade to write and produce a 30-minute instructional video showcasing Maria Sharapova. Also known as the "Serve Doctor", Pat produced the "Serve Doctor presents M.P.H." DVD in 2009.
In partnership with Nick Bollettieri, Pat spearheaded a joint venture with the USTA to create, write and produce "Tennis in a Can", a first of it's kind program providing a comprehensive collection of instructional materials for high school tennis coaches across the US and Canada.
In 1990, Pat received a patent for his Athletic Performance Belt, a training device which tennis commentator Mary Carillo referred to as, "a major breakthrough for developing tennis athletes". The A.P. Belt Training System includes 3 innovative training devices and a DVD entitled "Quicker, More Powerful Tennis in 30 Days", which explores the fundamental movement techniques of a tennis athlete. Some of the highest ranked touring professionals have made the A.P. Belt an integral part of their training such as former world #1 Victoria Azarenka, Dimitri Tursanov, Sorana Cirstea, Monica Puig among others. Top NCAA Division 1 Tennis Teams have also incorporated the AP Belt training system including Florida, LSU, Kentucky, USC, UCLA, Pepperdine and many more. A.P. Belt training is fully integrated into the IMG Academy Tennis programs.
Pat contributed in the development of many elite players including Kei Nishikori, Andre Agassi, Jim Courier, Tommy Haas, Monica Seles, Maria Sharapova and Nicole Vaidisova. He has been a technical & tactical consultant coach for Albert Ramos-Vinolas,ranked ATP #17 in 2017.
He has been published in SMASH, Tennis Magazine, USTA.com, Tennis.com, among others. His youtube channel currently has over 6500 subscribers and an Instagram following of nearly 10,000. Pat has conducted player and coaching seminars on six of the seven continents of the world and is recognized in the tennis industry as a technique and strategy specialist.
Education/Accreditations
University of Kentucky, 1985
Experience