Next-Level Performance Training
IMG Academy adult performance camps are available year-round for ages 19+, with programs for everyone, whether that be by growing their game from the foundational level or simply fine-tuning swing mechanics. See below for how to select the right camp for you and click "Book Camp" for a quick and easy online registration process.
All-Inclusive Adult Performance Camp Packages
Take advantage of the Legacy Hotel at IMG Academy and other campus amenities with one of our pre-packaged programs that create the ideal experience.
Stay & Play
Maximize your experience at IMG Academy by staying and training on site. Package includes:
1-day performance camp
1-day, 2-night Legacy Hotel reservation at IMG Academy
Relax & Recharge
The ultimate program to both improve and unwind. Package includes:
3-day performance camp
3-day, 4-night Legacy Hotel reservation at IMG Academy
One Wellness Spa session (options include 60-minute deep tissue massage, hydration facial or saltwater therapy manicure & pedicure)
Champions
Treat yourself like a true professional at IMG. Package includes:
5-day performance camp
5-day, 6-night Legacy Hotel reservation at IMG Academy
Two Wellness Spa sessions (options include 60-minute deep tissue massage, hydration facial or saltwater therapy manicure & pedicure)
IMG Academy training gear package
Customizable Adult Performance Camps
Register for our world-renowned performance programs in 1/2-day, 1-day, 3-day or 5-day durations
Foundation of all IMG Academy training programs
Coaching and instruction is customized to skill and experience with two sessions per day (½ day programs only offer 1 session)
Includes a massage, mental training, or nutrition session in addition to performance curriculum
Designed for athletes who want to improve their overall game with our expert coaches and staff
Training for Every Goal
DEPENDING ON YOUR GOALS, HERE ARE JUST SOME OF THE SKILLS YOU WILL LEARN FROM OUR EXPERT COACHES:
Physical
Strength, power, movement, speed, agility, flexibility, conditioning
Mental
Build confidence, focus and determination and compete at your best on any given day
Nutrition
Optimal everyday nutrition, energy balance, dietary supplements and hydration strategies
Wellness
Massages throughout the week, ability to revive muscles, ensure complete benefit from daily or weekly workouts
Rest & Recovery
Daily breaks to ensure optimal time for stretching, relaxation, and hydration
Athletic Body Management
Reduce the potential of injury, corrective exercises, optimal training, rejuvenation of the body, massage and physical therapy
Expert Coaching
Adult performance programs are geared towards all active adults seeking an all-inclusive training experience. Whether your goal is weight loss, weight gain, fitness and full-body workouts, increased flexibility or core strength, or even getting back into shape, our team of performance specialists, nutritionists, and lifestyle coaches will design a program to aid in your progression and allow you to reach your goals. Training includes physical conditioning, mental conditioning, vision training, nutrition, and athletic body management.
Coach Spotlight
Charles Gooch - Head of Leadership
Charles Gooch joined the IMG family in 2016. Charles is a native of Fresno, California, where he, along with his 5 siblings were raised by his mother, who was a minister, and his father, who was an Army Drill Sergeant.
Performance Technology & Facilities
Performance & Sports Science Center
Mind Gym for mental conditioning sessions and vision training

Fit Lights, DynaBoard, and cognitive perceptive technology

Yoga studio
Strength and conditioning equipment
Classrooms and meeting spaces
Book Your Camp
Online Camp Builder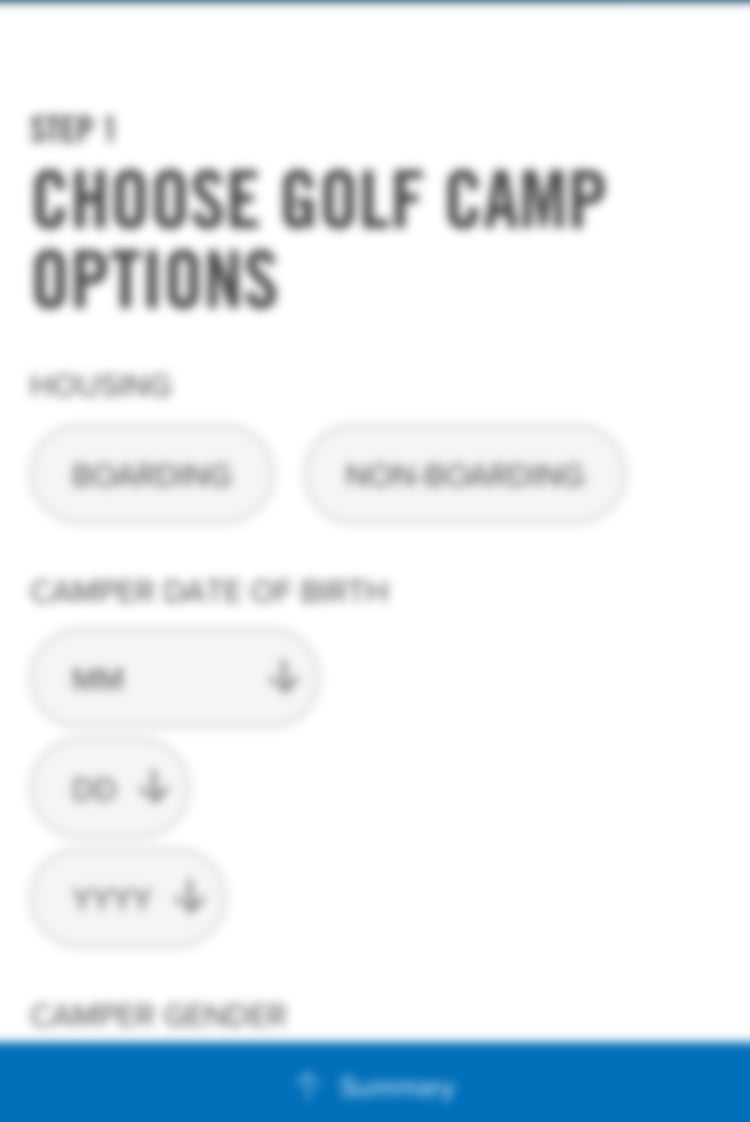 FAQ
Adult Performance Camps
How much does a camp cost?

Camps vary depending on how long you stay and what program you choose! You can also configure your camp with many options to customize your stay at IMG Academy.