Best of the Best: An Interview with Nick Bollettieri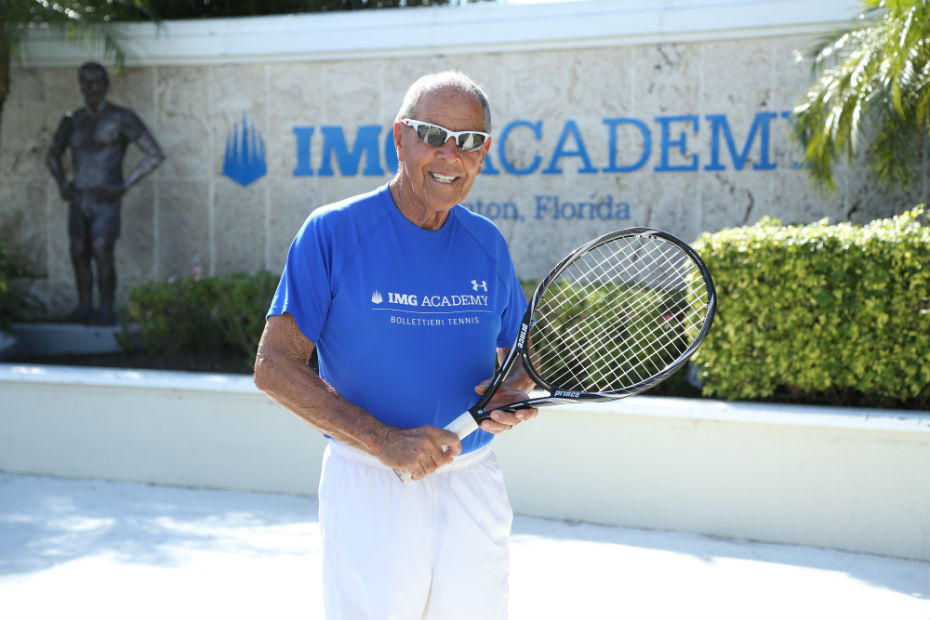 Originally posted on the Octavian Report
Andre Agassi. Boris Becker. Jim Courier. Monica Seles. Serena Williams. The list goes on: if you've heard of a tennis player, chances are Nick Bollettieri trained them. He is indisputably among the world's greatest coaches, with 10 number-one singles players and a total of 150 Grand Slam titles amassed by his students. His principles are simple and profound, and applicable far beyond the world of tennis, to every human undertaking.
Octavian Report: What is the secret, in your view, to your success?
Nick Bollettieri: The secret to me being successful is saying thank you to critics and doing what my grandmother and father said: let the results speak for themselves, and never argue with a critic. I had so many critics it would sink a battleship.
OR: Why do you think they were wrong?
Bollettieri: I never even thought that. I didn't think whether they were right or wrong. I just did what I thought was right and let the results speak for themselves. If I thought why I thought they were wrong, I would never be where I am. So I never gave it any thought. I just moved on. What you want to do is evaluate what the critics say and if there's anything positive, then you should utilize it in what you're doing. That will make you better. But to take time out to fight the critics — my gosh, I would have been up 48 hours in a 24-hour day.
Also, remember something: I did something nobody else ever did and that's why people jumped on it. They didn't have any idea that anybody would try to do what I did and take kids away from their homes and put them into a school and work them. We were totally opposite of the normal way of bringing up children.
OR: How can you tell someone's going to be a champion?
Bollettieri: Well, I was pretty lucky in the beginning because we only had about four or five countries really playing. So when I saw Agassi, I knew right away he had tremendous eyes to pick up the ball and hands. When I saw Monica Seles, she hit the ball in a different style: standing on top of the baseline and hitting every ball up in her eyes with both hands and both sides. With Courier, he was a bulldog: he would work physically. And I was able to say these kids are going to be great. Today, it's the whole world playing so you have to be very careful before you say I have a number-one player. Also, today's game is based on physical makeup as well as mental. Among the top men playing today, the average height is six-foot-three.
OR: Is the biggest change you've seen in tennis? That it's become much more physical?
Bollettieri: It's much more physical. But there's also a lot more on nutrition, a lot more on the mental part of the game. Many years ago we just hit the ball. Now, it's the mental, the physical, it's the whole makeup. Techniques, strings, evolution of rackets, of mobility: tennis is a movement sport. If you can't move, you can't reach the ball.
OR: How many people did you have in the U. S. Open in 1984?
Bollettieri: We had very close to 30 people in the main tour at the U. S. Open, yes, sir.
OR: How many top-ten players have you coached over the course of your career?
Bollettieri: I think we had 170 Grand Slam winners and we've had 10 of our students reach number one in the world in singles.
OR: Take us, for one second, through your personal fitness routine. How do you keep in such great shape at 84 years old?
Bollettieri: I do this by discipline. I'm up very early, I lay down on the big rubber ball, I do my sit-ups. I do periodic workouts at the gym, light weights, but I do a lot at home with rubber bands. And a multitude of sit-ups. I watch my diet. I'm very short on desserts, I watch what I eat all the time. I'm still the same weight and height and waist size as I was when I played football. 153 pounds, 32-inch waist, that's it. And why? Because I look in the mirror. I tell people that I feel special and then I go out and try to do special things and that's why our website is different than anybody else's. It tells all about these things plus tennis and why IMG is still the best in the world. This is because we keep on adding more facilities and learning how to do the job we do far better than we did it 10 years ago. That's why IMG is still the leader.
OR: Could you talk about the program you had with Arthur Ashe and a little bit about your friendship with him?
Bollettieri: Well, many years ago at the French Open in 1987, Arthur and I sat on a bench and Arthur said, "What are we going to do about the boys and girls who never hit a ball?" I said, "Don't worry about it, Arthur." I started the Ashe Bolletieri Program with Bob Davis as the director and when we walked into the park in Newark, New Jersey, with the police guarding us and gun shells on the grass, Arthur looked over his shoulder and said, "Nick, are we coming back?" Because, he said, if we don't come back, we can't give children false hopes.
We did come back. And right now I'm in a program called Train-Up. This program is being chartered and evaluated and it's helping children get started. It's giving them a chance to progress in education as well as status. I'm also heavily involved in inner-city tennis, helping the children in inner cities have a chance to hit a ball, that's the USTA's program. IMG is helping the program in Sarasota, Bradenton, and Palmetto giving hundreds of children a chance to excel. I do this very same program at the Nicollet Tennis Center in Minneapolis. I've been doing that for 13 years. That's where it is. I'm not going to stop.
Remember, you never stop learning. When you stop learning, it's time to go back to school. Children today need help, they're confused. The world is full of drugs and alcohol and nobody cares for those children who have no hope. That's where we've got to pay our attention to. Remember, when you're physically fit you make better decisions. This is why eight years ago my wife and I started Camp Kaizen. We took 40 young girls every summer for six summers through my foundation and studied them to help find out why childhood obesity is running rampant.
Click here to read the entire interview at OctavianReport.com.
Click here to sign up for a boys tennis camp!
To register for a girls tennis camp at IMG, click here!