French Open junior champ Whitney Osuigwe eyes bigger things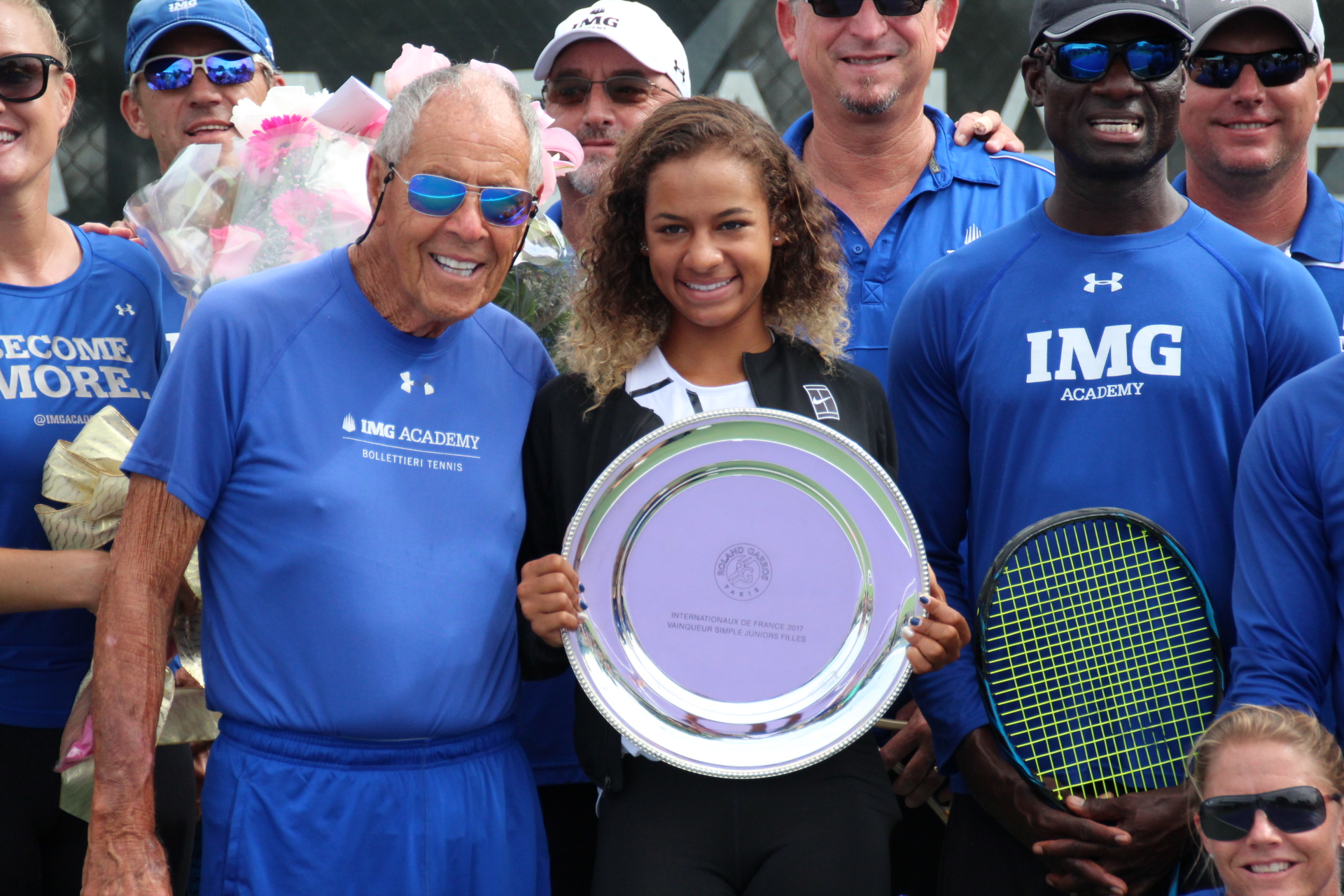 By Aishwarya Kumar, ESPN.com
Whitney Osuigwe says she didn't know why Margie Zesinger had summoned her to the IMG Academy's main tennis stadium earlier this month. Osuigwe had just returned home the day before as the newly minted French Open junior girls' champion. Her coach's text message was cryptic.
What Osuigwe (o-SEE-gway) saw when she entered the stadium at the Bradenton, Florida, training facility made her jaw drop -- and then a wide smile spread across the 15-year-old's face. IMG's coaches had formed two lines on the court, facing each other, and held up tennis rackets to form an arch. Her French Open trophy was perched on a table, and a daisy bouquet -- pink, her favorite color -- lay next to the trophy. Her favorite song, "Girl on Fire" by Alicia Keys, played on the speakers. Osuigwe walked under the arch of rackets while shaking hands with the coaches and soaking in the moment.
While other academy athletes sat in the bleachers watching, Osuigwe noticed that Japanese star Kei Nishikori had stopped his practice on the adjacent court to check out the spectacle. Her family was there, too, watching it unfold with a look of pride on their faces.
This moment was everything to her, affirmation that she had taken a huge step in the world of tennis -- winning a junior Grand Slam.
Her 18-year-old brother, DeAndre, who'd driven the trophy over to the academy earlier in the day, said to her, "Whitney, this is just the beginning."
Osuigwe has come a long way since first stepping onto a court when she was around 3 years old. Her fashion sense has come a long way, too.
"She started playing tennis wearing boots and Cinderella clothes," said Desmond Osuigwe, Whitney's father. "She would never get out of those clothes, and it was totally uncoordinated with what she was doing."
Zesinger said people would call Whitney the "Pink Panther" because she would only wear her favorite color and she ran up and down the court as fast as a jungle cat.
When Whitney was 6 years old, she started beating DeAndre. That's when Desmond realized his daughter had the potential to play professionally -- and it wasn't just parental optimism, because Desmond happens to be a longtime tennis coach at IMG. That meant it was time for Whitney to enroll full time at the academy and spend eight hours training and two hours in the gym daily.
According to Zesinger, Whitney was the youngest and smallest player in her group -- many of her cohorts now play Division I tennis -- but was willing to work extra hard to keep up with -- and even surpass -- her older teammates.
Click here to read the entire story at ESPN.com.
Click here to learn more about IMG's girls tennis program.
Photos: Morgan Liber/IMG Academy