IMG Academy baseball continues to be cutting edge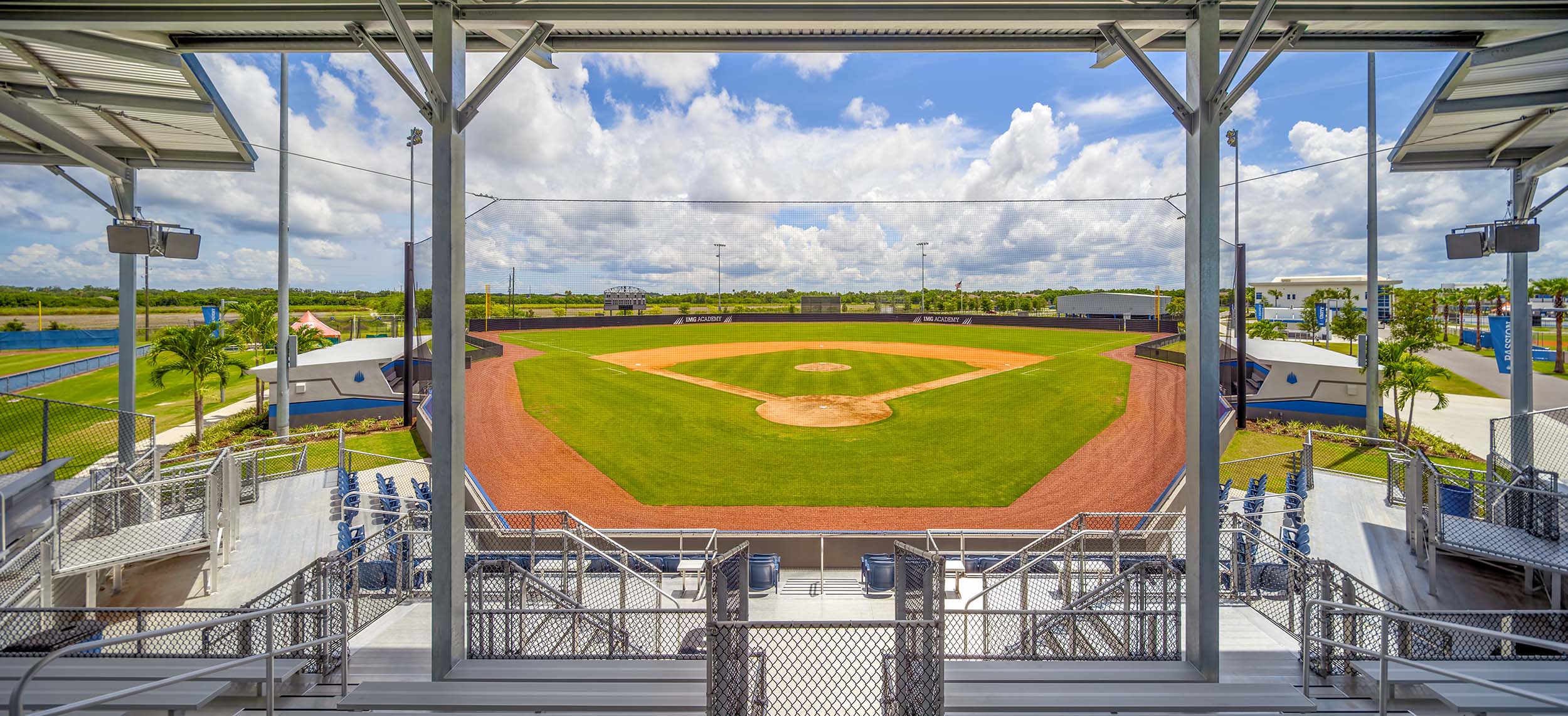 By Gerry Hamilton, Baseball America
IMG Academy continues to be a trendsetting destination for high school age athletes. With state-of-the-art facilities for all athletes, sport-specific training and nutritional table, the benchmark for high school sports begins and ends in Bradenton.
The program has enjoyed impressive success in recent years whether its 88 division I signees since 2012, 17 student-athletes named to All-American teams since 2009, 23 student-athletes or alumni selected in the MLB Draft since 2005 or 10 national tournament titles since 2009.
The success on the national, collegiate and MLB Draft stage in recent years has helped serve as a catapult to continued growth of the program with big designs on the future according to Director of Baseball Dan Simonds.
"We have state of the art high technology here," said Simonds. "Whether it's the hitting simulator that we have in our cages or our pitch recognition augmented reality, we are all about development. The facilities speak for themselves."
Along with the continued technological advancements added to the program, the facility is taking on the look of a spring training complex with more plans already being drawn up for the future to provide a venue for bigger national tournaments according to Simonds.
"We will have two additional fields, that is next. We are hoping to have a hitting lab with all the technology in one space."
The two fields are going to be turf on the infield and grass in the outfield so they can be turned over more efficiently, and host more tournaments.
Another major draw is the ability to develop at IMG Academy under former collegiate and MLB players, such as head coach Chris Sabo and pitching coordinator Steve Frey.
"Our coaches are very, very passionate about developing players. Whether it's camp, team training or our academy, our focus is on developing the individual players skill sets and teaching the fundamentals of the game," said Simonds.
The IMG Academy baseball program is more than just the team with a 15-3 record currently, and all the impressive accomplishments in recent years, as IMG also offers instructional baseball camps.
"We are seeing more kids coming in because they want to come in and really get high level instruction. We are fortunate here because we have coaches that have experience at the collegiate level and the professional level. The biggest benefit of coming here is the development."
The camps aren't just for youth and high school level players, though ages for camps range from nine to 18-years. However, the college training is another area that continues to grow under Simonds and staff.
"We have a collegiate program too that has become very, very popular. College players train prior to the fall or spring season."
Simonds added, "a lot of kids from the northern schools come down because we have good weather, and it's so comprehensive. These kids get vision training, nutrition, strength and conditioning. They get things that are going to be applicable to the baseball field and it's very comprehensive."
The final piece of the puzzle for the quickly ascending program is to build on an already budding international program, which will include clinics in Asia in December.
"In the future, we are looking to bring in more international teams. We are going to bring in international teams from Korea, Japan and other countries."
Simonds reported that he and his staff had traveled to the Dominican Republic in the past to hold clinics, in addition to Australia. Future plans for international clinics include stops in South Korea, Japan and Mexico.
For more information on IMG Academy's baseball program, click here.
To attend a baseball camp at IMG, click here.