Student Athlete of the Week: Julia Andreach (Girls Tennis)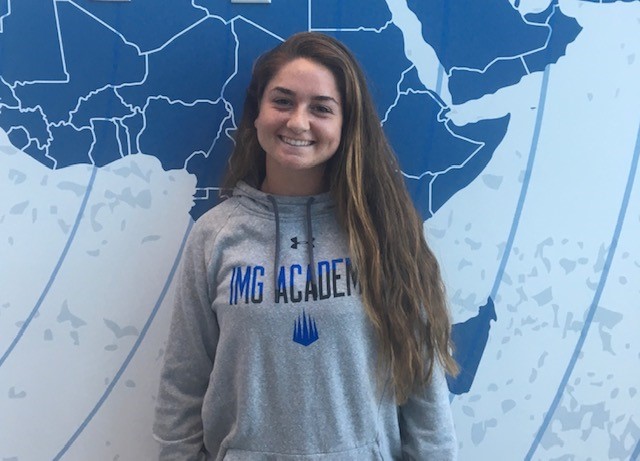 Junior tennis student-athlete Julia Andreach enrolled at IMG Academy because she "wanted to further her athletic development by playing international tournaments." As a high level athlete and a dedicated student, Andreach earns this week's Student Athlete of the Week.
She has enjoyed "meeting new people from different areas of the world" at IMG, and she understands that her commitment to tennis and her academics are both a priority. She enjoys the "amount of help she receives from teachers when traveling for tournaments" because they ensure she's prepared before her travels for the upcoming courses and lessons.
Andreach also recognizes that IMG has "helped her receive a great education in order to benefit her future." We look forward to seeing her continued success, and congratulations on this accomplishment!
Get to know Julia:
Hometown: Rochester, NY
How many years playing tennis: 13 years
Coach: Coach Gabby Mateus
Student Clubs/Organizations: National Honors Society; Spirit Club
Favorite school subject: "Science or social studies because I find them really interesting."
What do you want to study in college: "Something in politics or engineering - not sure yet."
Best Advice Received: "If you don't believe in yourself, how is anyone supposed to believe in you?"
Best sporting event ever attended: College football games
Favorite vacation spot: St. Barths
Hobbies outside of school: Hanging out with friends
Favorite local restaurant: Shore
Favorite post-match treat: Ice cream
Pre-match music or playlist: "Depends on the mood, normally rap"
Favorite Singer: Rihanna
Favorite Actress: Jennifer Aniston
Favorite Movie or TV Show: Friends
Favorite Type of Pet: Dogs
Sports Role Model: "Serena Williams because she started from nothing and became an amazing athlete."
Favorite Athlete: "Sloane Stephens because I like the way she plays."
Superstitions: "I have general superstitions that I follow during a match."
What do you want to be when you grow up:
What inspires you to work hard in school and why: "My parents inspire me after all that they have sacrificed to send me to IMG."
Editor's Note: IMG Academy features a "Student-Athlete of the Week" award while class is in session. Students are nominated based purely on academic achievements and are chosen by a committee of educators from our boarding school.