Breaking Ground & Breaking Records: IMG Academy's Campus Evolution Progresses in 2023 IMG Academy continues to enhance and expand its Bradenton, FL campus to ensure that student-athletes, families, campers, event participants, and more have the best-in-class experience as well as access to world-class facilities any time they enter our gates. IMG Academy's recent campus evolution projects showcase our dedication to growth and expansion that will result in better development opportunities for our student-athletes and sports programs overall. Check out the campus-wide growth that's happening right now at IMG Academy as well as some recently completed projects:
In Progress:
IMG Academy is doubling its Campus Center footprint to over 80,000 sq. ft. that will include several modern enhancements. The Campus Center will soon feature five new food outlets – including two recognizable and popular food chains, new student life spaces, private dining rooms, a convenience store, a larger bookstore, and bigger Johns Hopkins Health Services location – all in the heart of campus.
We're adding our fourth residential dorm, Ascender Hall North. This new building includes an additional 200 dorm rooms and flexible space for both students and staff. The Ascender Residential Complex currently includes three other dorms in Ascender Halls, South, East and West.
Recently Completed Over the Last 12 Months:
IMG Academy remains dedicated to constant improvement, student success, and housing state-of-the-art athletic and training facilities. Over the past year, IMG Academy has enhanced several of its performance areas for student-athletes, including:

Installing a new track for Track and Field
Investing in artificial turf on the Football Stadium Field
Adding artificial turf on six infields for the Baseball Program.

The program also received lights for all six of its fields for nighttime games.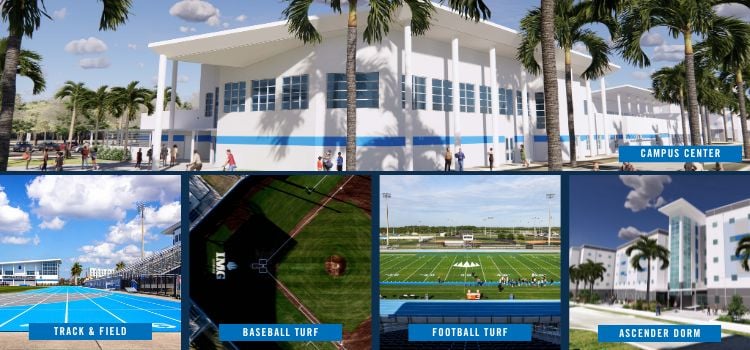 These improvement projects remain at the forefront of IMG Academy's mission to being a world leader in education, sports and performance. IMG Academy continues to put efforts into growth areas for student-athletes, student success and girls athletic programs.
IMG Academy is continuing the evolution of our 600-acre campus to provide best-in-class experience for our student-athletes, campers, groups, events and all of our customers. The Campus Center is being reimagined with a new multi-faceted dining experience and a new fourth residence hall will add 200 additional premium dorm rooms and multi-purpose space for teaching, learning and student activities. The impact of these renovations will further enhance the holistic experience for everyone coming to IMG Academy to learn, live, train, and reach heights they never thought possible." – Tim Pernetti (President, IMG Academy – Bradenton)
IMG Academy's on-campus programming consists of a full-time boarding school experience that provides a holistic approach to education that equally focuses on academics, athletics and personal development, sport camps offering multiple training options and specializations available throughout the year to match individual goals and needs, as well as additional options such as Adult Sport Camps for tennis and golf, Events, Group & Team Hosting, IMG's Golf Club, and more. IMG also offers online services through IMG Academy+, one-on-one, group and on-demand training for Mental Performance and Nutrition Coaching, and NCSA College Recruiting, the world's largest recruiting network.