Four IMG Academy Basketball Student-Athletes Named 2022 McDonald's All Americans From over 760 nominees to 48 selections, the 2022 McDonald's All-American Game rosters are officially set. Wondering where IMG Academy Ascenders fit amongst this list?
Four players from IMG's Boys and Girls National Teams were selected on January 25, 2022 as 2022 McDonald's All Americans, the most the Academy's basketball program has produced in one season.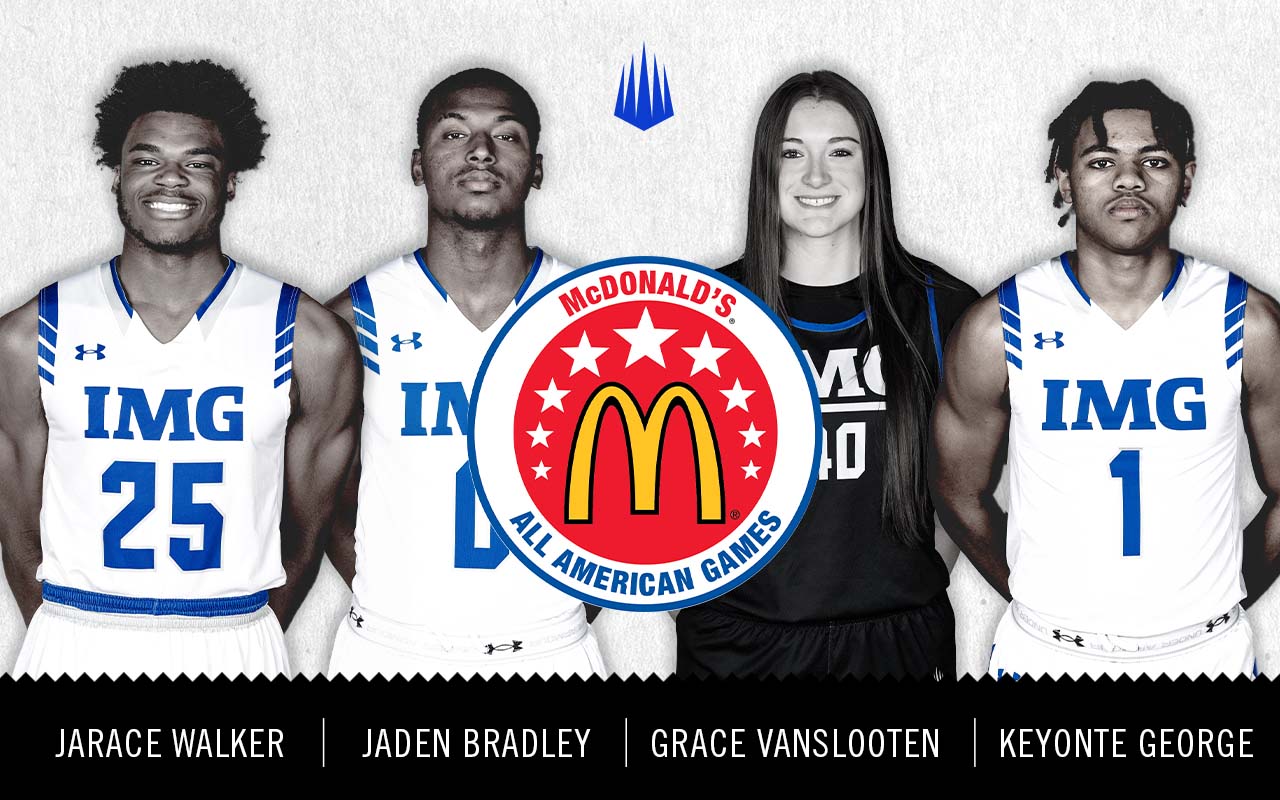 Jarace Walker, a 6-8 forward, has averaged 16.5 points on 69 percent shooting, including 40 percent from three-point-range this season.  He has also averaged 7.5 rebounds, 3.5 blocks and 2.3 blocks. The New Freedom, Pa. native has committed to the University of Houston.
Keyonte George, a 6-4 guard, is averaging 15.1 points, 4.4 rebounds and 2.1 assists, while shooting 62 percent from the field and 41 percent from downtown. He scored a season-high 24 points against powerhouse Oak Hill Academy on Dec. 21. The Lewisville, Tex. native has committed to Baylor University.
Jaden Bradley has averaged 10.1 points, 4.0 rebounds, 5.1 assists and 1.5 steals. The 6-3 guard from Rochester, NY has committed to University of Alabama.
Grace Vanslooten, a 6-3 forward from Toledo, Ohio, has averaged 19.1 points and 8.3 rebounds on 51.2 percent shooting this season. She grabbed a season-high 14 rebounds vs. Newark on January 15. She has committed to the University of Oregon. 
Walker, George, Bradley and Vanslooten were among 10 total IMG players nominated to participate in the 45th Annual McDonald All-American Game, which was tied for most in the nation. 
 
Introducing to the court, the McDAAG Class of '22. Welcome to the big leagues, we're hyped to have you. pic.twitter.com/m7ZMRlyfH5

— McDonald's All American Games (@McDAAG) January 25, 2022
The rosters were announced today on ESPN's "NBA Today" and the games will be played at Wintrust Arena in Chicago in March.