Four IMG Academy Student-Athletes Ranked Inside ITF Top 10 This week's ITF Junior Rankings presented by IMG Academy were released on July 22, 2019, and four IMG tennis student-athletes are ranked inside the top 10, including:
Shintaro Mochizuki - No. 1
Martin Damm - No. 4
Adrian Andreev - No. 7
Toby Kodat - No. 8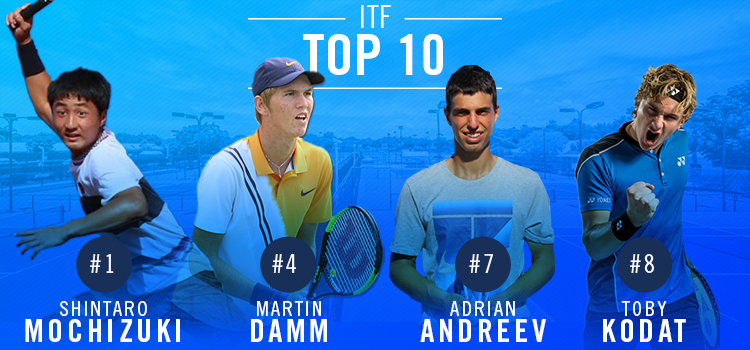 Most recently, Mochizuki secured the 2019 Boys' Singles Wimbledon title, becoming the first Japanese male to win a junior Grand Slam title. After his title, Mochizuki jumped from No. 10 to No. 1. Prior to Wimbledon, Mochizuki started the year with a win at the Grade 1 ITF tournament in Costa Rica (55th Coffee Bowl 2019), was a semifinalist at Roland Garros, and also claimed the Grade 1 ITF event in Nottingham to begin his run during the grass court season.
Damm's road to No. 4 began with a win at the Grade 1 ITF tournament in Carson, CA (International Spring Championships.) He was then a singles semifinalist in the French Open Junior Championships as well as at Wimbledon where he lost to Mochizuki. 
Andreev finished 2018 at No. 4 and began competing in Futures tournaments to begin the 2019 season. He earned a bronze medal while representing Bulgaria at the 2018 Summer Youth Olympics and has continued to perform at a high level both at ITF and ATP events. 
Kodat reached the French Open final in 2019 as well as the semifinals of Wimbledon. Kodat also reached the doubles semifinal of Wimbledon while partnering with Damm. 
"We'd like to congratulate these players on continuing to represent IMG Academy tremendously," Pat Harrison, IMG Academy Director of Tennis Operations, said. "Having four players in the top 10 with Shintaro at No. 1 is incredible, and it has been a privilege having them train here while being a piece of the puzzle in their development."
Juan Herrera, Head of the Male Tennis Program at IMG Academy, recognizes that each of these student-athletes have committed to and trusted the process. He said that they have the mental and physical ability, and their competitive instinct is truly what sets them apart.
"Their accomplishments are additional validation of the work they're putting in, and it creates an incredible culture here," Herrera said. "Our athletes are able to train with the best in the world and to see first-hand what it takes to be at the top."
IMG Academy's tennis program continues to establish a presence world-wide not only through accomplishments but through event activations and the IMG Academy World Tour. By hosting on-campus tournaments, tennis training within the Boarding School program, and year-round tennis camps as well as clinics across the globe, players have countless opportunities to learn directly from some of IMG Academy's coaching experts throughout the year. Registration is now available for the TEN PRO Global Junior Tour at IMG Academy (8/12 - 8/18), IMG Academy November Discovery Open (11/17 - 11/23), and the Eddie Herr Junior Championships (11/26 - 9/8). See the complete list, and learn more at imgacademy.com/events.