IMG Academy Alumni Highlighting the Start of College Football Season The 2019 College Football season kicks off this weekend, and IMG Academy alumni will compete for many of the nation's top programs. Heading into the weekend, 98 total alumni will appear on FBS rosters, with alumni included on National Award Preseason watch lists 29 times in 2019.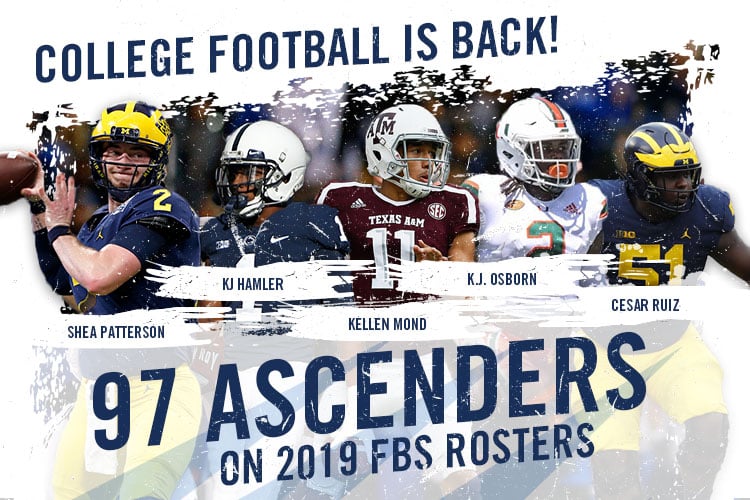 In previous years, 17 alumni have participated in College Football Playoff games, and IMG alumni have claimed eight College Football Playoff Championship rings since 2015. 
The current list of active IMG Academy alumni on 2019 FBS rosters includes: 
Chris Akporoghene, 2019, Tennessee
Briton Allen, 2019, Southern Cal
Jayden Curry, 2019, South Florida
Eric Gregory, 2019, Arkansas
Bryson Lucero, 2019, UAB
Chris Shearin, 2019, Missouri
Charles Turner, 2019, LSU
DJ Turner, 2019, Michigan
Antoine Whitner, 2019, Indiana
Mikel Jones, 2019, Syracuse
David Badwin-Griffin, 2019, Appalachian State
Noah Cain, 2019, Penn State
Josh Delgado, 2019, Oregon
Dontae Lucas, 2019, Florida State
Jaleel McRae, 2019, Florida State
Shamar Nash, 2019, Arkansas
Evan Neal, 2019, Alabama
Trey Sanders, 2019, Alabama
Nolan Smith, 2019, Georgia
Aidan Swanson, 2019, Clemson
Parks Cochrane, 2019, UNC
Gannon Feldman, 2019, Miami
Luis Gutierrez, 2019, Miami
Henry Kimmins, 2019, Washington State
Josh McCoy, 2019, Tulane
Vance Mullendore, 2019, Oklahoma State
Alan Nadelsticher, 2019, Miami
Cam Phillips, 2019, Wisconsin
Makai Self, 2019, Penn State
Sky Stefonic, 2019, Washington State
Noah Quier, 2019, Florida International
Louis Romo, 2019, Washington State
Quinn Sullivan, 2019, Arizona
Grant Summers, 2019, Purdue
Kjetil Cline, 2016, U.S. Military Academy, West Point
Jordan Anthony, 2017, Michigan
Jhamon Ausbon, 2017, Texas A&M
Grant Delpit, 2017, LSU
Thomas Fletcher, 2017, Alabama
Emmanuel Greene, 2017, Central Florida
Robert Hainsey, 2017, Notre Dame
K.J. Hamler, 2017, Penn State
Elvis Hines, Jr., 2017, Kent State
Josh Kaindoh, 2017, Florida State
Tre McKitty, 2017, Florida State
Kellen Mond, 2017, Texas A&M
Dylan Moses, 2017, Alabama
Isaiah Pryor, 2017, Ohio State
Cesar Ruiz, 2017, Michigan
Dante Sparaco, 2017, Colorado
Elijah Watson, 2017, Miami University (Ohio)
Marcus Williamson, 2017, Ohio State
Brock Annexstad, 2017, Minnesota
Kingston Harris, 2018, Tennessee
Will Huggins, 2018, Miami (FL)
Kevin Johnson, 2018, Syracuse
Mike Jones, 2018, Clemson
Jalen Jordan, 2018, Rutgers
Dane Saltarelli, 2018, Oklahoma
Alondras Strong, 2018, UAB
Juan Wallace, 2018, Syracuse
Nick Wiebe, 2018, Oregon
Stephon Wynn, 2018, Alabama
Joel Dublanko, 2016, Cincinnati
Spencer Perry, 2016, Notre Dame
Ryan Bowman, 2016, Washington
Tony Jones, Jr., 2016, Notre Dame
Khalil Ladler, 2016, Virginia Tech
Rahshaun Smith, 2016, Clemson
Elias Lugo-Fagundo, 2017, Miami (Fla.)
Powers Warren, 2017, Mississippi State
Christian Pluchino, 2017, Virginia
Robert Congel, 2017, Texas A&M
Broc Bando, 2017, Nebraska
Jack Camper, 2017, Michigan State
Tyler Mabry, 2015, Buffalo University
Kendrick Osborn, 2015, Buffalo University
Scott Patchan, 2015, Miami (Fla.)
Malik Barrow, 2016, Ohio State
James "TJ" Pledger, 2018, Oklahoma
Brendan Radley-Hiles, 2018, Oklahoma
Ayodele Adeoye, 2018, Texas
Zack Annexstad, 2018, Minnesota
Verdis Brown, 2018, Illinois
TK Chimedza, 2018, Georgia Tech
Andre Cisco, 2018, Syracuse
Curtis Jr. Dunlap, 2018, Minnesota
Daniel Faalele, 2018, Minnesota
Houston Griffith, 2018, Notre Dame
Brian Hightower, 2018, Miami (FL)
Greg Newsome, 2018, Northwestern
Xavier Thomas, 2018, Clemson
Artur Sitkowski, 2018, Rutgers
Taron Vincent, 2018, Ohio State
Ricky Aguayo, 2016, Florida State
Shea Patterson, 2016, Ole Miss
IMG Academy's National football team will compete for the first time this season on August 23, 2019 at Venice High School. The Varsity team kicks off their season on August 24, 2019 against AA Christian Academy.  IMG was ranked No. 6 in the preseason rankings according to MaxPreps after ending the 2018 season at No. 5. IMG has earned a top 5 national ranking from 2016-2018.
Stay tuned for information about upcoming signing days and commitment ceremonies to see where this elite group of athletes is heading next.