IMG Academy Football Student-Athletes Finalize Next Steps During 2020 NLI Signing Day Amidst a global pandemic, IMG Academy's football program finished the 2020 season undefeated while maintaining the No. 1 slot from the preseason rankings through their final snap. While the focus remained on the Brotherhood in 2020, IMG football student-athletes were also focused on where their next steps would lead them following the completion of their season.
On December 16, 2020, 17 IMG Academy senior and post-graduate football student-athletes committed to the next level. Several signed their NLIs to finalize their commitments during IMG's National Signing Day Ceremony while others chose to make their decision off campus.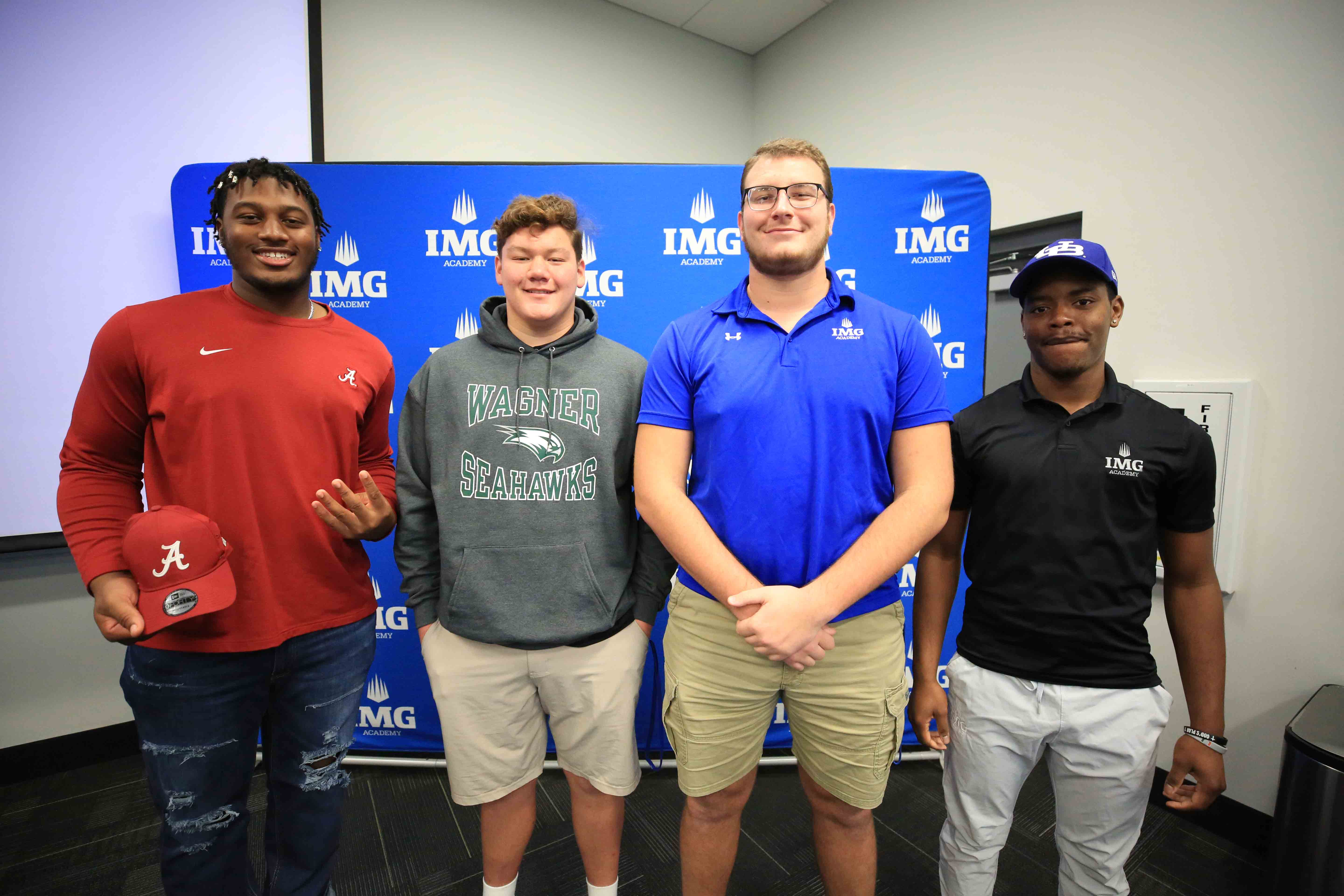 The full list of today's football signees included:
    
Jacorey Brooks - University of Alabama**
Markevious Brown - University of Mississippi*
OJ Burroughs - University of Kansas
Lovasea Carroll - University of Georgia*
Greg Crippen - University of Michigan*
DeMarco Cuffey - University of Buffalo
Justin Curtis - Wagner College   
Marlin Dean - University of Georgia
JT Ellis - Georgia State
Anthony Hundley - University of Central Florida
Ilija Krajnovic - Boston College
JC Latham - University of Alabama**
Malik McClain - Florida State*
JJ McCarthy - University of Michigan**
Jake Renda - University of Pittsburgh
Xavian Sorey - University of Georgia**
*ESPN 300 Recruit
**247Sports 2021 Top 50 Recruit
Among this group, eight IMG football student-athletes appear on the ESPN 300 Recruiting list for 2021 while four of these players also were named to the 247Sports 2021 Top 50 Football Recruits list. These student-athletes were members of IMG's National, Varsity, and Post-Graduate football teams, all three of which are committed to providing players with an opportunity to excel both on the field and in the classroom. For more information about each of these teams as well as the football program in Bradenton, FL. overall, visit the link below.
IMG Academy staff, teachers, coaches, and the entire Ascender community congratulates this group of signees and looks forward to another successful season and academic semester in 2021.