IMG Academy holds ribbon cutting for new state-of-the-art Student Residence Hall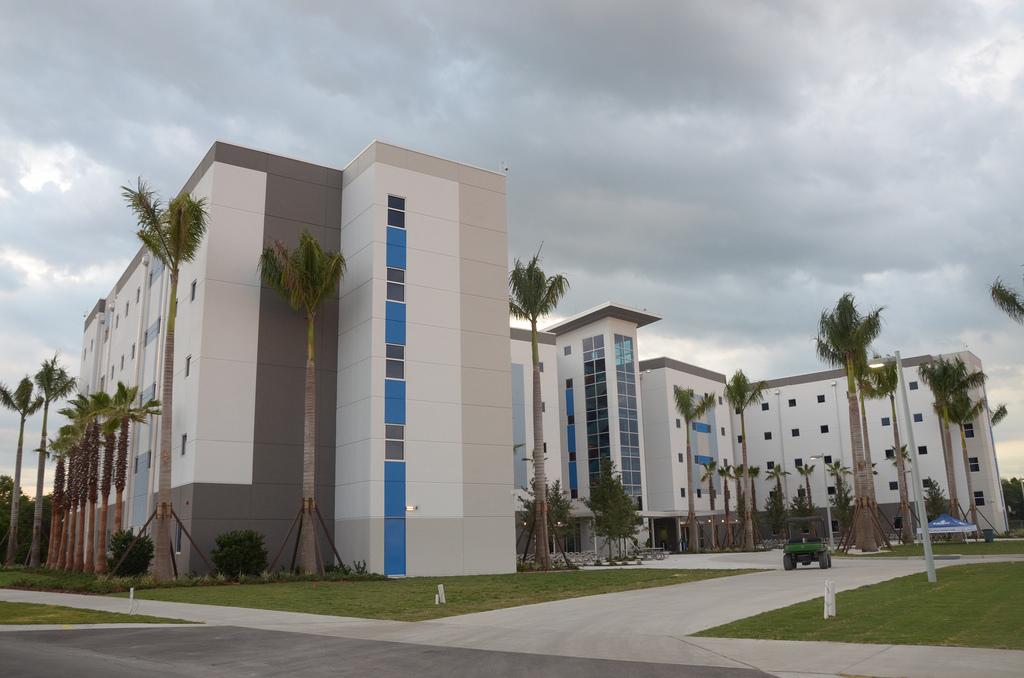 Bradenton, Fla. (May 21, 2013)
– Last evening IMG Academy held a ribbon cutting for the latest addition to its expanding campus - a five-story Student Residence Hall.
The opening of the new Hall comes just weeks after IMG Academy broke ground on a new multi-sport complex that will open in August.
"We couldn't be more thrilled to open our new Residence Hall, which will quickly become the hub of our campus and provide each boarding student with a living space very similar to what they will experience in college," remarked Rich Odell, Vice President of Student Affairs and Headmaster, IMG Academy. "This incredible facility marks just the beginning of a campus expansion plan that will include new academic buildings, student life facilities, and sport complexes."
Several hundred students and staff, as well as community partners led by architect Fawley Bryant and Tandem Construction, were on hand for the event. Special guest Michael Dolan, Chairman and CEO of IMG Worldwide, made the trip to IMG Academy after receiving a personal invite signed by members of the IMG Academy Student Council. Dolan did the honors of cutting the ribbon, leading to a flooding of the Hall by eager students seeking a look at their new home.
Remarked Rick Fawley, President, Fawley Bryant: "The ribbon cutting ceremony for the new Residence Hall featured an energized IMG Academy student body - reminding me that the social environments we create for student-athletes are just as critical to maximizing their personal growth potential as ensuring their long term success to become great citizens of the world."
Echoed Peter Hayes, President, Tandem: "Since our first days on campus, we have recognized and appreciated IMG's vision and commitment to transforming this local facility into a world class sports training and educational campus like none other. Last evening, as students and stakeholders from across the country and around the world gathered to celebrate the completion of the first major building component of the new master plan, it became evident that the future is now. Inspiration, collaboration, focus and an unwavering resolve to be the very best is that which defines IMG and the leadership that has made it all possible. We are so very proud to be a member of the IMG Team!"
The Residence Hall will house 500 students during the academic year with the ability to expand to 1000 during the summer camp season. The building is wireless throughout and features a state-of-the-art security system. Floors two through five will feature academic study rooms, while the lounge area on the first floor will feature: a toiletries/snack shop; mail room; large-screen televisions; high-top table seating and relaxing furniture; pool, foosball, ping pong tables; and more. The first floor will also house Campus Life and Health Services offices, as well as a 24/7 Campus Safety desk in the lobby. Ten adults will live in the building – one on each wing of each floor – and will serve as resident assistants for the students.
Photo by: IMG Academy/Daniel Perales