IMG Academy to Host Premier Development Experience for Top High School Prospects with USA Baseball and the MLB Major League Baseball and USA Baseball today announced the new "Prospect Development Pipeline (PDP) League," a premier development and showcase experience for dozens of high school baseball prospects based in the United States. The PDP League, which will be held from mid-June through early-July at the IMG Academy in Bradenton, Fla., is an invitation-based development opportunity for approximately 80 of the top high school baseball players ahead of the 2020 MLB Draft. It will include competitive game play, practice & training sessions with MLB Club representatives serving as on-field coaches, and evaluation using modern technologies tailoring individualized development curriculums for each player. The PDP League will serve as a primary identification opportunity for the USA Baseball 18U National Team, slated to compete in the World Baseball Softball Confederation (WBSC) U-18 Baseball World Cup in Busan, South Korea. Additionally, the League will serve as a feeder for a new All-Star Week showcase game for the best high school baseball players, designed in a similar style to the existing SiriusXM All-Star Futures Game.
"We are thrilled to join USA Baseball in announcing the PDP League, which is the newest initiative in our ongoing commitment to improving the amateur levels of our game and connecting the next generation of stars to Major League Baseball," said Morgan Sword, MLB's Senior Vice President, League Economics & Operations. "The PDP League will provide these players, the majority of whom will be in consideration for the following year's MLB Draft, with the most dynamic, development-focused experience available to high school baseball athletes. Uniquely, the PDP League will also offer players the opportunity to prepare for life beyond baseball by prioritizing leadership and character development as well as personal health and well-being."
"The creation of the PDP League signifies a new, groundbreaking opportunity to cultivate excellence amongst athletes both on and off the field," said Rick Riccobono, USA Baseball's Chief Development Officer. "The development of the next generation of collegiate and professional stars has long been a core mission of USA Baseball, and we are proud to reinforce this commitment with the creation of this innovative program with the support of Major League Baseball and its Clubs. The PDP League will have an immediate and positive impact on the amateur landscape while fostering the continued success of Team USA on the international stage."
LEAGUE FORMAT & PIPELINE TO ADDITIONAL OPPORTUNITIES
The 80 participants of the 2019 PDP League, all of whom will be invited by Major League Baseball, MLB Clubs and USA Baseball, will be broken down into four teams of about 20 players. Most of the on-field activity, including competitive play and training, will take place at the IMG Academy. The teams also will have an opportunity to play at Tropicana Field, the home of the Tampa Bay Rays.
A percentage of the highest performing players from the PDP League will be considered for additional premier opportunities. These include events connected to MLB All-Star Week, such as the new high school showcase game as well as the High School Home Run Derby, an annual national home run hitting contest held at the All-Star host ballpark. Four of the eight participants in the 2017 All-Star High School Home Run Derby were selected in the first round of the 2018 MLB Draft.
USA Baseball also will utilize the PDP League as the primary identification event for the USA Baseball 18U National Team. Approximately 40 players will be invited from the PDP League to attend the 2019 18U National Team Trials, which will be conducted in late August in Los Angeles. From there, the final 20-man national team roster will be selected for team training in Asia, followed by the WBSC U-18 Baseball World Cup in Busan, South Korea in early September. The 2019 18U Team will be managed by long time Clemson University head coach Jack Leggett.

PLAYER HEALTH, WELLNESS & PERSONAL DEVELOPMENT
Providing all participating athletes with an environment that prioritizes their health and well-being is one of the founding principles on which the PDP League was created. The League will focus on monitoring overall workload, ensuring the necessary amount of down time and rest, prioritizing recovery management and support, establishing routines for development, and monitoring heat exposure and hydration.
Personal development will be a focus in classroom settings during the League through a variety of important educational seminars applicable to the participants' potential collegiate and professional baseball careers. Classroom lessons will be led by MLB Club, USA Baseball, and other pertinent guest speakers and will include
leadership sessions, diversity & inclusion training, proper use and importance of social media, nutritional tips, and more. Content, curriculum and expertise will be borrowed from existing initiatives, including MLB's Rookie Development Program and USA Baseball's National Team Development Program.
Additionally, the participants will have the opportunity to undergo unique athletic assessments, consisting of performance vision screening, swing and ball flight analysis and precise physical testing. These voluntary assessments have already helped establish an official identification and player assessment pathway to Major League Baseball and all 30 MLB Clubs for elite high school age baseball players. In the last two MLB Drafts (2017 & 2018), 212 players who participated in 2017-2018 PDP events were selected.

ADDITIONAL USAB & MLB PROGRAMMING
MLB and USA Baseball partner on a variety of different initiatives, including the PLAY BALL initiative (www.PlayBall.org), diversity-focused amateur development camps (Breakthrough Series, DREAM Series & Hank Aaron Invitational), Fun At Bat program (www.FunAtBat.org), girls baseball initiatives (Trailblazer Series, Girls Baseball Breakthrough Series), Pitch Smart (www.PitchSmart.org), Hit and Run Baseball (www.HitandRunBaseball.com), and many more.
In August, MLB and USA Baseball announced "States Play," a new, annual high school baseball tournament to showcase some of the best rising seniors from states that historically produce a high volume of collegiate and professional players.
Credit: USA Baseball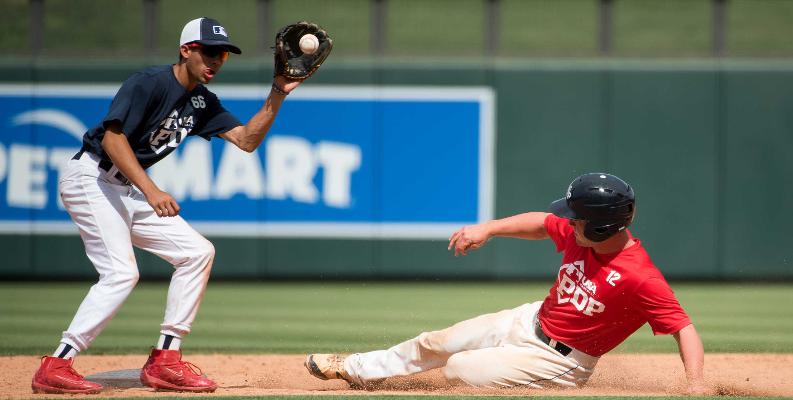 ---