IMG Academy's 2019 Commitment Ceremony Honors 250+ Senior Student-Athletes IMG Academy's 2019 Commitment Ceremony honors graduating seniors and post-graduate student-athletes on their achievements and their next steps. Over 250 seniors individually announced their college commitment in front of a packed stadium filled with coaches, teachers, teammates, friends, and families.
This ceremony is a pivotal moment in a student's career and truly encompasses what it means to be a part of the IMG Academy community. The Commitment Ceremony showcased the Class of 2019's variety of athletic skills, academic honors, and truly differentiating and diverse culture and is a culmination of each student-athlete's dedication and perseverance. Join us in congratulating this group of individuals as they prepare for the next level.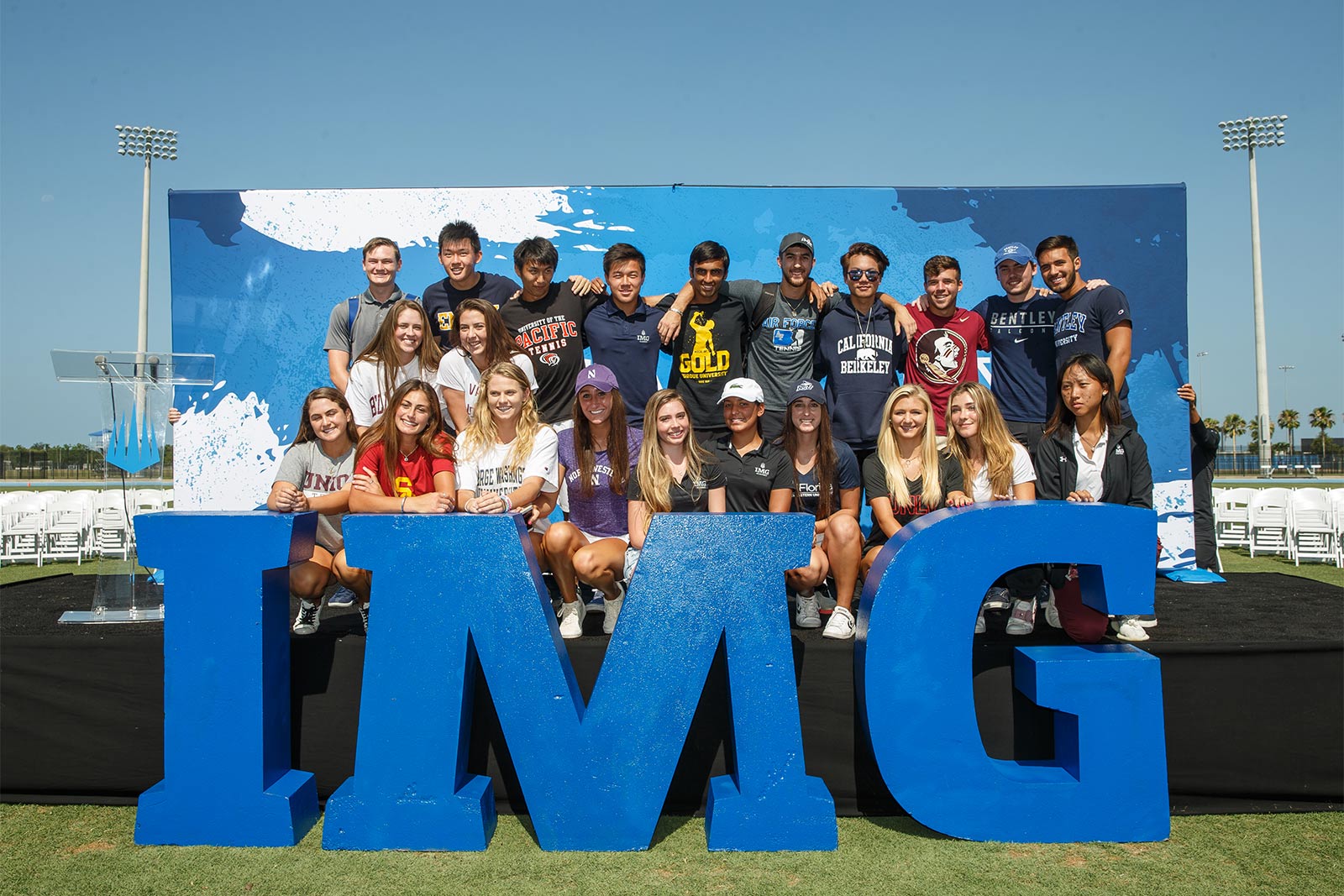 Class of 2019 college commitments include:
Apollo Institute of Medical Sciences (India)
Appalachian State University
Austin Peay State University
Bard College
Barry University
Bates College
Bellarmine University
Bentley University
Boston University
Bryant University
Bucknell University
Butler University
Campbell University
CCBC Essex
Central Arizona College
Centre College
Chapman University
Clemson University
College of Charleston (SC)
College of the Holy Cross
College of William and Mary
Creighton University
Dartmouth College
Defiance College
Delaware State University
Drexel University
Duke University
Earlham College
Eckerd College
Elon University
Emerson College
Emory University
Erie Community College
Florida A&M University
Florida Atlantic University (FAU)
Florida International University (FIU)
Florida Southern College
Florida State University
George Mason University
George Washington University
Georgia Institute of Technology (Georgia Tech)
Georgia Southern University
Greensboro College
Illinois Institute of Technology 
IMG Post Grad Year
Indiana University
Ithaca College
John Hopkins University
Lewis & Clark College
Louisiana State University (LSU)
Lynn University
Marquette University
Mars Hill University
Marshall University
Massachusetts College of Liberal Arts
Mendocino College
Mercer County CC
Mississippi State University
New York University
Nichols College
Northwest Missouri State University
Northwestern University
Nova Southeastern University
Ohio Dominican University
Oklahoma State University
Otemae University
Oxford College of Emory
Pace University
Pace University - New York
Palm Beach Atlantic University
Palm Beach State College
Paradise Community College (AZ)
Pennsylvania State University
Post Graduate
Purdue University
Queens University of Charlotte
Regis College (MA)
Returning home to Mexico
Rhodes College
Robert Morris University
Rollins College
Sacred Heart University
Saint Louis University, Madrid
Saint Mary's College of California
San Diego State University
Santa Clara University
Savannah College of Art & Design
South Georgia Tech Community College
Southern Methodist University
Southern Union State Community College
St. Edward's University (TX)
St. Lawrence University
St. Thomas University
Stanford University
Stetson University
Stonehill College
Suffolk University
SUNY Albany
Syracuse University
Texas Christian University (TCU)
Texas Tech University
The University of Alabama
The University of Tampa
Tiffin University
Towson University
Trinity College (CT)
Trinity University (TX)
Tufts University
Tusculum College
Union College (New York)
United States Air Force Academy
United States Military Academy - Army
United States Naval Academy
University of Akron
University of Alabama
University of Alabama at Birmingham (UAB)
University of Arizona
University of Arkansas
University of California, Berkeley
University of California, Davis
University of California, Los Angeles
University of California, San Diego
University of California, Santa Barbara
University of Central Florida
University of Colorado at Boulder
University of Connecticut
University of Copenhagen
University of Dayton
University of Florida
University of Georgia
University of Louisville
University of Miami
University of Michigan
University of Mississippi
University of Missouri
University of Nevada, Las Vegas
University of Nevada, Reno
University of New England
University of North Carolina at Charlotte
University of North Carolina, Asheville
University of North Carolina, Chapel Hill
University of Notre Dame 
University of Oregon
University of Pittsburgh
University of Portland
University of Redlands
University of Saint Joseph (CT)
University of San Francisco
University of South Carolina
University of South Florida
University of South Wales
University of Southern California 
University of Tennessee
University of Texas Rio Grande Valley
University of the Pacific
University of Utah
University of Washington
University of Wisconsin, Madison
Vanderbilt University
Vassar College
Villanova University
Virginia Military Institute
Virginia Tech University
Virginia Wesleyan University
Wake Forest University
Washington State University
West Virginia University
Western Carolina University
Widener University
Wofford College
---