Top-10 National Ranking in 2015 & 2016
About Our Program
IMG Academy houses the nation's only full-time lacrosse residency program. Our program aims to develop the complete player by integrating indoor (box) and field lacrosse through individual instruction and team building. Our student-athletes graduate with the technical skills, game-level IQ, and the strategic awareness that is so essential to succeeding at the next level. If you're looking to become a faster, stronger, more skilled and powerful lacrosse player, IMG Academy lacrosse is the ultimate program. To facilitate total athletic development, we offer performance training developed over the course of nearly 40 years that can integrate with sport training. Our goal is to help you reach your full potential in sport and life.
Program Structure
IMG Academy is the only high school nationally that integrates intensive box lacrosse training with field lacrosse development and competition. The system, known as DoubleCrosse, is designed to build a solid skills-based foundation in box-centered fundamentals which enable the athlete to play at a much faster pace while executing various techniques at top speed and in tight quarters. The skills, techniques, and IQ capabilities derived from such a system are manifested in a unique up-tempo transition style of play and a high-scoring read-and-react skillset.
Varsity Schedule: http://www.laxpower.com/update17/binboy/XIMGFL.PHP
National Schedule: http://www.laxpower.com/update17/binboy/XIMNFL.PHP
Program Accomplishments
Program Accomplishments
Top-10 national rankings in 2015 and 2016
Three All-Americans since 2015
25 D-I commitments since 2013
Lacrosse Facilities
Lacrosse athletes have access to 20+ multi-purpose fields, a 40-foot lacrosse wall for skill development, 65,000 square-foot Performance Center with a 12,000 square-foot weight room and a covered turf facility. All of our facilities are maintained at a professional standard to ensure the perfect training environment for every athlete.
College Matriculation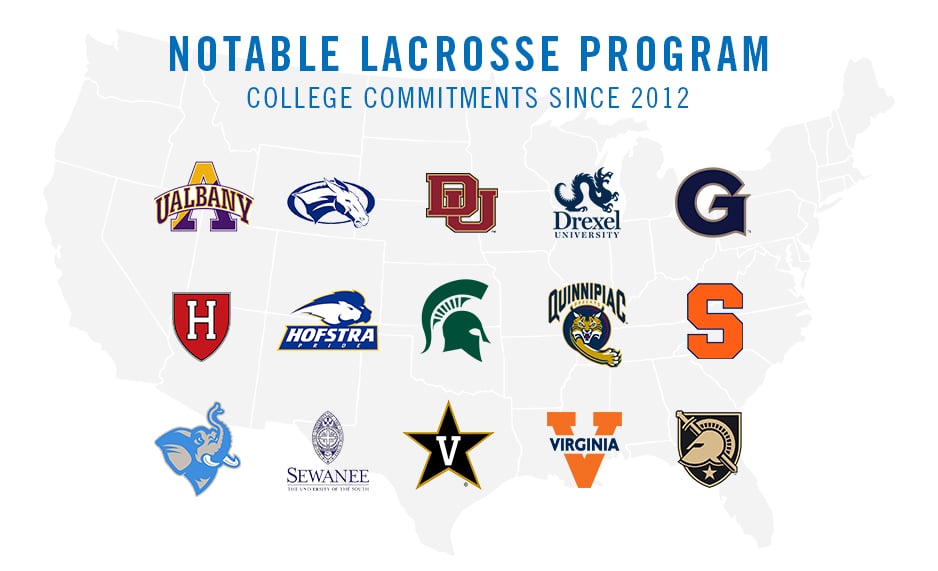 Athletic & Personal Development
Pregeneration
Speed & Movement
Strength & Power
Flexibility, balance & core
Conditioning
Regeneration
Sports therapy evaluation
Injury prevention
Proactive rehabilitation
Injury management / education
Personal profile
Nutritional goals & strategies
Body framework
Nutrient intake & timing
Supplements
Visual activity
Vision strengthening
Visual application
Visual enhancement
Connect With Us & Get A Guide
Testimonials

"I owe much of my success to the innovative education and training programs at IMG Academy. My three years at IMG contributed significantly to my development as a student, athlete, lacrosse player, and as a person. I felt unbelievably prepared when I walked on campus as a Freshman and earned a starting position on the team."

- Ben French

Member, Team Canada U-19 National Team; starting attackman University of Vermont