download our admissions guide
Football Academy Overview
IMG Academy is the nation's premier prep football program. With 5 straight years ranked in the top 10 nationally and more than 200 student-athletes placed in college programs since its inception, IMG has a proven reputation for athletic development and an unmatched environment for college recruitment and preparation to compete at the next level.
IMG Academy football alumni have joined some of the nation's top universities and continue to be selected for the NFL Combine and in the NFL Draft. With three teams within the program, student-athletes have an opportunity to develop and reach their greatest potential no matter their current skill level or recruiting profile.
Inside the IMG Academy Football Program
Football Program Structure
IMG Academy football places an emphasis on overall player growth and development while also providing significant opportunities for collegiate exposure throughout the year. Each student-athlete has a support system around them inclusive of a head coach, position coach, strength and conditioning coach, athletic trainers, teachers, college advisors, and more to aid in the developmental process that includes:
An individual football skill developmental plan
A team periodization plan
An individual position periodization plan
An athletic and Academy personal development plan
Student-athletes will measure their development and success through Key Performance Indicators (KPI's) such as position-specific statistics, game day evaluations, practice tapes, strength & conditioning goals, and academic progress. IMG football is structured like a collegiate program so that student-athletes understand the requirements both on and off the field and are prepared for the schedule at the next level.
IMG football student-athletes not only train within a schedule that mirrors that of a collegiate program, but they are also expected to maintain similar expectations, such as respect, academic success, responsibility and ownership, mental and physical toughness, and complete personal and athletic development.
With three teams competing across various levels, IMG Academy football will identify which program is the best fit for prospective student-athletes grades 6-12 as well as for post-graduate players based on their age, skill level, position, and overall goals. IMG Academy is a full member of the Florida High School Athletic Association (FHSAA), and the National Team competes as an independent. IMG follows the practice requirements and standards issued by the FHSAA.
National Team
IMG Academy's National Team takes on an incredibly competitive schedule against some of the nation's most elite programs. Players will arrive in July to begin their pre-season training camp, compete in 10+ games in the Fall, train and develop during the Winter off-season, and continue to train in the Spring before the Spring Practice Game. This team is comprised of some of the nation's top collegiate recruits as well as those with aspirations to compete in the NFL.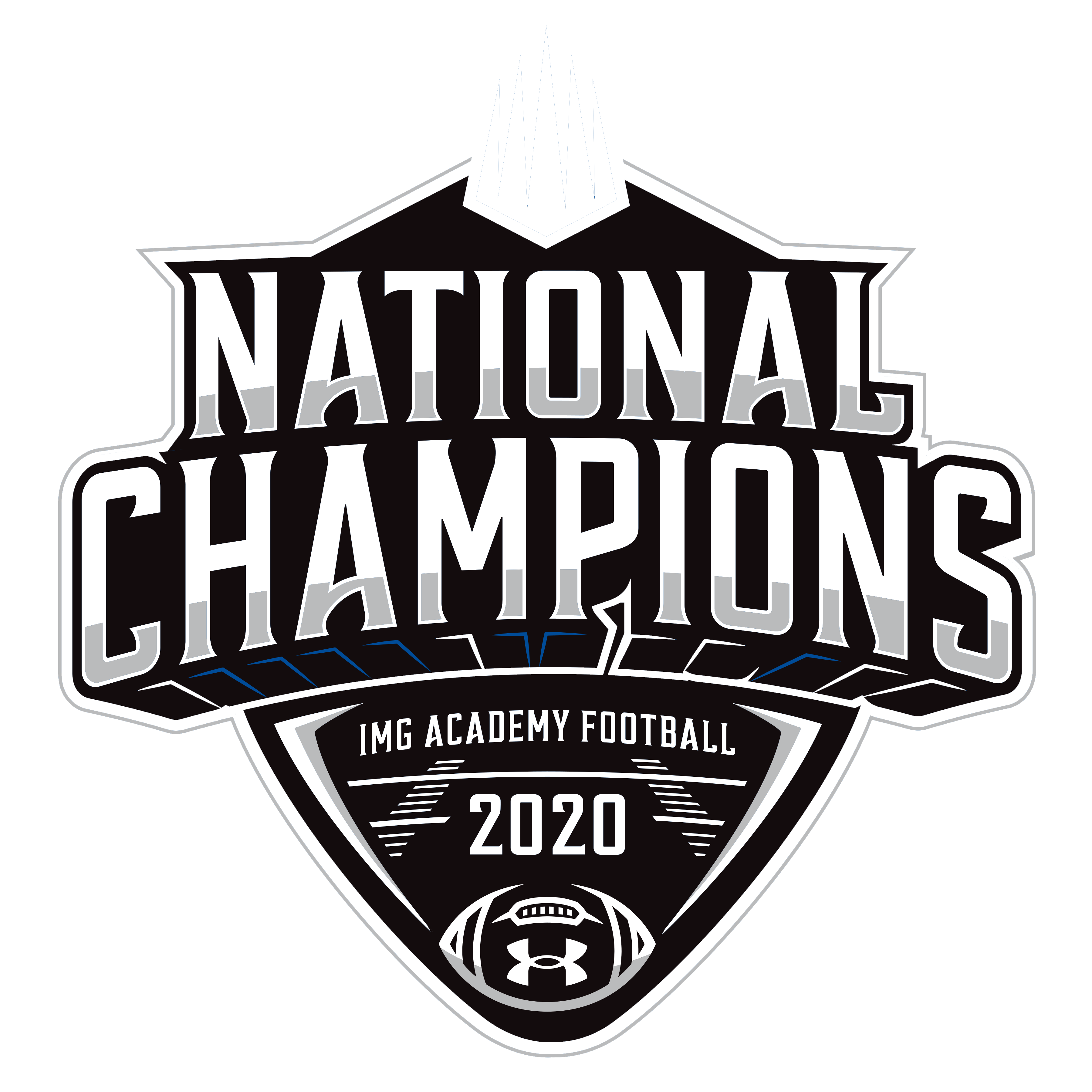 2020 High School National Champions
Varsity Team
IMG has two varsity teams (Blue and White) consisting of student-athletes who train with IMG's expert, position-specific varsity coaching staff. IMG's White team competes in the SSIA Conference within Florida and periodically competes out of state as well. This team has been ranked as a top 50 team in Florida on MaxPreps as well. The Blue team is comprised mostly of underclassmen eager to develop and garner game film for college placement. This team competes against 3A – 1A teams within Florida. All varsity student-athletes have an opportunity to develop alongside other players of similar skill levels while working towards achieving their peak potential in an unrivaled environment.
Post-graduate Team
Post-graduate student-athletes will compete in a dedicated PG schedule against a minimum of 6 teams during the Fall of 2020. Post-graduate student-athletes will not jeopardize their eligibility by enrolling in the program, and they will have the opportunity to develop both on the field and personally prior to committing to the college of their choice.
Program Highlights and Sample Schedule
During past seasons, more than 400 coaches from over 200 NCAA Division I programs as well as U.S. military service academies and the Ivy League have visited campus to recruit student-athletes. With the growth of IMG Academy's program, so too has the level of collegiate exposure each player receives. Across previous classes, more than two-thirds of IMG football graduates have gone on to join NCAA Division I FBS programs.
Late-Summer
Beginning in July, student-athletes will check in for the fall semester and prepare for pre-season camp (practices, strength and conditioning, position training, and player evaluations).
Workouts with strength and conditioning component emphasis
Post-practice orientations and meetings
Fall
Football competition begins - 10+ game season against top competition in the country

Notable competition has included: Chandler (AZ), Hoover High School, Miami Central, Corona High School, and East High School (UT)

Fall Semester begins (classes in the morning, football in the afternoon)
Introduction to college advisement department and assigned a dedicated advisor

To further aid students seeking to continue their playing careers into college, each student has access to a dedicated College Advisor. An advisor's role is to help every student navigate the requirements of the NCAA Eligibility Center and find the best athletic and academic fit at the next level.
Winter
Off-season workouts with Performance coaching staff
Focus on school work, SAT/ACT prep (if applicable), and college preparation with assistance from college advisement department
Sophomores and juniors have the option to attend college tours to various universities
Spring
Spring football practice with staff
Focus on classwork and finishing the year strong
Juniors work with college advisors to prepare for senior year, including understanding NCAA eligibility requirements, admissions processes, and test scores
Athletic and Personal Development
Athletic and Personal Development plays an integral role in the overall development of each football student-athlete. Athletic and Personal Development instructors focus on crucial areas such as mental toughness, strength & conditioning, nutrition, leadership, life skills and character development, and more to ensure that IMG Academy football student-athletes not only have an advantage over the competition but understand what it takes to succeed in college, in the NFL, and in life.
Learn More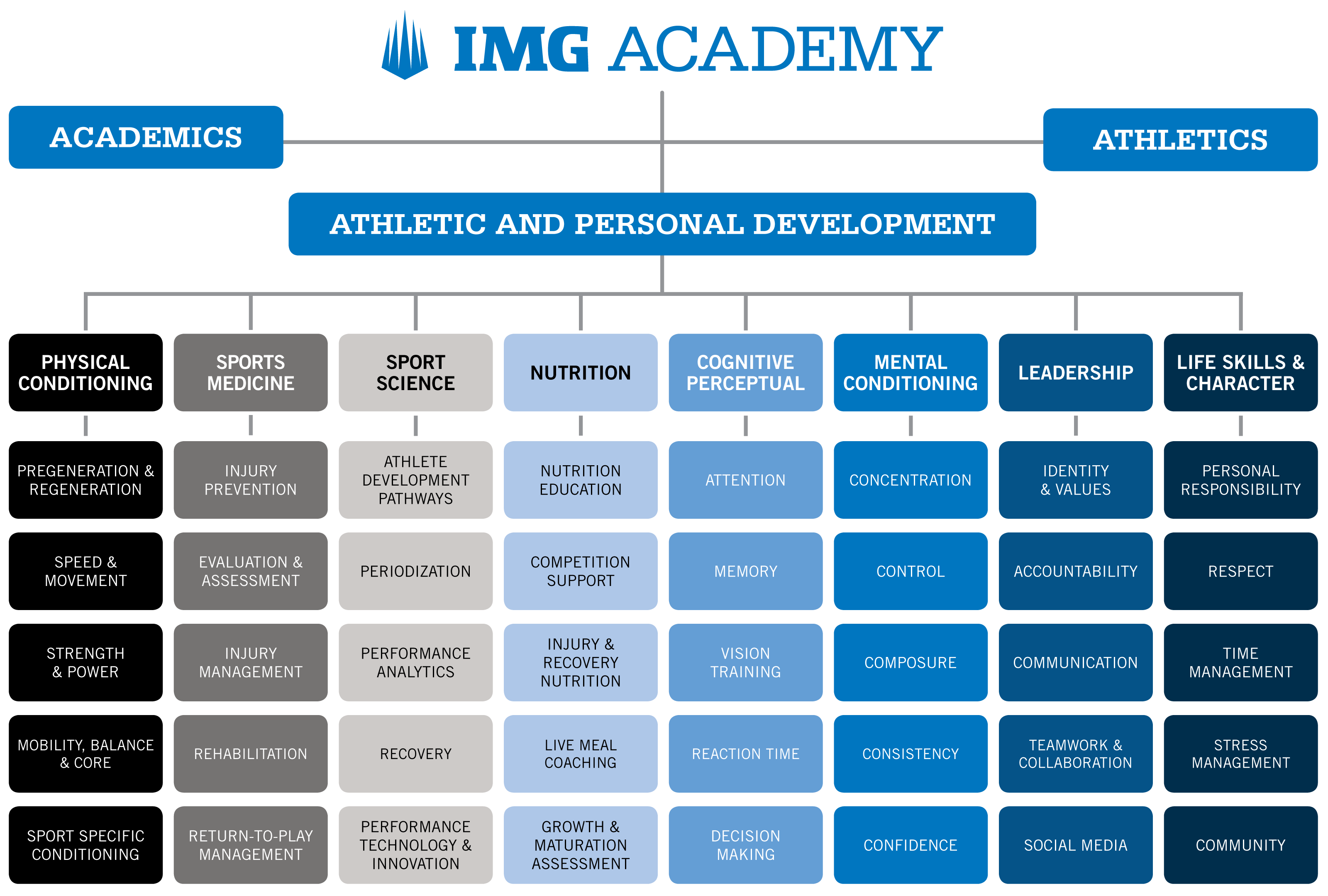 Academics
Grades 6-12
IMG Academy's collegiate-style schedule provides the ultimate preparation for student-athletes to succeed at the next level. Football student-athletes have the ability to select their courses and electives to identify their areas of interest ahead of enrolling into the collegiate program that best aligns with their academic and athletic goals.
View Grades 6-12 Curriculum
Post-Graduate
Post-graduate football student-athletes will benefit from a gap year at IMG with available standardized test prep, college course credit opportunities, college placement and recruitment advisement, and more. Football post-graduates experience immense benefits by ensuring they're prepared for their next steps as collegiate-student-athletes. Post-graduates will not jeopardize their NCAA eligibility by enrolling in this program.
Learn More about Post-Graduate
Program & Alumni Accomplishments
2020 High School National Champions
TOP 5 National ranking and undefeated record in 2015, 2016, and 2017
38-Game Win streak from 2014-2018 & 7 nationally televised games
29 Under Armour All-Americans
13 Postseason All-American selections
140 D1 commitments (FBS & FCS)
7 IMG Alumni drafted in the 2021 NFL Draft
2018 Maxwell Football Club Defensive Player of the Year (Nolan Smith)
2019 Paycom Jim Thorpe Award (Grant Delpit)
12 Players on 2021 NFL Kickoff Weekend rosters (Most in NFL)
Technology & Facilities
State-of-the-art stadium with seating for 5,000
Two dedicated football practice fields (both grass and turf) along with 20+ multi-sport fields
Field House with professional locker rooms, football coaches' offices, team meeting rooms for game and practice review and film analysis
Covered turf facility for speed and agility training with coaches focused on football players
Performance and Sports Science Center
Mind Gym for mental conditioning sessions and vision training
Yoga studio
Strength and conditioning equipment
Classrooms for nutrition and leadership training
Athletic training facility for recovery and regeneration, including hot and cold tubs
Football Academy Photo Gallery
Admissions
All prospective student-athletes must submit a completed application, including academic records and recommendations.
Football Program Tuition
For academic year 2022-2023, tuition ranges from $65,400 to $87,900 per year depending on age, boarding and grade of student-athlete. Go to our tuition page for the full sport-by-sport cost breakdown.
Football Camps
A great way to learn more about IMG Academy is to attend a camp and see first-hand how to take your game to the next level.
Notable Football Program College Commitments
Student-athletes receive guidance from college placement specialists and sport coaches for reaching their goal of playing their sport at the collegiate level. This work begins when a student enters upper school at grade 9 and above.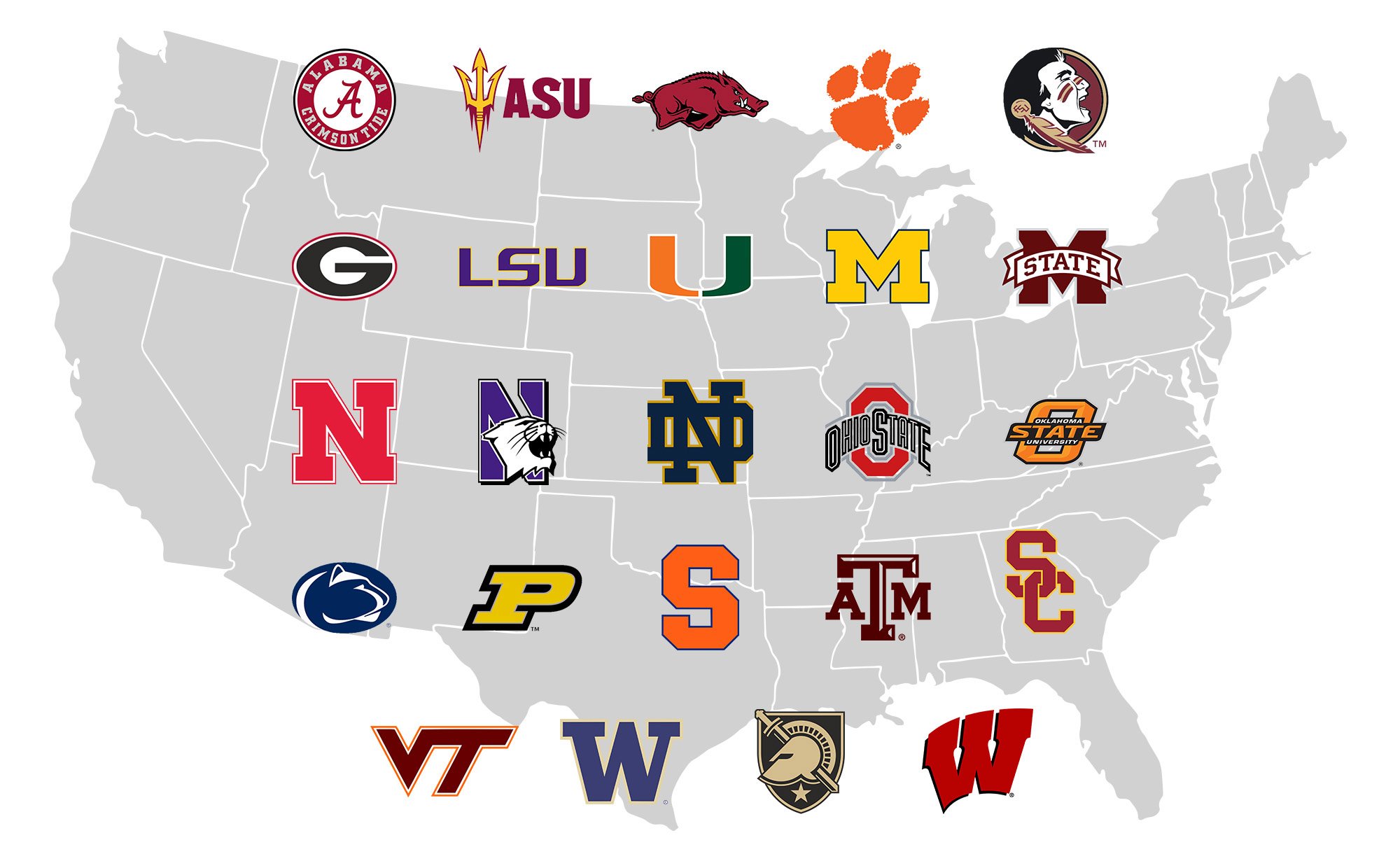 Testimonials

- KJ Osborn

IMG Academy Alumnus

I think they have good coaches, and they do a great job with player development.

- Nick Saban

Alabama Football Head Coach

[College football] championships are built on recruiting, and no high school program in America has more stars than IMG Academy. Almost overnight, it has become the most important recruiting ground in the country. - Member of the Football Writers Association of America

- John Crist

Football Writer