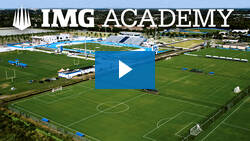 Nestled in Bradenton, Florida, our 500-acre campus is home to thousands of youth, adult and professional athletes looking to receive the best in sports training, performance and innovation. Built on the premise of helping each person realize and achieve their academic and athletic potential, our campus was designed to provide its guests with world-class facilities, professional grade training complexes, multiple healthy dining options and a variety of accommodations to suit your needs.
At IMG Academy we understand the importance of balancing personal development and fun, which is why we provide many on- and off-campus activities for our campers.
Whether your stay is for one week or seven, we hope you'll call our home your own. 
Designed with the modern athlete in mind, IMG Academy Residence Halls (Ascender East and West) match convenience and comfort with technology, providing 500+ rooms furnished with bunk-style beds, bathrooms, wardrobe and in-room Wi-Fi connection, in addition to the residence halls recreational rooms, common areas, outdoor plaza, laundry facilities and snack shop.
IMG Academy serves a daily buffet style breakfast, lunch and dinner complete with healthy selections for the training athlete. For those with specific dietary needs, individual meal plans can be arranged.
Looking to mix things up? Campers have a variety of healthy and convenient dining options located around campus to keep you fueled from sunrise to sunset. Options include: 
Nicky B'stro - a full-service deli located outside the junior cafeteria that offers everything from sandwiches/wraps to pizza and pasta
Smoothie King - a smoothie bar/eatery that offers wraps and salads in addition to their signature Smoothie King menu
Snack Shop - located on the first floor of Ascender Hall East, the store offers  a variety of quick-grab items to keep you fueled throughout the day
Academy Café - an upgraded dining experience with artisan sandwiches, soups and smoothies available.
Every athlete needs balance in their lives. That's why here at IMG Academy, we want you to train hard but PLAY HARDER!
With no shortage of on- and off-campus activities available to every camper, chaperoned trips to our top local beaches and attractions like Busch Gardens, Disney theme parks and Tampa Bay Rays games are just the beginning. Weekly welcome parties thrown by our vibrant Campus Life staff offers a carnival like experience equipped with a variety of slip-n-slides, water slides, bounce houses and rock climbing walls for our campers to enjoy! To keep the fun going, our staff oversees karaoke nights, dances, pool side movies, pick-up games and pool parties with DJ throughout the week.
For age appropriate activities for our younger athletes we have V.I.A. (Very Important Athlete). Dedicated specifically to our campers under age 12, V.I.A. provides a variety of activities, flexibility, and fun.