12 IMG Academy Football Alumni Compete in 2021 NFL Kickoff Weekend IMG Academy is used to breaking records. Shutout games, annual NFL Draft selections, season records and High School National Championships - the "Brotherhood" continues to set standards and reach new heights that will be talked about for years to come. This year's NFL Kickoff Weekend proved to be yet another setting where IMG football alumni found the spotlight. 
According to NFL Communications, "IMG Academy produced the most NFL players on 2021 NFL Kickoff Weekend rosters [among high schools in the country.]"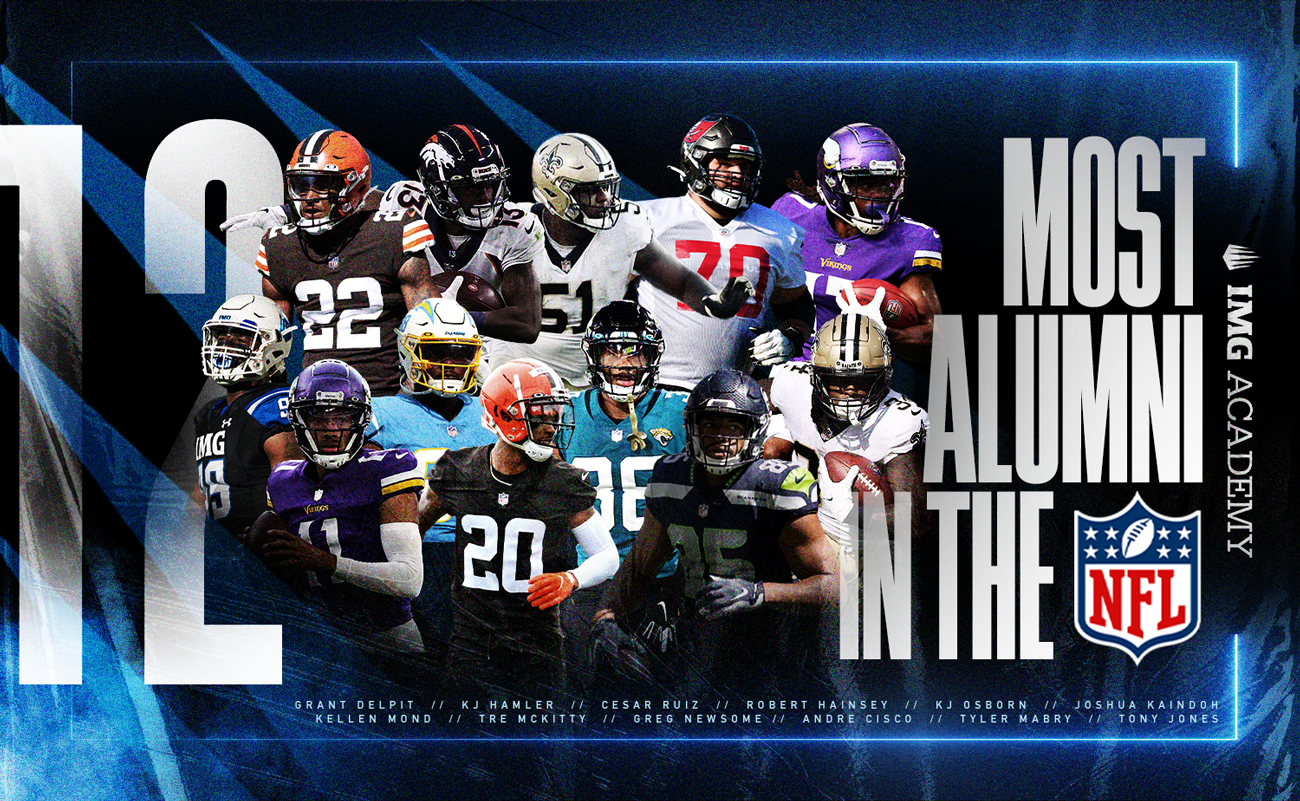 Those alumni were as follows:
Grant Delpit (Cleveland Browns)
KJ Hamler (Denver Broncos)
Robert Hainsey (Tampa Bay Buccaneers)
K.J. Osborn (Minnesota Vikings)
Joshua Kaindoh (Kansas City Chiefs)
Kellen Mond (Minnesota Vikings)
Greg Newsome II (Cleveland Browns)
Andre Cisco (Jacksonville Jaguars)
Tyler Mabry (Seattle Seahawks)
Cesar Ruiz (New Orleans Saints)
Tony Jones (New Orleans Saints)
Tre' McKitty (Las Angeles Chargers)
Located in Bradenton, FL, IMG contributed to Florida's overall 192 NFL Players, the most of any of the 50 states. Even more notable, Bradenton was the city with the fifth most NFL players competing in Kickoff Weekend in the country, tying with Cincinnati, Fort Lauderdale, Jacksonville, Philadelphia, and Plantation. Leading the stats in this area was Miami, with 19 total NFL players making appearances.
Continue to check out NFL rosters as the season progresses for trending statistics on how IMG Academy's football alumni perform this season. 
Contact Us & Learn More
Request
Consultation
Provide your contact information and one of our experienced advisors will help you select the right program.
By clicking Submit you agree to and have read our privacy policy: Privacy Policy
I am interested in:
Select one option below