2021 Baseball Season: What you Need to Know About IMG Academy There's a reason why over 180 professional baseball scouts have attended IMG's preseason games and scrimmages. Although the sunny, Bradenton weather may attract year-round visitors to the area, this year's foot traffic to IMG's baseball complex can be attributed to both the rise in temperatures as well as the high value of the program's roster.
What does IMG Academy's starting lineup look like exactly? For starters, five players are listed in Baseball America's 2021 MLB Draft Prospect Rankings, the most by any high school in the country, while four student-athletes are a part of MLB Pipeline's Top 100 Draft Prospects, tying the University of Louisville with the most prospects listed by a high school or college team. 
Wondering how IMG Academy's baseball program is structured? With a combination of teams including Post-Graduate, National, Varsity, Junior National, Junior Varsity, and Freshman, there's a slot for every level of player. From aspiring younger athletes to in-demand MLB prospects and targeted collegiate recruits, IMG is home to some of the game's most dedicated individuals.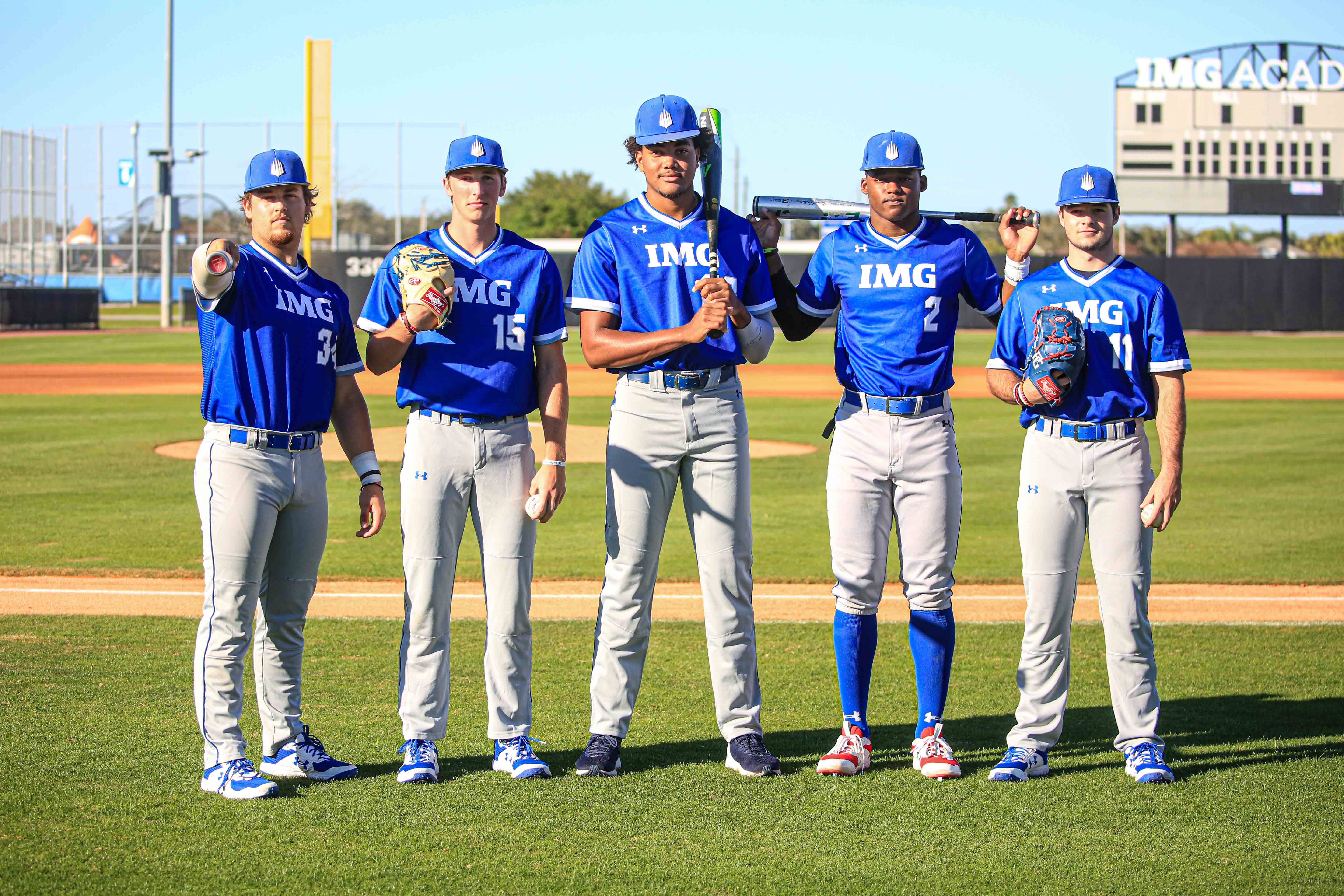 Currently ranked No. 1 by Perfect Game, IMG's National team is comprised of notable standouts including Tommy White, James Wood, Drew Gray, Mason Albright, and Elijah Green. As a junior OF and Miami commit, Green was the only underclassman named to Baseball America's All-Americans list as a part of the Third Team, and two of his teammates in White and Wood are part of the First Team. Notably, Green is also currently the No. 1 overall prospect in the country for the class of 2022.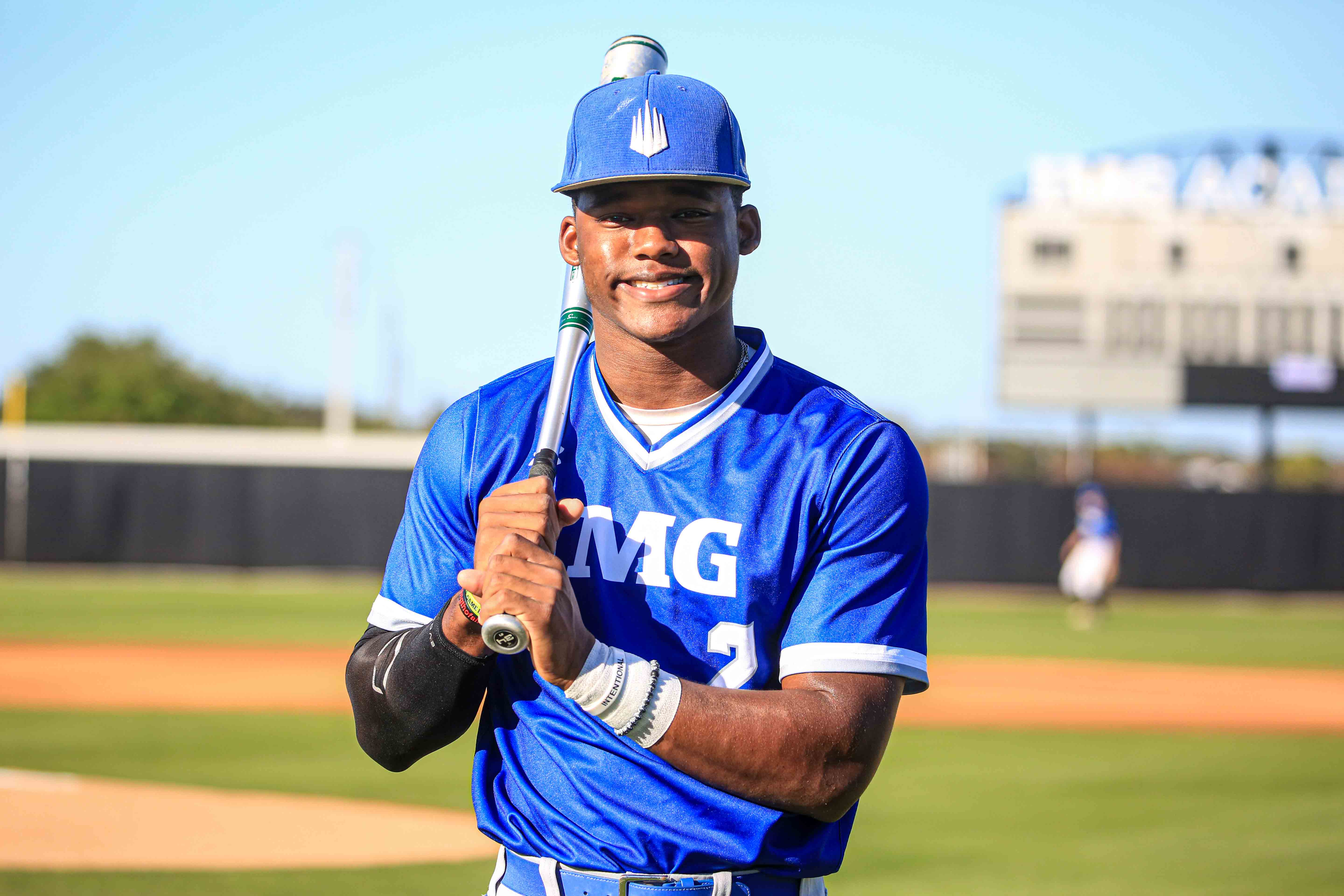 The depth of IMG's roster doesn't quite stop there either. In this Perfect Game feature highlighting the Ascenders' top ranking, Head Coach Kason Gabbard, who competed at the MLB level himself with the Red Sox and Rangers, said "Our team is obviously built around high-quality players, and that's what we want. This year, we've got a great group of guys with tons of different personalities, and they're having fun; that's what it's all about. We kind of run this team like a college or a professional team, and we kind of have to take a step back every now and then and just realize that they're high school kids. But that's the expectations we have of them. We want to challenge them, and I think they want that, as well, just to get them ready for the next level."
The next level looks different for every individual, too, and IMG Academy's coaching staff recognizes that. As a college preparatory environment, it's all about academics first, even though the on-field accolades, honors, and highlights keep coming alongside the challenging coursework. With a team-first mentality on the mound and in the outfield, IMG student-athletes aren't just competing for individual honors; they're aware that those will happen simultaneously alongside the program recognition.
"That's kind of the philosophy we try to teach these kids every year," Gabbard said. "It's not all about you. There are scouts at every single one of our games, and the sophomores and juniors are getting looked at, as well. It sets up a bright future for them, and, if everything clicks right, then everything should work out."
This year's list of scouts on campus includes organizations such as the Los Angeles Dodgers, New York Yankees, Atlanta Braves, Houston Astros, and even the local Tampa Bay Rays.  It's tough to pinpoint just what's driving the looks, but the program's roster of eager, driven talent couldn't be more fired up heading into the regular season, especially after the halted 2020 season due to COVID-19. Next on the radar for IMG is the Globe Life Field High School Baseball Showcase February 25-27 where the Ascenders will be the only out-of-state school in attendance at the Rangers' home field. Last week's PBR Florida Preseason Classic saw standout performances by seniors Albright and Wood as well as underclassmen Green and Brady Neal. If this tournament is any indication of the team's outlook on the season, they're hopeful that they can continue with this motivation and success throughout 2021. Perhaps an even greater driver for the program is that they're also in the running for the PGHS National Championship after earning the top ranking within the PG High School Preseason Top 50.
Here's a look at the entire National team roster to keep an eye out for during this season as well as in upcoming college signing days, MLB Drafts, and prospect lists:
Class of 2021

Mason Albright (LHP), Virginia Tech commit
Evan Clark (LHP)
Ben Fiedler (RHP)
Drew Gray (LHP), Arkansas commit
Sam Hunt (C), Vanderbilt commit
Joseph Slattery (2B), Florida Atlantic commit
Drake Varnado (SS), Arkansas commit
Tommy White (3B), NC State commit
Max Galvin (LF), Miami Dade College commit
James Wood (CF), Mississippi State commit

Class of 2022

Jackson Ferris (LHP), Mississippi commit
Davion Hickson (RHP), Florida State commit
Blaydon Plain (1B), Florida commit
Elijah Green (CF), Miami commit
Nate Selmont (RF)

Class of 2023

Brady Neal (C), Louisiana State commit
Stone Russell (SS), Florida commit
As impressive as the honors are leading into the 2021 season, it's no wonder that IMG Academy's baseball program has been consistently earning national recognition for years. With a structure that lends itself to prepare student-athletes for the rigors of college both on the field and in the classroom, the program continues to maximize the potential of every individual who has a passion for growth and excellence. In this webinar with Director Dan Simonds and Baseball Student-Athlete Advisor, John Lackaff, you'll find out the intricacies of the program, including a breakdown of the season, the emphasis on individual development, the college placement process, and more. Check it out for yourself, or visit the program links below to begin your journey as an Ascender.