2022 NLI Signing Day: 54 Student-Athletes Commit to the Next Level November 9, 2022 is now a date that 54 student-athletes will remember forever. On Wednesday morning at IMG Academy, this group of individuals put pen to paper and committed to the next level during IMG's 2022 NLI Signing Day ceremony. Student-athletes from the baseball, basketball, golf, lacrosse, soccer, and tennis programs celebrated the culmination of their hard work and pursuits in front of their peers, family and friends, and sport coaches and directors.
Join us in congratulating this group for their accomplishments, and we wish them nothing but continued success as they complete the academic year before their next steps of competing at the collegiate level.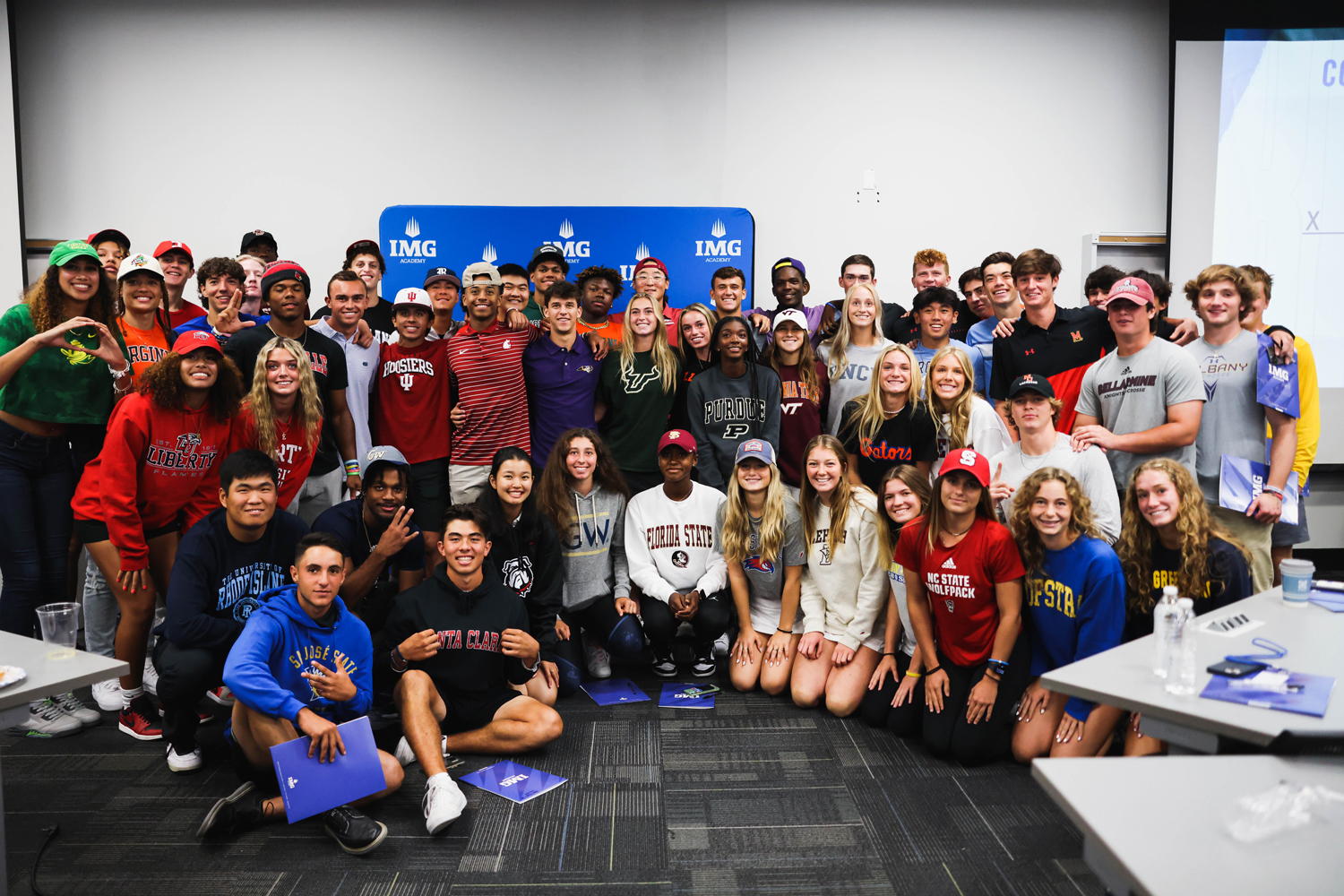 Take a look at the complete list of signees by sport:
Baseball:
Walker Barron - East Carolina University
Hunter Baynes - University of Maryland
Jae Woo Cho - University of Arkansas
Alan Choo - University of Georgia
David Figueroa - UT Permian Basin
Jason Janesko - East Carolina University
Cam Johnson - Louisiana State University
Cade Ladehoff - New Jersey Institute of Technology
David McSweeney - Northeastern University
Darnell Parker - Washington State University
Zion Rose - University of Louisville
Ryan Rushing - Indiana University
Stone Russell - University of Florida
Javy Vazquez - Rice University
Tayshaun Walton - University of Miami
Bailey Wright - Assumption University
Basketball:
Asia Boone - Liberty University
Olivia McGhee - University of Virginia
Sarah Rambus - University of Oregon
Ella Wigal - Liberty University
Christopher "Blue" Cain - Georgia Tech University
Jamie Kaiser, Jr. - University of Maryland
Jayden Hastings - Boston College
Jacoi Hutchinson - George Washington University
Elijah Rice - University of Nebraska
Bobby Durkin - Davidson College
Maximilian Sims - Binghamton University
Golf:
Itai Cohen - San Jose State
John Paul (JP) Odland - Santa Clara 
Jiaming (Tony)  Liu - University of Rhode Island
Natachanok (Drive) Tunwannarux - University of Georgia
Lacrosse:
Brynn Freeman - Lehigh University
Jaelyn Broske - Limestone University
Ellie Chung - University of Massachusetts - Lowell
Jackson Palumb - University at Albany
Dillon Bush - Mercer University
Elijah  Stobaugh - University of Maryland
Luke Healy - Bellarmine University
Daniel Flynn - Wilmington University
Camden De Tolla - Canisius College
Soccer:
Kate Cox - UNC-Wilmington
Chloe Deters - Hofstra University
Campbell Granack - UNC-Greensboro
Amelia Malkin - University of Florida
Reagan Miller - University of South Florida
Zoe Parkhurst - University of Mississippi
Savannah Sabo - Virginia Tech
Moriah Watkins - Purdue University
Kai Tamashiro - UNC-Chapel Hill
Gabriel Velasco - UNC-Chapel Hill
Tennis:
Maelie  Monfils - Florida State University
Gabriela Broadfoot - NC State
Victoria Sasinka - George Washington University
Rose Seccia - Illinois
Are you interested in one day being honored at an NLI signing day? Do you have dreams of competing at the highest levels? Learn more about IMG Academy's boarding school through the links below, and take the first step towards joining this group. Did you know IMG student-athletes also have access to NCSA recruiting resources? Learn more about NCSA by visiting this link.