IMG Academy Ascenders Selected at the 2019 MLB Draft The 2019 MLB First-Year Player Draft has already proved a historic one for the IMG Academy baseball program. Pitcher Brennan Malone was selected by the Arizona Diamondbacks with the 33rd overall pick. The Matthews, NC. native becomes the highest-picked high school player from IMG.  Malone was 10-0 on the mound this season with 65 strikeouts, helping lead IMG Academy to a 24-1 overall record and the current No. 1 ranking in the nation on the USA TODAY Super 25. He signed with North Carolina in November. Additionally, Malone was one of only four high schoolers invited to attend the Draft in Secaucus, N.J.
Joining Malone on Day One was infielder Rece Hinds, who was selected 49th overall by the Cincinnati Reds. This season, Hinds batted .367 in 79 at-bats, was third on the team with 29 hits, and led in runs with 31 on the year. The Niceville, FL., native signed with LSU in November. 
 
Shortly after, RHP Kendall Williams, who signed with Vanderbilt in the fall, was selected 52nd overall by the Toronto Blue Jays. A native of Olive Branch, MS., Williams thrived this season and went 6-0 in eight starts, with 66 strikeouts on the year.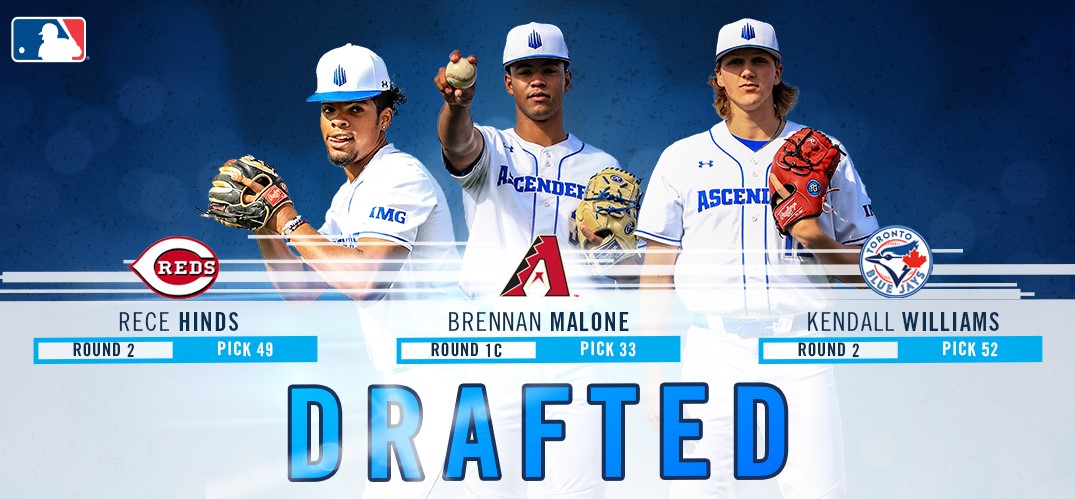 Malone, Hinds, and Williams comprise the most-ever picks for IMG Academy on the first day of the Draft, and this ties the most-ever selected from the IMG high school program in any Draft. They also have the distinction as the three highest picks from the IMG high school program, each surpassing Diamondbacks catcher John Ryan Murphy (New York Yankees, 76th overall, 2009)
After selecting Malone and acquiring Murphy earlier this year, the Diamondbacks now have five IMG Academy alumni in the system. They join 2018 MLB Draft selections Blaze Alexander, Levi Kelly, and LT Tolbert. 
  
Days 2 and 3 of the MLB Draft also proved monumental as a total of eight more Ascenders heard their names called in the remaining rounds, bringing the total number of IMG Academy Ascenders selected to 11. Those seniors and alumni included:
•    Josh Rivera, 3B, Avon Park, Fla. – Signed with Florida  | Round 22, Pick 653, San Diego Padres
•    Pat Romeri, OF, Sarasota, Fla – Signed with Villanova | Round 12, Pick 365, St. Louis Cardinals
•    Will Bartlett, 1B, Bradenton, Fla.  –  Signed with Arizona | Round 9, Pick 280, Cleveland Indians
•    Zac Ching, IMG Class of 2015 PG - VCU | Round 10, Pick 311, Los Angeles Dodgers
•    Nick Morreale, IMG Class of 2016 PG - Georgetown | Round 14, Pick 416, San Francisco Giants
•    Garrett Leonard, IMG Class of 2016 PG - Rollins College | Round 15, Pick 454, Pittsburgh Pirates
•    Chase Illig, IMG Class of 2015 - West Virginia | Round 29, Pick 885, New York Yankees
•    Joey Steele, IMG Class of 2015 PG - University of San Francisco | Round 30, Pick 891, Miami Marlins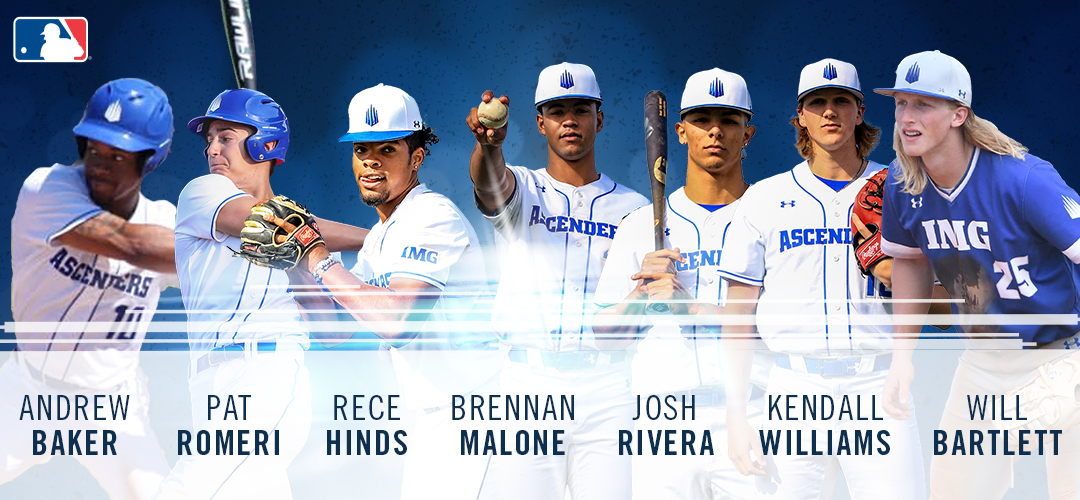 Ahead of the Draft, IMG Academy was tied with Mississippi, North Carolina, San Jacinto (Texas) and UC Santa Barabra with six players ranked in the Baseball America top 500. Only the universities of Georgia, UCLA and Vanderbilt have more, with seven top 500 players each.