IMG Academy Baseball Crowned 2023 MaxPreps National Champions After Undefeated Season BRADENTON, Fla. (June 12, 2023) – IMG Academy's National baseball team secured its first MaxPreps Baseball National Championship in program history off the backs of a historic 25-0 season. The team's undefeated 2023 season was the first in IMG Academy baseball history.
The IMG Academy baseball team's 2023 undefeated season included key victories against state champions in Florida (Lakeland Christian), Georgia (Houston County), and Oklahoma (Silo) along with wins against sectional champions from New York (Poly Prep) and Maryland (Georgetown Prep). The team collected three more wins over Georgia's state runner-up, Parkview High School, and Florida's state runner-up, Tampa Jesuit, twice.
"We are thrilled that MaxPreps has recognized IMG Academy as the 2023 High School Baseball National Champions and to go undefeated at 25-0 is quite an accomplishment especially against some of the best high school programs in the country," said Dan Simonds, Director of Baseball at IMG Academy. "Our seniors have certainly left their mark on this program, and we look forward to following their progress at the collegiate and professional levels."
A few additional highlights worth noting for the 2023 MaxPreps Baseball National Champions include:
Of the 25 games on the schedule, 10 of them were shutouts.
The team had a batting average of .380 and a team OPS. of 1.248.
The team had a run total of 238 in 25 games for an average of nine runs per game.
The pitching staff recorded 228 strikeouts, had a team ERA of 1.44 and gave up 47 runs all season (less than two per game).
Senior pitcher Ryan Rushing led the team in wins (7), strikeouts (70) and ERA (0.69).
Senior outfielder TayShaun Walton led the team in RBIs (37), batting average (.473) and hits (35).
Senior catcher Zion Rose led the team in runs (38) and sophomore infielder Sean Gamble led the team in home runs (seven).
The 2023 MaxPreps National Championship adds to IMG Academy Baseball's trophy case. The program was crowned the USA Today Super High School National Champions in the Super 25 rankings in 2019 after they finished with a 24-1 overall record and saw a national high school record six members of the team selected in the 2019 Major League Baseball First Year Players Draft.
The national championship is also IMG Academy's third within the past 12 months. Last June, the U19 Premier Girls Soccer Team won the Development Players League title, the first girls national championship in school history. In December, IMG Academy's post grad Football Team won the National Post Grad Athletic Association national championship.
This year, IMG Academy's Baseball Program saw 14 alumni play in the NCAA College Baseball World Series and is expected to have several former student-athletes selected in the Major League Baseball First Year Players Draft.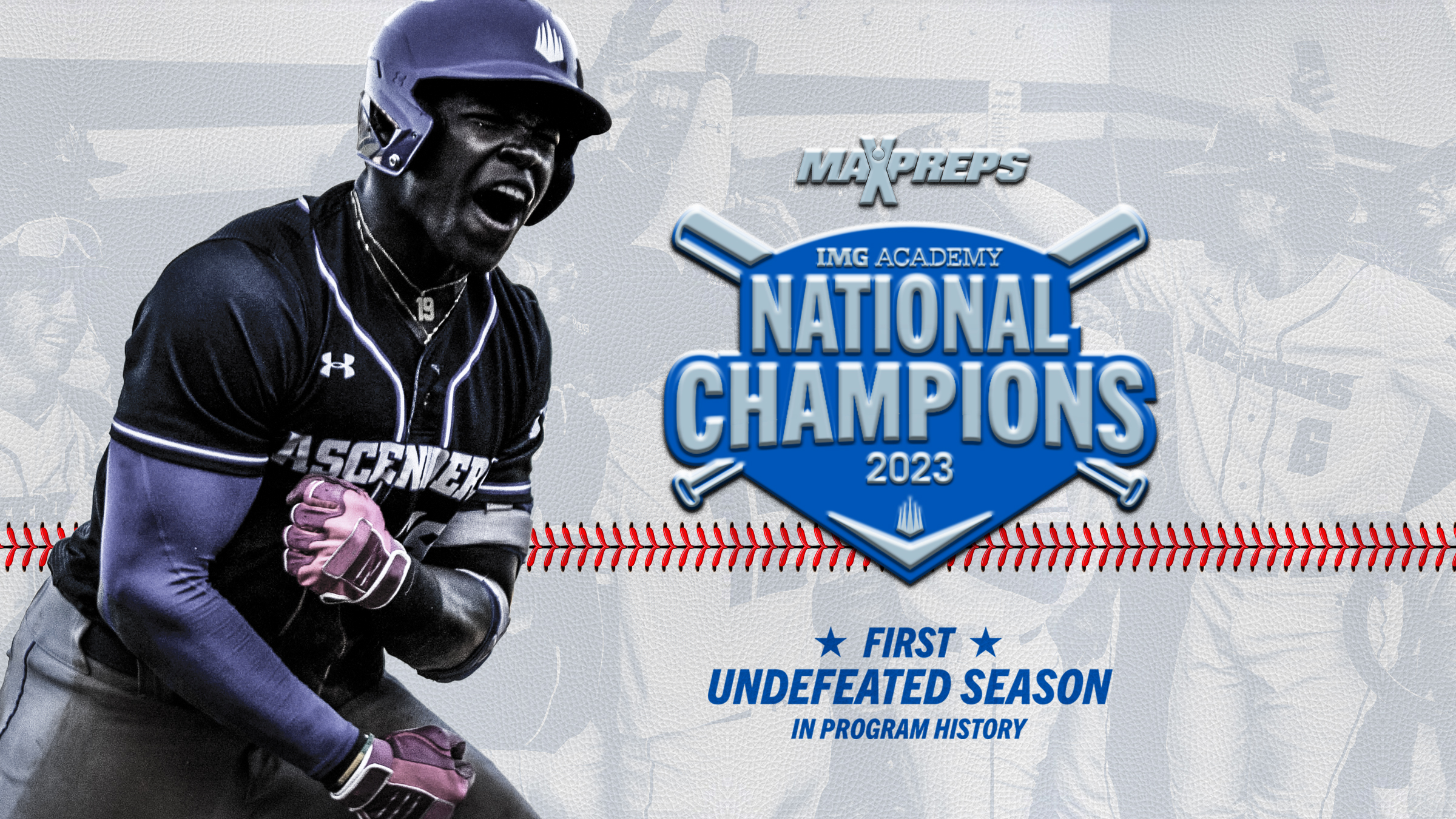 About IMG Academy
IMG Academy is the world's leading sports education brand, providing a holistic education model that empowers student-athletes to win their future, preparing them for college and for life. IMG Academy provides growth opportunities for all student-athletes through an innovative suite of on-campus and online experiences:
Boarding school and camps, via a state-of-the-art campus in Bradenton, Fla.
Online coaching via the IMG Academy+ brand, with a focus on personal development through the lens of sport and performance
Online college recruiting, via the NCSA brand, providing content, tools, coaching and access to a network of 40,000 college coaches
To learn more about IMG Academy and its on-campus and online experiences, visit www.imgacademy.com.