IMG Academy's Post-Graduate Program Opening Doors for Student-Athletes IMG Academy remains the industry leader in post-graduate programming with the unrivaled facilities and technology on campus and the dedicated and experienced faculty and coaches. Available in every sport, the post-graduate program allows for an additional year of athletic training and conditioning, academic coursework, and even intangible items such as maturity and time management. 
With coaches who have worked on the other side of college athletics inside those programs and teachers who have the insight on standardized tests, admissions, and the application process, post-grad student-athletes continue to reiterate that they feel the most prepared in their program upon graduation from IMG Academy.
Student-athletes enter the program with the same goal and perspective in mind - they're here to succeed, to get better all-around, and to utilize the available resources, like Athletic and Personal Development (APD). The key differentiating factors - mental toughness, leadership, nutrition, physical conditioning, and vision training ensure the utmost preparation for the athletics field and the collegiate classroom setting. Courses in mindfulness, Empowering Female Athletes, and Building Men of Character also align directly with preparing student-athletes for the next level.
The 2017 Fall National Signing Day revealed student-athletes who committed to their college of choice and signed an NLI, and post-grad student-athletes from both baseball and boys basketball intend to move towards the next level upon graduation as well. Coach John Mahoney of boys basketball and Coach Anthony DeCicco of baseball both acknowledge the post-grad program's capability.
"The players in the post-grad program learn lessons of life, survival, and communication," DeCicco said. "They are taught to take ultimate responsibility for everything they do. They are taught accountability and how to be a professional in all phases of their time here at IMG."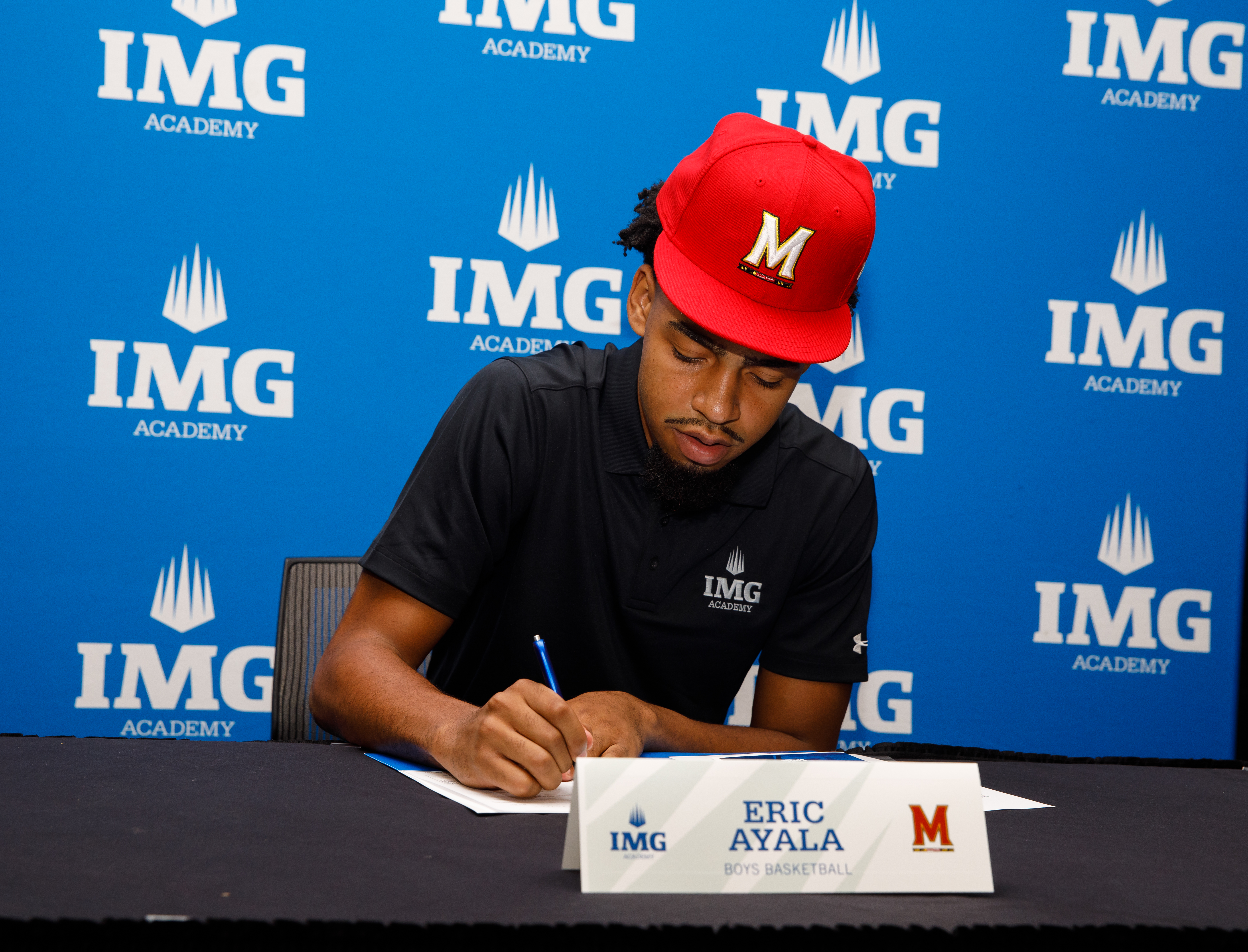 Of boys basketball, Eric Ayala signed with the University of Maryland Wednesday. For baseball, Sebastian Jaget plans to attend New Mexico Military Institute, and Zach Stevens intends to head to the United States Naval Academy. 
DeCicco believes that it's the "tremendously competitive schedule, comprehensive program, high end Performance Center, and instruction" that makes all the difference in the post-grad program. 
"Student-athletes have contact with the mental side of APD which allows them to mature under stress and controlling their emotions," DeCicco said. "They also take a leadership seminar which teaches them how to treat others and represent yourself on and off the field. As a coaching staff, we review items such as email communication, text communication, people you hang around with, how to recognize bad situations off the field, and even how to come down to breakfast on the road. We also talk about giving back to community."
He recognizes Stevens as "a physical player with excellent bat speed who's showing tremendous responsibility and leadership qualities on and off the field. His improvement on an approach standpoint at the plate has been quickly allowing him to compete well with a lot of the better pitchers we face at the NJCAA D1 level." 
And, Jaget "is incredibly coachable and showing immense improvement with his bat and ability to hit for power. His leadership qualities are second to none as he is the first one to practice or lift, and he is the last to leave."
From day one, Ayala has been working hard with Coach Mahoney and recognizes the opportunities within IMG Academy. 
"The program is preparing me mentally and physically for college next year," Ayala said. "Coach Mahoney knows the college process and how they work, so he's putting me in a position to succeed next year. I'm giving 100% and working as if I'm already in college."
Ayala's experience is true for all athletes inside the program. The opportunities and preparation within campus align directly with collegiate-style programming, both academically and athletically. 
"It's a different atmosphere than any other prep school," Ayala said. "Seeing players from other sports who are trying to be just as successful really pushes you, and it's so motivating.