88 D-I commitments since 2012
About Our Program
From coaches touting MLB playing and managing experience to facilities that rival any Spring Training location, the IMG Academy baseball program is the nation's premier program for dedicated baseball players who want to play at the next level. With a proven position-specific training program paired with our Performance disciplines that help athletes become stronger, faster, healthier and more confident, IMG Academy places student-athletes at all collegiate levels fully ready to contribute immediately.
Program Structure
The IMG Academy coaching staff takes a passionate and personal approach in the development of our student-athletes. Student-athletes learn a broad understanding of the mechanical, technical and mental aspects of the game and perform instinctually through extensive repetition and drill work. Student-athletes become fundamentally sound and prepared to consistently compete at a high level, with a primary focus on performance over results.
The program consists of multiple teams at the Varsity and Junior Varsity level, as well as Post-Graduate and Freshmen programs. Depending on the team, competition includes national, regional and local competition. IMG is a fully approved Florida High School Athletic Association member.
Program Accomplishments
Program Accomplishments
17 student-athletes named to All-American teams since 2009
23 student-athletes or alumni have been selected in the MLB Draft since 2005.
10 national tournaments won since 2009
88 D-I commitments since 2012
Baseball Facilities
Baseball athletes have full access to our professional 4-plex facility, including 4 game fields, 3 half fields, 12 practice mounds, 12 indoor and outdoor batting cages, as well as our 65,000 square-foot Performance Center with a 12,000 square-foot weight room and turf facility. All of our facilities are maintained at a professional standard to ensure the perfect training environment for every athlete.
College Matriculation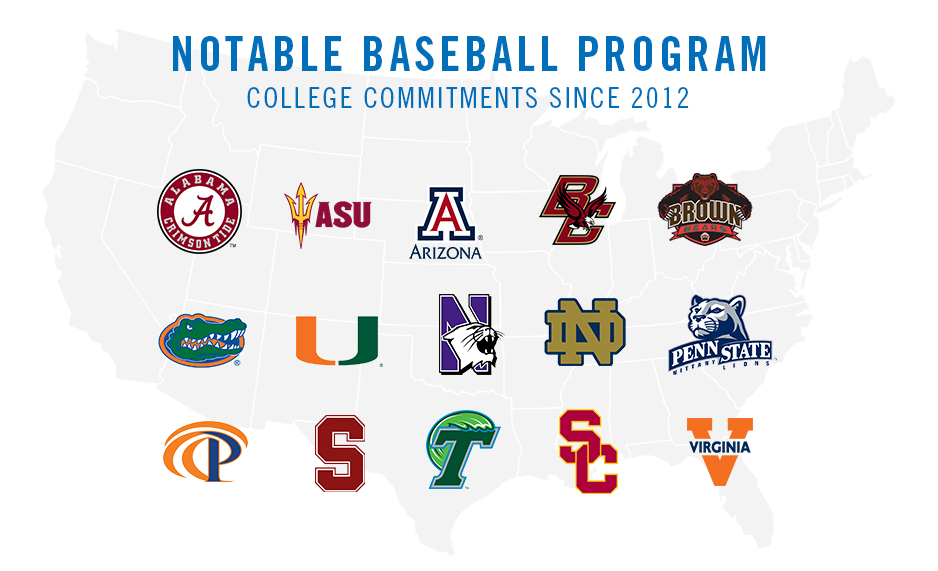 Athletic & Personal Development
Pregeneration
Speed & Movement
Strength & Power
Flexibility, balance & core
Conditioning
Regeneration
Sports therapy evaluation
Injury prevention
Proactive rehabilitation
Injury management / education
Personal profile
Nutritional goals & strategies
Body framework
Nutrient intake & timing
Supplements
Visual activity
Vision strengthening
Visual application
Visual enhancement
Connect With Us & Get A Guide
Testimonials

"People often say that your time in college is the best 4 years of their life. Personally, nothing can compare to the four years I spent at IMG Academy. Leaving home at the age of 14, I had no idea what to expect. Now, as I look back on that day, I have 100% confidence in saying it was the best decision of my life. IMG Academy allowed me to expand my horizons, helped me work towards my goal of playing baseball at a higher level and it provided me with friendships from all over the world that will last a lifetime. I am proud to say I am an IMG Academy alumnus and I have all the confidence in knowing that IMG Academy shaped me into the person I am today."

- Michael Xirinachs

Class of 2009, Bentley University graduate

"(Our son) has played on many teams and at many great venues, but IMG was the best experience of his baseball life. The facilities that IMG Academy offers are world class, the instructors were professional and very knowledgeable of the game we all love, and the competition level was incredible. (Our son) has become a better player and a better person with this experience."

- Carol and David B.

IMG Student-Athlete Parent

"It was a difficult decision to send our only child off to IMG from home in Alaska, but it couldn't have been a better one. Our son has thrived both in academics and in the baseball program. Not only does he carry himself with much more confidence and poise, he's excelling in his classes and has improved tremendously in his sport. He describes himself as a "new person"… Happier, stronger, academically engaged and following his dream of playing baseball daily. The three of us couldn't be happier with our choice."

- Cat C. and Tim S.

IMG Student-Athlete Parent

"We weren't sure what to expect when we sent our 14-year old son to boarding school, except that we were extremely nervous and anxious. After only three months, we saw enormous growth in our son, both physically and mentally. What an amazing and fun transformation to watch. He's become more responsible, independent and respectful. Not to mention the improved athletic skill in such a short amount of time. Worth every penny we've paid." ​​​​

- Sarah and Scott Underwood

IMG Student-Athlete Parent