download our admissions guide
Track and Field Academy Overview
IMG Academy Track & Field and Cross Country program continues to build off of annual success stories and support elite athletes who are also passionate about academics. Our event-specific training, individualized plans and development cycles, and performance methodology balances well with the academic rigor and opportunities on campus. Cutting-edge technology supports the holistic approach for building each student-athlete's skill set to include items like resilience, agility, nutritional instruction, proactive regeneration, and confidence. Athletes seeking to further challenge their academics and skills alongside top international talent encompass a track and field academy where the importance of personal records are just as emphasized as test scores and meeting course load deadlines in the classroom.
Program & Alumni Accomplishments
18 D1 commitments
15+ Countries represented by athletes training with the program
Girls 4 X 400M Penn Relays Champions & record holder, 3:51.45
Girls #1 2017 Lake Brantley Invitational, Ascender Relays, CSN Invite, FSU Relays, Manatee County
Boys Top 10 2017 Ascender Relays, FSU Relays and Manatee County Championships
Track and Field Program Structure
By pairing a rigorous academic schedule with world-class athletic training, IMG Academy has established itself as the premier school for preparing student-athletes to succeed in college and beyond. Our track and field program offers training in the following events: sprints, hurdles, throws, distance, and jumps. We've also had athletes compete in the heptathlon and decathlon.
Our science-based training methodology helps athletes enhance their overall performance and reach their potential, and recovery, regeneration and rest continually allow for next level growth and strengthening.
Our student-athletes are exposed to elite training and conditioning programs employed by world champions and Olympians. Every drill, sprint, exercise and practice is tailored to the student-athlete's individual needs to maximize efficiency, increase speed and improve strength.
Throughout the year, track and field student-athletes will have five pre-set meetings with the department each year of high school. Each individual understands the importance of these meetings and will meet to discuss their progress and strides made between meetings. Through this established guide from enrollment through graduate, IMG Academy student-athletes retain the knowledge necessary to achieve their dreams.
Sample Track & Field Schedule
Freshman Year
September - November
Goal-setting begins for athletics and academics along with time management evaluation
Begin a college file
Meet with academic advisor to set up your academic plan for second semester
January - April
Research colleges and understand admissions requirements for a high-level list of schools
Goal setting for athletics and academics for spring semester
Develop list of personal preferences for college
Plan summer track and field schedule (if applicable)
Evaluate athletic progress and performance with coach
Set training goals for summer
Sophomore Year
September - November
Register for the PSAT and PACT tests
Narrow list of schools as applicable
Goal-setting for athletics and academics continues
Update athlete profile
January - April
Review and update college files along with athlete profile
Continue research on admission requirements for college list
Narrow list of schools to a top 10
Schedule unofficial visits with colleges over summer
Confirm summer competition schedule with coach and set goals for junior year
Junior Year
September - November
Update athlete profile and meet with coach regarding college selection process and to evaluate performance
Confirm SAT and ACT test dates for October through December
Apply to NCAA Clearinghouse
Complete two admissions applications for practice
Narrow list of schools as applicable
January - April
Schedule second round of SAT and ACT tests pending first-round scores
Evaluate list of schools and continue to narrow down
Schedule unofficial visits for summer
Schedule performance and college review with coach
Review summer plan and college visits along with athletic goals with coach
Senior Year
September - November
Set up official visits to college after coordinating them with coach
Schedule final rounds SAT and ACT tests
Meet with advisor to acquire transcripts, test scores, and all documents to send to schools and update NCAA Clearinghouse
Check on early admission applications and status
Reevaluate top schools and narrow search
Complete and send in all applications
Eliminate schools no longer of interest and order top schools accordingly
January - April
Review acceptances and scholarship opportunities with coach and advisor
Final college decision and signing date: mid-March
Finalize Clearinghouse information
Work hard over the summer to prepare for college!
Athletic and Personal Development Integration (APD)
Each student-athletes' individual needs meet performance training structured solely for track and field purposes. Mental toughness courses throughout the year warrant advancement on the track. Nutrition training reinforces student-athletes to maximize ability. Track and field coaches acknowledge that needs may vary, so personalized training plans reflect that of a collegiate or Olympic athlete. Courses geared towards empowering female athletes along with building men of character complete the total athletic component of training, thus preparing the most qualified individual for the next steps after high school.
Technology & Facilities
8-Lane 400M Track

High-speed video analysis for thorough training to review practices and meets in slow-motion, instant replay, and more with the ability to share all content
Freelap & Brower Timing systems for portability, accuracy, and wireless capabilities

Four multi-directional pole vault runways with international-standard pits
Two multi-directional long jump/triple jump pits
Dedicated long throw areas with multiple circles and cages
Covered turf facility for speed and agility work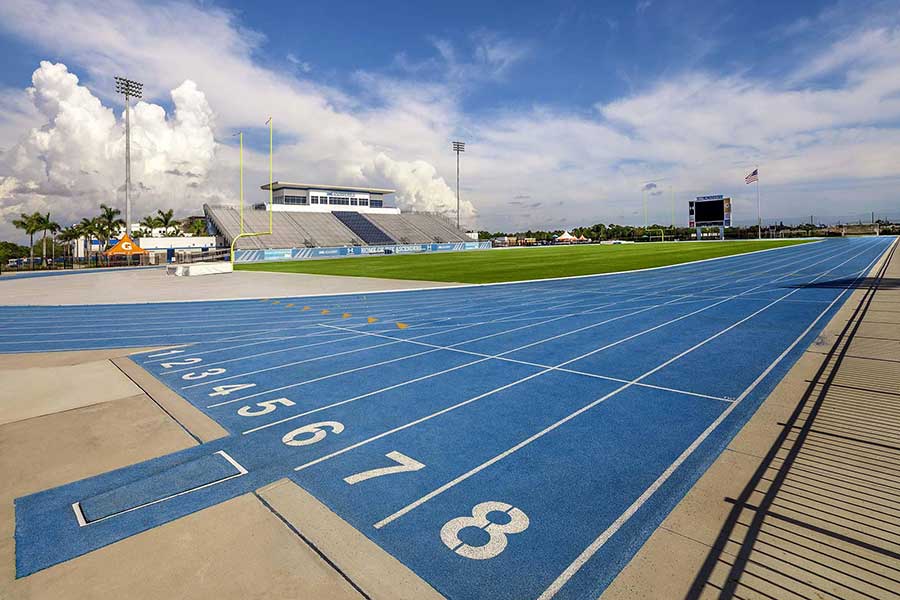 Performance and Sports Science Center
Mind Gym for mental conditioning sessions and vision training

Fit Lights, dynaBOARD, and cognitive perceptive technology

Yoga studio
Strength and conditioning equipment
Classrooms for nutrition and leadership training
Athletic training facility for recovery and regeneration, including hot and cold tubs
Modern Recovery for All
TimTam is the official recovery sponsor of IMG Academy and provides student-athletes with treatments engineered by doctors, physios, and coaches. The Recovery Center helps each athlete train harder and recover faster.
Track & Field Academy Photo Gallery
Admissions
All prospective student-athletes must submit a completed application, including academic records and recommendations.
Track & Field Program Tuition
For academic year 2020-2021, tuition ranges from $62,400 to $82,400 per year depending on age, boarding and grade of student-athlete. Go to our tuition page for the full sport-by-sport cost breakdown.
Track & Field Camps
A great way to learn more about IMG Academy is to attend a camp and see first-hand how to take your game to the next level.
Notable Track & Field Program College Commitments
Student-athletes receive individualized roadmaps for reaching their goal of playing their sport at the collegiate level. This work begins when a student enters upper school at grade 9 and above.