James Madison women's soccer Associate Head Coach Bobby Johnston named Director of the IMG Academy soccer program Girls' Program
March 08, 2012
by: largeinc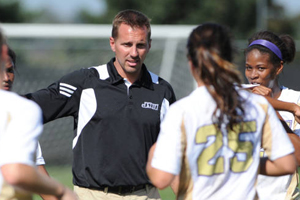 Today IMG Academy announced Robert "Bobby" Johnston will assume the newly-designed role of Director of the IMG Academy soccer program's Girls' Program. Johnston comes to IMG from James Madison University (JMU), where he has served as the women's soccer Associate Head Coach since 2007. Under his leadership, the JMU women's soccer team amassed the most conference wins in a four-year period in their history, and made three NCAA Tournament appearances. The team was also CAA Conference Tournament Finalists in 2009, before becoming Conference Champions the following year. 
"After a rewarding period of my life in college coaching, I am looking forward to the unique opportunity presented to me to join IMG Academy as the head of the girls' soccer program," remarked Johnston. "I'm incredibly impressed by the dedication of the coaches and teachers on the IMG campus in preparing their athletes for college and beyond. I hope I can take my experience at the collegiate level and combine that with my love of the game to help these young female athletes find success."
Prior to joining JMU, Johnston served as the Head Women's Soccer Coach for the University of Tampa for five years. During his tenure with Tampa, he was named NSCAA South Region Coach of the Year (2005, 2006) and Sunshine State Conference Coach of the Year (2005, 2006).  Previously, Johnston also served as the Head Women's Coach for Saint Mary's College in Indiana.  
On the high school level, Johnston held various coaching posts for a seven-year period before moving on to collegiate athletics. He also boasts more than 15 years of club coaching experience, including for several state champions. 
"The girls soccer program at IMG Academy is experiencing tremendous growth, warranting an individual who can focus solely on building out that program and helping our female athletes maximize their playing opportunities while at IMG and beyond," remarked Scott Dean, Director of the IMG Academy soccer program. In his new role, Johnston will join Dean, who assumed his position in September 2011, in supporting the nearly 200 student-athletes enrolled in the soccer program at IMG Academy. In addition to his extensive coaching accolades at the collegiate level, Dean has helped personally place more than 250 players into collegiate programs, and has helped secure his athletes more than two million dollars in athletic scholarships, over the past several years.
Johnston is a 1995 JMU graduate and a former JMU men's soccer team captain. He, his wife Ann, and their four sons, Liam, Grayden and twins Kieran and Kade, will relocate to Bradenton, Fla. from Virginia. Johnston is set to assume his new role April 1.