IMG Academy student, Brett Hanewich, is one of many athletes in family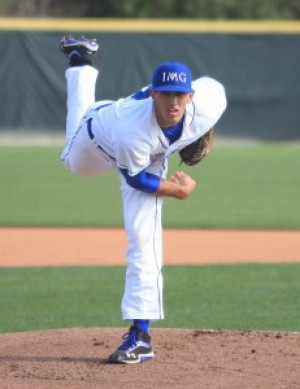 If there ever was a first family on the baseball diamond in the greater Attleboro area, it was the Hanewiches. After all, the Hanewich clan could field an entire team and leave mom, Ann, to deliver the final word on any family disputes over where to play.
There was dad Chet Hanewich, the living legend of a baseball coach at Attleboro High, not to mention the first football coach at Bishop Feehan.
Following Chet onto the baseball field would be Mickey, now 54 years young and living in Hopkinton; Mark, now 53 and living in the same neighborhood as dad in Bradenton, Fla.; Tim, now 52 and living in Sarasota, Florida; Chris, now 49 and a "townie," living in North Attleboro; Ty, now 47 and stationed in Atlanta; John, now 45 and living nearby in Norton; Jimmy, now 42 and living in Wrentham; and twin sister Julie, also 42 and living in Bridgewater.
But all those stories from the athletic annals of Hanewich family history, while being a Bombardier or a Shamrock have a new chapter being written - that by Brett Hanewich, the son of Mark and Sharon (Clegg), one of the greatest all-time athletes in AHS history herself - down in Bradenton with the baseball program at the IMG Academy.
Hanewich's star on the baseball diamond is shining brightly, so much so that he has verbally committed to Stanford University for the incoming freshmen class in the fall of 2013 and is projected to be in the same category of a player with MLB potential as Mansfield's Vanderbilt University-bound Rhett Wiseman, out of the Buckingham, Browne and Nichols School.
Hanewich has been named the Most Valuable Pitcher of the 2009 Baseball Champion Series, sponsored by Perfect Games at City of Palms Park in Fort Myers, Fla.; been named the Most Valuable Pitcher of the Perfect Games-sponsored World Wood Bat Association Tournament that same summer in Marietta, Ga.; been named the Most Valuable Pitcher of the Perfect Games Tournament in 2010 in Ft. Myers, Fla. and the MVP last year in Marietta, Ga.
Hanewich was tabbed the IMG Academy MVP this season; been named a Perfect Game First Team "Underclassmen" All-America for 2012; was one of five IMG players to be invited to the Perfect Game Showcase two weeks ago in Minneapolis, with none other than teammate and first baseman, Manny Ramirez, Jr.
This past weekend, Hanewich was in Orlando with the Florida Travel Ball (similar to an AAU team) team, sponsored by Mizuno Sporting Goods, then next weekend, he's off to Atlanta.
"I play a lot of games, it's fun," said the 6-foot-3 Hanewich, No. 5 of the Hanewich star-studded siblings of Mark and Sharon - Katelynn, who went to Wheaton College and played softball; Ashley, who recently graduated from the University of Wisconsin and played softball; Matthew, entering his senior year at University of Miami; and Corey, who attends Stanford and plays softball.
Hanewich was born in Providence and spent the first five years of his life with his family in North Attleboro, before Mark and Sharon Hanewich moved Team Hanewich to the Sunshine State in 2000.
"I've always had a baseball and a bat in my hands," said Hanewich. "Thank God my dad stays on top of everything with my schedule and my mom goes crazy at the games, I've had to tell her to calm it down. But, it's nice having parents like that, having good genes - they know the hardships involved and the sacrifices that you have to make as an athlete."
In 25 games (a 16-9 record) this spring, Hanewich, a switch-hitter, belted out 26 hits with four triples and two home runs, driving in 20 runs and scoring 17 runs. With 16 walks drawn too, he had a .529 on-base percentage and a .636 slugging percentage.
But, that's half the story, because in addition to tending third base and hitting for IMG, Hanewich's pitching work was equally as impressive - a 5-0 record, just nine earned runs and 19 hits allowed over 40 innings with 36 strikeouts.
Upon transferring from the public Lakewood Ranch High School after two seasons, Hanewich fit right in with the "prep school" atmosphere of IMG, an advanced academic workload of six courses and elite athletic competition. IMG Academy plays a regular Florida High School Athletic Association schedule of 25 games - but that is largely an "independent" schedule as no league wants them as a member and the school has to find games wherever, often an hour or two away, playing only three of its games at home this season. And because IMG is so good at playing the game of baseball, it is not permitted from participating in the FHSAA post-season tournaments.
IMG, in 1987, became an offshoot of the Nick Bollettieri Tennis Academy which opened in 1978. In 1994, golf and soccer were added, in addition to the Athletic & Personal Development program. Baseball was added in 1995, basketball in 2001. In 2010, IMG Academy expanded again to add football and lacrosse, who are each now launching their own full-time residency programs and high school teams.
"IMG has really helped me a lot academically," said Hanewich. "My old high school, it was a lot easier. When I first got here, I thought that there would be a lot of jokes about breezing through class, but it's not like that at all - I have to study three or four hours every night and I've gotten into good study habits."
The IMG Academy has sent on some notable alumni to Major League Baseball - Mark Buehrle (White Sox), Adam Dunn (White Sox), Josh Hamilton (Texas, 2010 AL MVP) and Joey Votto (Cincinnati, 2010 NL MVP) just to name a few.
Per the "prep school" atmosphere, IMG student-athletes "must have a strong commitment to athletics, academics and personal growth," the admissions process including a personal interview too.
Ken Bolek, the Director of the IMG Academy baseball program, said of Hanewich and the four others that went to the Perfect Game National Showcase, "those five players weren't just given an invite - they earned it. Their work ethic and commitment to improving at this game, not only during this past season, but through their entire young careers, is going to carry them a long way."
Hanewich has been turning heads for the past three seasons. His Lakewood Ranch High team (becoming the first freshman to ever start there) advancing to the the finals of its district and regional tournaments in each of his freshmen and sophomore years. His fastball has been clocked upwards of 94 mph, his curveball is much improved - throwing a 76-pitch no-hitter in one game this season.
As the story goes, Hanewich was playing club baseball as a 12- and 13-year-old in Florida when the Memphis, Tenn.-based Dulin Dodgers called wondering if he might want to join their under-14 travel team. "We didn't know any different, he was playing with this hokey little team," said dad Mark Hanewich of the steeped-in-culture baseball circuit down South.
Hanewich has already played games at the Roger Dean Complex in Florida, where the Cardinals and Marlins conduct their spring training, at Tropicana Field, home of the Tampa Bay Rays.
"I can't decide, someone will have to decide for me," said Hanewich of staying stationed at a corner infield position or become a pitcher. "Pitching, it's about consistency - hitting your spots, the mental side. Kids can throw 95 mph and strike kids out, but you have to choose your spots. When you're facing the best players in the country, it's harder to blow your ball by people."
Hanewich became a switch-hitter at the urging of his dad, who also suggested such to his softball-playing sisters. "I adapted," he continued. "As soon as I could hit a ball off of a tee, my dad would have me hit a bucket of balls one way, then a bucket of balls the other side."
And the story continues to be written. Like three years ago, in the Perfect Game Tournament in Georgia, Hanewich was summoned to pitch in the seventh inning with the bases loaded, hoping to protect a one-run lead. All he did was strike out all three batters he faced as his team won the championship.
Or about the time this spring, playing in Orlando with the IMG Academy, facing a 4-2 deficit with two outs in the seventh inning. The opposing coach was warming up a left-hander for relief, after the right-hander intentionally walked an IMG batter to jam the bags, unbeknownst that Hanewich was a switch-hitter.
All Hanewich did was move to the other side of the plate and smash a game-winning grand slam homer.
On the day that he finished the semester's final exams at IMG, Hanewich was off to Memphis for a tournament with his FTB under-16 team. He drove four hours to Nashville to participate in the Area Code Games regional tryouts and back to Memphis to re-join his team. Then it was off to Lafayetteville, Arkansas for a five-day tournament, returning to Ft. Myers for a Perfect Game Tournament.
"It's getting expensive," chimed in dad Mark of the car and air travel - IMG assuming a portion of the well-over $50,000 annual tuition fee. Not only does IMG travel to its games in a coach bus, perhaps better than any AAA-International League team, it has played games this spring in Arizona and California.
Grand dad Chet Hanewich sits in the stands as an observer of IMG games and Brett's club teams, not so surprisingly, offering a few suggestions - "he always has something to say," chimed in Brett of the countless Team Hanewich baseball stories he's heard - about his dad, his uncles. "And my dad, really, he taught me everything I know.
"Baseball is all year round for me now, I always have a game somewhere. And playing at IMG, I knew that I'd never have an opportunity like this."
Credit to: The Sun Chronicle