89 D-I Commitments Since 2012
About Our Program
In the IMG Academy Boys Basketball program, our coaches use a multi-phased teaching approach that focuses on position-specific instruction, player evaluation and a rigorous competition schedule with one goal in mind: to help every player reach their true potential. Our basketball training is based on a solid understanding of the game's fundamentals. Focusing on the individual player, student-athletes receive a mixture of personalized, position-specific instruction that focuses on technical skill development and guided game-situational play against other IMG players. Our innovative program promotes athletic progression and taps into the expertise of our world-class coaching staff to give our players the chance to train like a champion and compete anywhere. To facilitate total athletic development, we offer performance training developed over the course of nearly 40 years that can integrate with sport training. Our goal is to help you reach your full potential in sport and life.
Program Structure
With teams at the post-graduate, varsity, junior varsity and middle school levels – and a unique developmental approach to each – the IMG Academy basketball program provides the nation's most effective training environment. Upperclassmen and post-graduates experience intensive, position-specific instruction that replicates how collegiate programs operate. Underclassmen and middle school student-athletes experience a training methodology focused more on development and foundation-setting for continued growth.
This training is forged through repetition and applied through local, regional and national competition. Ultimately, student-athletes become some of the most sought-after recruits for all levels of basketball, as IMG Academy has developed a deserved reputation for graduating skilled and mature student-athletes ready to succeed in college.
Program Accomplishments
Program Accomplishments
3 alumni selected in the NBA Draft since 2014
13 alumni competed in the 2016 NCAA Tournament
89 D-I commitments since 2012
National varsity team ranked as high as #3 nationally in 2016
Basketball Facilities
Basketball athletes have access to our 4 pro-style basketball courts, 65,000 square-foot Performance Center with a 12,000 square-foot weight room, covered turf facility and multiple strategy rooms for video analysis. All of our facilities are maintained at a professional standard to ensure the perfect training environment for every athlete.
College Matriculation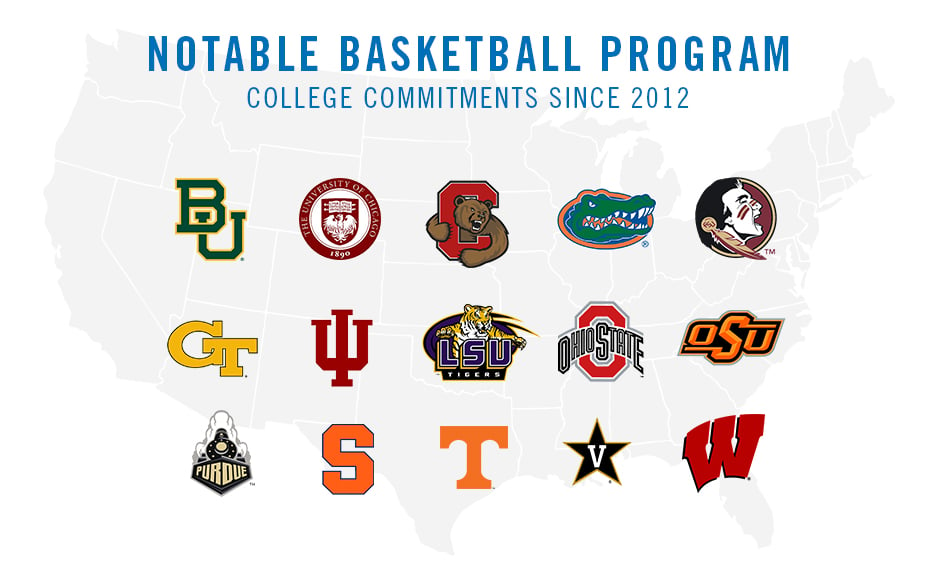 Athletic & Personal Development Training Methodology
Develops sport-specific strength, power, movement, speed, agility, flexibility, and conditioning. Delivered in a 10,000 square-foot weight room, covered turf area and a four-lane composite/turf track.
Pregeneration
Speed & Movement
Strength & Power
Flexibility, balance & core
Conditioning
Regeneration
Helps reduce the potential of injury and promotes continued healthy through massage, physical therapy and corrective exercises.
Sports therapy evaluation
Injury prevention
Proactive rehabilitation
Injury management / education
Optimizes personal nutrition to meet highlevel lifestyle and sport demands, with topics including optimal everyday nutrition, eating plans to meet sport-specific demands, body composition, energy balance and body weight issues, dietary supplements and hydration strategies.
Personal profile
Nutritional goals & strategies
Body framework
Nutrient intake & timing
Supplements
Develops an athlete's eye muscles and visual system to enhance hand-eye coordination, peripheral vision, reaction time and depth perception.
Visual activity
Vision strengthening
Visual application
Visual enhancement
Builds the mental skills – including confidence, focus and determination – that help athletes reach their goals and compete at their best on any given day.
Awareness
Energy management
Thought management
Teamwork
Application
Helps develop personal presence, communication skills, character building, accountability and conversational skill to provide more guidance and stability as a leader.
Communication
Personal presence
Character building
Accountability
Conversation / Interview skills
Placement
SAT/ACT Test
Recruiting
Applications
Teaches athletes the skills and characteristics that develop high-performance habits in both sports and life.
Personal responsibility
Career planning
Organization / Time Management
Adaptability
Contact Us & Learn More