download our admissions guide
Tennis Academy Overview
Established nearly 40 years ago, the IMG Academy Bollettieri tennis academy still sets the standard by which all tennis academies around the world are measured. Our tennis coaches and trainers customize individualized development plans and tournament schedules to set each athlete up for success to reach their peak potential. The size of the tennis academy allows for not only a dynamic and challenging setting, but also the most comprehensive atmosphere in which individuals always have another player above and below their level.
We've trained or hosted 16 ATP/WTA #1 players in the world and helped student-athletes commit to many of the highest-ranked D1 colleges & universities in the country. The resources on campus – technology, college placement, fitness, proactive regeneration and recovery, and internal competition - remain unrivaled around the globe. By creating a challenging environment that drives accountability, strength, and respect, the tennis academy continues to focus on making an impact on each individual to reach his best version as both a student and an athlete.
Program & Alumni Accomplishments
1st Japanese male to win a Junior Grand Slam Championship, Shintaro Mochizuki, 2019 Wimbledon Boys' Singles Champion
4 #1 ITF juniors in the past four years
52 Combined Grand Slam singles, doubles and mixed doubles titles
32 D1 commitments in the 2016, 2017 and 2018 signing classes
6 Boys Grand Slam singles champions
13 Eddie Herr Boys singles championships
32 Players who have earned top-10 ATP World Tour rankings
The IMG Academy Standard
It's the competitive atmosphere and the unmatched intensity and drive within the courts that creates such a balanced and supportive culture around the entire tennis program, which remains unrivaled around the world. Paired with pristine academics, the tennis program emphasizes that keeping up with school work remains as important as competing at the highest level. With structured and tangible plans in place throughout the week, student-athletes and coaches feel comfortable communicating regularly and build relationships with each other that lead to individual success as an Ascender. Fundamental instruction leads directly to internal Universal Tennis Rating (UTR) tournaments while on-court training and personalized coaching results in steady growth throughout the year. Technical and tactical elements remain the focus, along with footwork, conditioning, mental toughness, vision training, leadership, nutrition, and speed and agility training.
Student-athletes utilize video analysis to review key elements of their games, and they also have access to off-court training programs developed solely for their specific skills. At IMG Academy, it's not about your starting level or ranking but about your goals and where you finish. No matter if a student-athletes aspires to join a high-level D1 program, attend a university of the highest academic regard, or compete on the ATP and ITF tours, IMG Academy's program understands how to create a personalized track for every individual.
Enrollment & Evaluation Period
Coaches familiarize themselves with a student-athlete's game as much as possible before she(he) even steps foot on campus through UTR, national, USTA, and ITF rankings, and videos when applicable.
The coaches create a plan and structure for a player's training program during their first few weeks as an Ascender. During that period, players and coaches will work on the below:
A physical evaluation
Addressing anything technical or tactical that may need improvement
Understanding what works best for each individual and develop programs accordingly
Competitive match play
Coaches seeing how each individual's style of play develops from drills to competition
Individual, Weekly Plans
Depending on a student-athlete's upcoming tournament schedule or previous week's play, coaches will create individual, weekly plans inclusive of in-house match play, drills and training, and performance elements like mental toughness and vision training. In-house tournaments (described below) are incorporated into weekly plans dependent on the student-athlete's overall tournament and travel schedule.
Weekly plans incorporate the following methods:
Establishing an objective and goal
Coaches increasing or decreasing intensity/volume based on pre-post competition
Situation sessions based on a student-athlete's upcoming opponent(s)
Coach/player meetings following the week to understand performance, next week's focus, and next-steps for improvement
College Recruitment
With the way the game is evolving, college is a huge part of player development. The prestige of the tennis program creates an unrivaled atmosphere for the college recruitment process and offers endless opportunities both academically and athletically. No matter the path a student-athlete hopes to take, the tennis program, along with the College Planning and Placement department, outlines a strategic plan for success at the next level, inclusive of the below:
Standardized test prep
College applications from enrollment in grade 9 through graduation
Working directly with a specific college advisor to confidently reach next-level goals
Creating recruitment videos
Creating a list of schools that suit the student-athlete both academically and athletically
Communication with college coaches through visits to IMG Academy, official, and unofficial visits
Tournament Schedules & Program Environment
IMG Academy's tennis program encompasses the world's most diverse and well-rounded competition available anywhere around the world. Student-athletes work with their coach to develop a tournament schedule that fits their level and needs, as each player's pathway to success varies. With the ability to outline the year dependent on initial skill level, ranking, and qualifying ability, if applicable, student-athletes feel comfortable entering each tournament with a structure and a plan surrounding them. Additionally, depending on the event, coaches may travel to tournaments with players. Tournament schedules may include:
ITF Junior Entry Level, Advanced, and Pro level
COSAT
USTA (local and national)
UTR
Junior Grand Slams
IMG In-House Tournaments (details below)
In-House Competition
Because of the high level of tennis available from one location, including players from around the world, student-athletes are constantly challenged and have the ability to compete against different levels and styles at any time. Many of these in-house tournaments last throughout the year or for several months and build a camaraderie and culture around the program that's absolutely unique to IMG Academy.
UTR On-Campus Tournaments
Hosted 2-3 times/semester, Universal Tennis Rating (UTR) tournaments allow every student-athlete to plays matches to build their UTR rating. With every student-athlete competing and earning a rating, the level of play and intensity grows with each round. Although formal tournaments occur as scheduled, match play during practice oftentimes is scored through the UTR system, allowing student-athletes an opportunity to improve their rating year round. Format for the tournaments as follows:
Draws based on UTR rating with an average of 16 players per draw
Compass Draws
Guaranteed 4 matches
College coaches visit regularly during play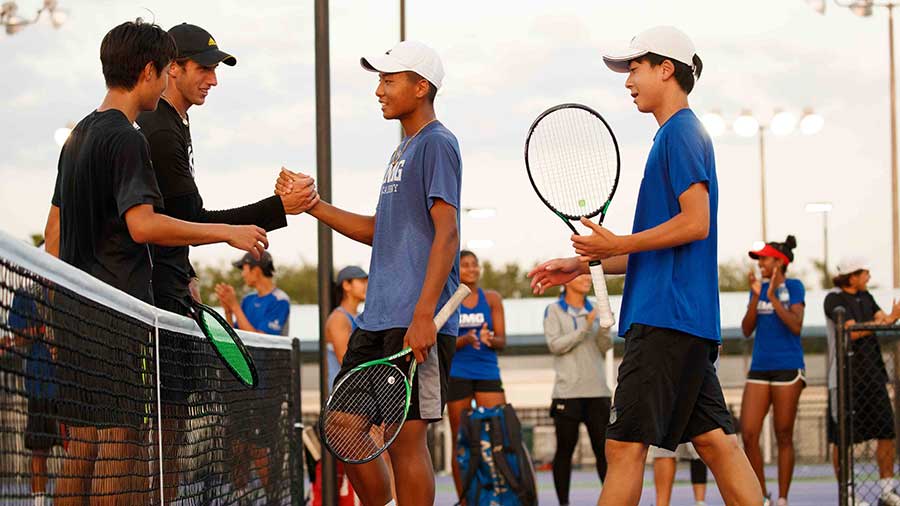 College Format Tournaments
One of the highlights of the year, these tournaments, hosted once per semester, create a college-like atmosphere on the courts because all levels and groups combine into teams for a chance to be the overall winner. Each team has a dedicated team name and coach, who can also provide on-court coaching during play. College rules apply, and the energy during this mid-week tournament rivals the intensity in many college towns. Singles and doubles play allows for student-athletes to gain experience in both areas, compete under pressure against any level, and play in an atmosphere where every point counts.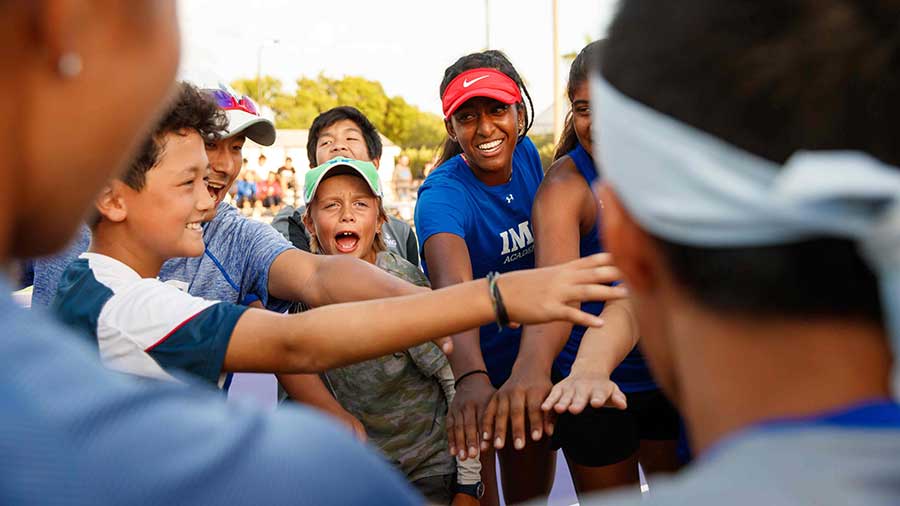 Masters Tournament
This 5-day event, hosted annually at the end of the spring semester, builds off of the prestigious tournament established years ago. With past winners including Maria Sharapova, Tommy Haas, and other top ITF, ATP and WTA players, student-athletes fight until the final day for a slot in the finals. Student-athletes look forward to this challenge every year, and the honor of being the Masters Tournament champion holds true for the year. Tournament notes:
French-style draw, with lower ratings competing first and higher ratings entering in later rounds
One girls draw and on boys draw, for two total winners and the ultimate showcase of international talent
Trophies awarded at the end-of-year banquet with the entire program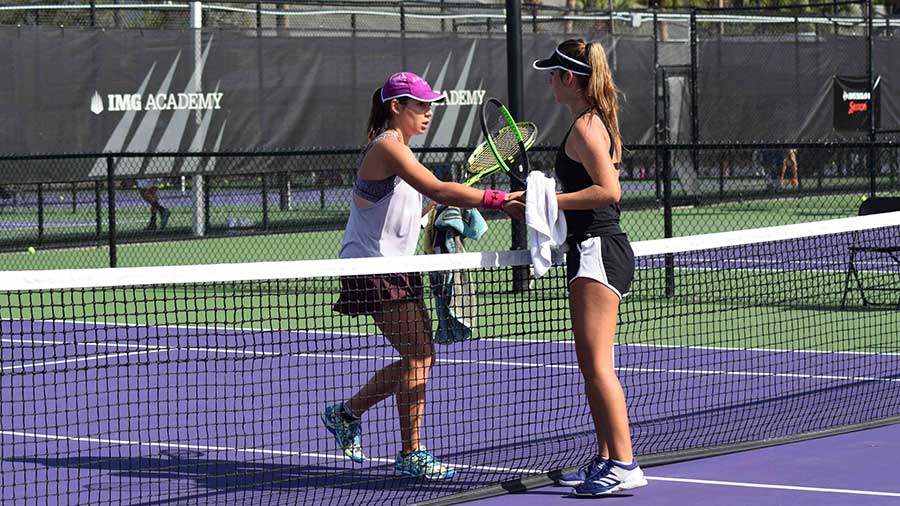 Continental Cup
A high intensity yet fun event, the Continental Cup produces an annual evening showcase where teams are formed based on continents and compete against each other in a four day, round robin tournament. The Laver Cup-like atmosphere produces top performances, and student-athletes and their respective team and coach compete through two boys singles, one girls singles, doubles, and mixed doubles matches. The entire campus is welcome to cheer on their continent of choice and build a unique energy. Student-athletes under 14 participate in the Junior Continental Cup, which offers them the opportunity to compete in their own event and aspire to playing in the main tournament.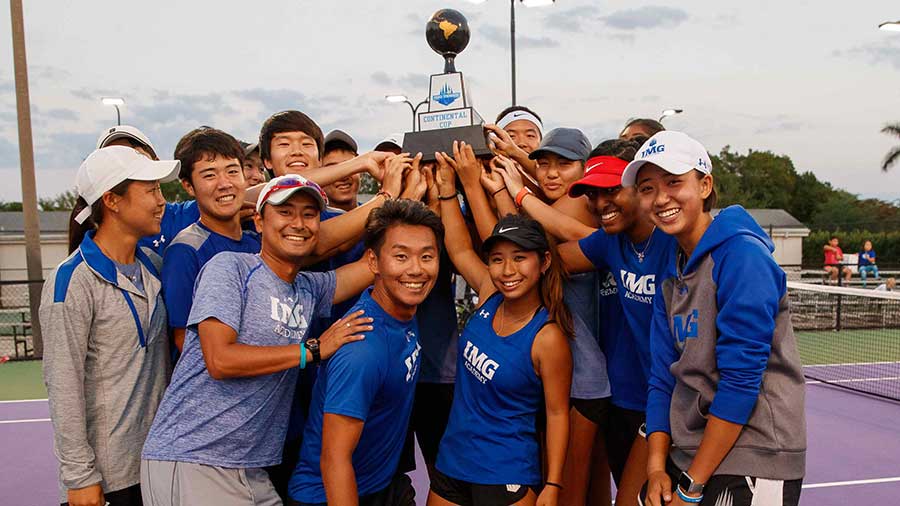 Eddie Herr Wild Card Tournament
Prior to the Eddie Herr Championships, this on-campus wild card event offers student-athletes a chance to play for a slot in their respective age division (BG12-18s) in the main event. Each draw's winner is guaranteed a wild card. This tournament is an opportunity to not only earn a spot in a world class event, but to also play in an intense atmosphere that also counts towards the UTR system as well.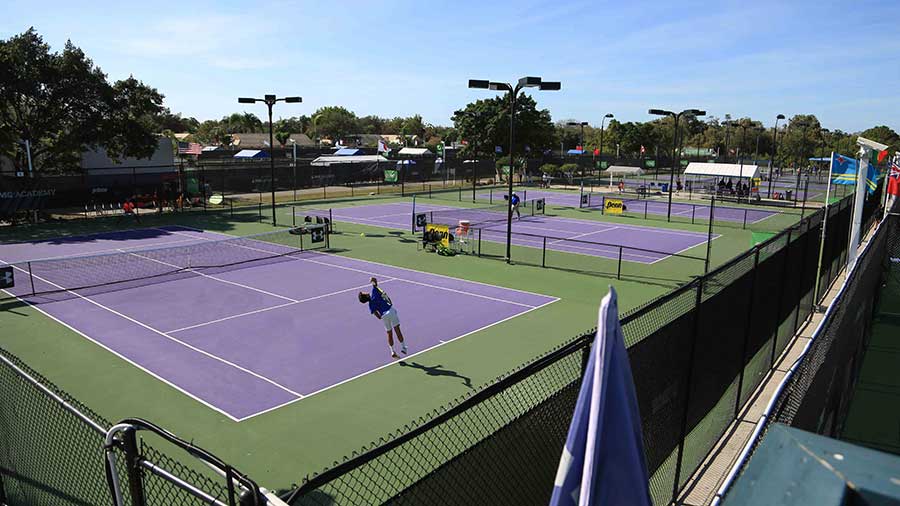 Athletic and Personal Development Integration (APD)
With customized training programs from IMG Academy's performance experts, tennis academy student-athletes are trained to excel at all areas of their game. Speed and agility, vision, and mental training give our athletes an edge on the court, while nutrition, endurance, and strength training help them to outlast the competition. Through this unique offering, the APD staff leads courses like Building Men of Character, with topics such as respecting oneself and authority figures along with facing certain challenges in society. Building men of character allows for our student-athletes to learn elements other than volley techniques and match time strategies.
Technology & Facilities
55 tennis courts (34 hard, 17 clay, and 4 indoor)

One dedicated PlaySight SmartCourt - track your practice sessions to an entirely new level with the IMG Academy PlaySight court, fully equipped with a console, video analysis and sharable content. Evaluate your game through video replay and streaming, service speeds, statistical data, tactical review, and stroke analysis. With coaches who can review the instant feedback and statistics regarding ball trajectory, movement, speed, spin and more, Play Sight aligns student-athletes with another added piece of technology to enhance on-court training.

Tennis-specific building with coaches' offices and rooms to analyze practice and match videos
Covered turf facility for speed and agility training with specific coaches who focus on working with tennis players
Performance and Sports Science Center
Mind Gym for mental conditioning sessions and vision training

Fit Lights, dynaBOARD, and cognitive perceptive technology

Yoga studio
Strength and conditioning equipment
Classrooms for nutrition and leadership training
Athletic training facility for recovery and regeneration, including hot and cold tubs
Modern Recovery for All
IMG Academy tennis student-athletes utilize the recovery tools and techniques designed by TimTam at the on-campus Recovery Center. Their professional-grade recovery tools were tested by doctors, physios, and coaches and help take student-athletes to the next level.
Tennis Academy Photo Gallery
Admissions
All prospective student-athletes must submit a completed application, including academic records and recommendations.
Tennis Program Tuition
For academic year 2018-2019, tuition ranges from $61,900 to $81,900 per year depending on age, boarding and grade of student-athlete. Go to our tuition page for the full sport-by-sport cost breakdown.
Tennis Camps
A great way to learn more about IMG Academy is to attend a camp and see first-hand how to take your game to the next level.
Notable Tennis Program College Commitments
Student-athletes receive individualized roadmaps for reaching their goal of playing their sport at the collegiate level. This work begins when a student enters upper school at grade 9 and above.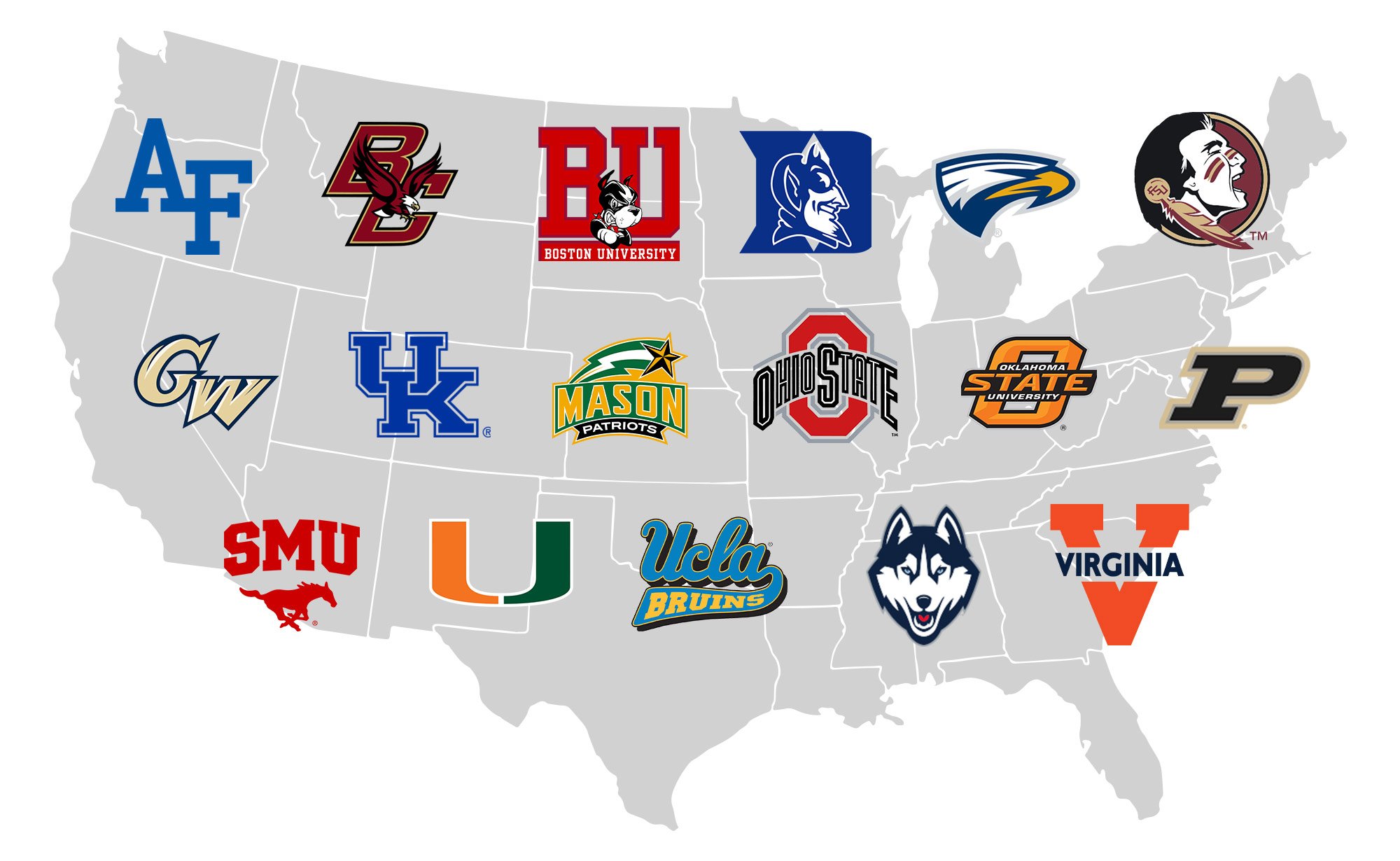 Testimonials

IMG Academy has made me mature not only on the court, but off the courts as well. I think it's the best place to the train in the world.

- Michael Mmoh

IMG Academy Alumni, WTP Pro

- Victor Li

IMG Academy Class of '15

- Alan Fernando Rubio

IMG Academy Alumni