5 ALUMNI HAVE WON NCAA CHAMPIONSHIPS SINCE 2011
About Our Program
If you want to play soccer at the collegiate level, nowhere can better prepare you than the IMG Academy soccer program. As the home of the U.S. Soccer U-17 Residency Program, IMG Academy has helped shape some of the nation's best players for more than 20 years. With a methodology that addresses all tactical and technical aspects of the game, IMG Academy develops student-athletes who are quick, strong, skilled and confident, while being fully prepared to compete in college from the day they step foot on campus. To facilitate total athletic development, we offer performance training developed over the course of nearly 40 years that can integrate with sport training. Our goal is to help you reach your full potential in sport and life.
Program Structure
With teams from U14 through U19 and post-graduate/PDL, including full participation at all age groups in the U.S. Soccer Development Academy, the IMG Academy soccer program teaches student-athletes both the technical skill and tactical acumen to create student-athletes who know how to play and perform in any competitive environment. Coaches, many of whom played at the highest levels, focus on speed of play and proactive thinking. Student-athletes are encouraged to be creative and take risks training to build confidence and break their own personal mold.
Off the field, student-athletes get cutting-edge training in Performance elements to improve strength, agility, endurance, nutrition, confidence and overall health. By combining internal/external competition, technical/tactical training and off-field performance development, student-athletes often become coveted prospects by some of the nation's best academic and athletic universities that know how prepared student-athletes are when they graduate from IMG Academy.
Program Highlights
Program Highlights
140 D-I commitments since 2012 (girls and boys)
2 Dallas Cup championships
2 U.S. Soccer Development Academy division titles
Hundreds of U.S. Men's National Team appearances by alumni/trainees
Soccer Facilities
Soccer athletes have access to 20+ multi-purpose fields, 65,000 square-foot Performance Center with a 12,000 square-foot weight room and a covered turf facility. All of our facilities are maintained at a professional standard to ensure the perfect training environment for every athlete.
College Matriculation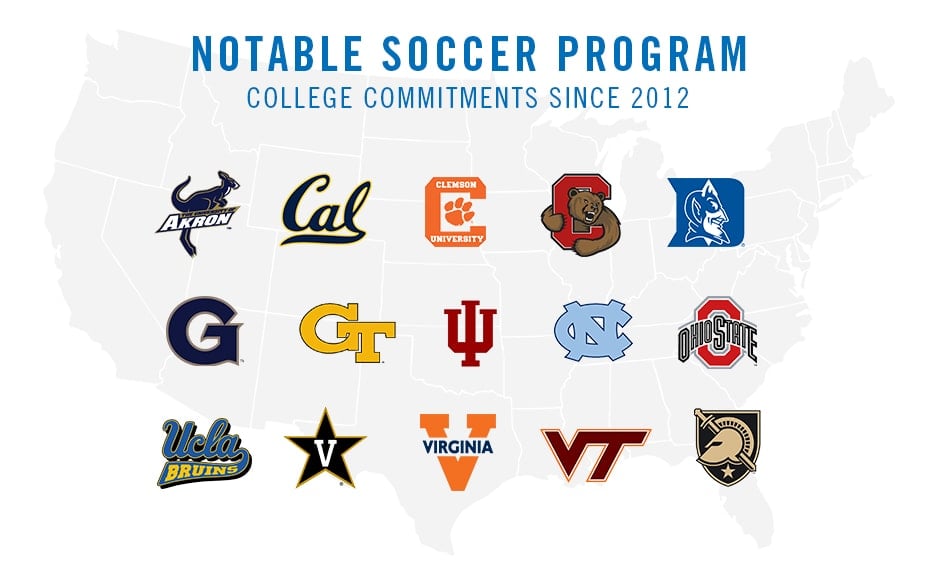 Athletic & Personal Development Training Methodology
Develops sport-specific strength, power, movement, speed, agility, flexibility, and conditioning. Delivered in a 10,000 square-foot weight room, covered turf area and a four-lane composite/turf track.
Pregeneration
Speed & Movement
Strength & Power
Flexibility, balance & core
Conditioning
Regeneration
Helps reduce the potential of injury and promotes continued healthy through massage, physical therapy and corrective exercises.
Sports therapy evaluation
Injury prevention
Proactive rehabilitation
Injury management / education
Optimizes personal nutrition to meet highlevel lifestyle and sport demands, with topics including optimal everyday nutrition, eating plans to meet sport-specific demands, body composition, energy balance and body weight issues, dietary supplements and hydration strategies.
Personal profile
Nutritional goals & strategies
Body framework
Nutrient intake & timing
Supplements
Vision training is not just about seeing – it's about doing. Athletes will train the eyes to perform more quickly and efficiently through eye muscle and visual system development.
Vision training enhances:
Hand-eye coordination
Peripheral vision
Reaction time
Depth perception
Vision Strength
Builds the mental skills – including confidence, focus and determination – that help athletes reach their goals and compete at their best on any given day.
Awareness
Energy management
Thought management
Teamwork
Application
IMG incorporates John Wooden's legendary "Pyramid of Success" into our own proprietary techniques to develop leaders with better communication skills, conversational skills, accountability, character building and personal presence.
Effective Communication
Authentic Leadership
Media Training
The Power of Collaboration
Interview Skills
Building Team Culture
Developing Identity
Placement
SAT/ACT Test
Recruiting
Applications
Teaches athletes the skills and characteristics that develop high-performance habits in both sports and life.
Personal responsibility
Career planning
Organization / Time Management
Adaptability
Contact Us & Learn More