download our admissions guide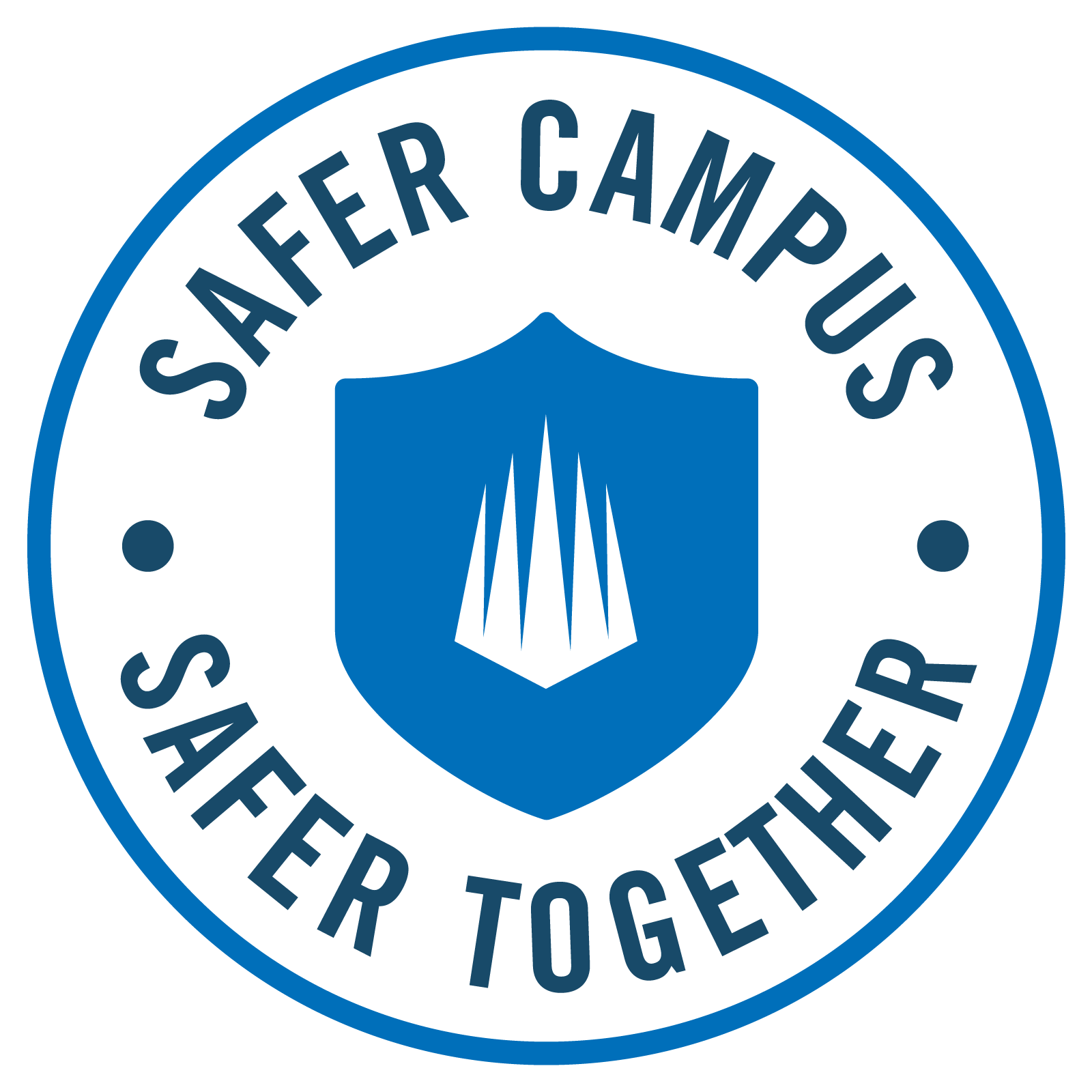 2020 - 2021 Health & Safety Information
IMG Academy is maintaining a safe and secure campus environment with continued guidance from Johns Hopkins All Children's Hospital, the Centers for Disease Control and Prevention (CDC), and local health officials. Our on-campus health & safety protocols include:
Limiting campus visitors
Proper social distancing guidelines
Cloth face coverings/masks inside and where appropriate
Additional touchless hand sanitizer dispensers across campus
Increased disinfecting efforts of all major touchpoints, including gym equipment
Camp and boarding school pod systems
New dining room mandates and table separations
Recommended self-isolation guidelines
Need more details on IMG Academy's Safer Campus Initiative or our Health & Safety protocols?
Learn more about Safer Campus Initiative
Soccer Academy Overview
IMG Academy's soccer program retains global recognition by developing student-athletes within an atmosphere that cannot be found anywhere else. From a training methodology focused on individual improvement and team strategies to an academic schedule and curriculum that mirrors collegiate programs, student-athletes have access to a wide network of resources that ensures they're supported throughout their career.
Accolades range from college commitments to programs such as Wake Forest, Virginia Tech, and SMU to national and professional league call-ups. IMG's total athletic development model and unparalleled support system provides student-athletes with an opportunity and a platform to reach their peak potential both academically and athletically.
Inside the IMG Academy Soccer Program
Soccer Program Structure
IMG Academy's soccer program is structured across 10+ months of training and continued development as opposed to one single season. IMG soccer student-athletes are introduced to the highest level of club-like competition and tournament play. As a boarding school with a club-like format, IMG's soccer program's structure optimizes the process by combining expert coaching and individualized development opportunities with an annual competition schedule.
IMG Academy's soccer program has defined age-specific workloads and training programs to ensure that student-athletes have a clear pathway to progress through the program and maximize their potential. Training includes team field sessions with an emphasis on decision making and tactical game management, individual development plan sessions inclusive of video analysis and team building / leadership, and games or scrimmages. The program has a defined attacking and defensive concepts and transitions as well as set plays and systems of play that are executed across every team.
Throughout the program, IMG soccer coaches leverage their professional and collegiate experience and ensure that each student-athlete has the necessary tools to achieve their goals. IMG soccer coaches focus on developing the "competitor" through holistic training that includes positive decision making, accountability, and a commitment to excellence. Each student-athlete within the program is competitive and possesses key skills such as game insight and the ability to read plays, as well as position-specific qualities.
The program's global environment prepares student-athletes for the cultural experience of competing in college. Student-athletes recognize the importance of a team atmosphere and develop lasting relationships with their teammates, coaches, teachers, and other support staff.
Student-athletes prioritize both academics and athletics as their schedule mirrors that of a collegiate program. Soccer training includes position-specific instruction as well as team strategies and foundational tactics, speed of play, and proactive thinking on the field. Skills such as strength and conditioning, communication skills, and leadership are also emphasized throughout the year to ensure maximized college recruitment opportunities.
IMG soccer follows 6-week cycles inclusive of the following development activities:
Team training
Individual training
Strength training
Athletic & Personal Development
Regeneration
Infusion movement
Student-athletes meet with their coaches to set up an individual development plan with overall long term goals, short term measurable objectives, and mutually agreed upon outcomes over the cycle. Following the 6-week period, coaches and players review their progress and set new objectives when necessary ahead of the upcoming cycle.
Development Process
Pre-season
Competitive Cycle
Post-Season
Measure & Evaluate
Prepare & Play
Review & Prepare
August - September
September - April
April - June
Physical testing
Tactical, Technical, & Functional intro
Individual development plans (IDP)
Competition & tactical phase
College showcase competition
Performance statistics collection & analysis
IDP formal review
Physical testing
Season review
Post-season preparation
Club Teams & U.S. Development Academy
IMG Academy's soccer program is comprised of teams ranging from U14 through U19 as well as post-graduate opportunities at the U18/U19 league level dependent on a student-athlete's age eligibility. The program offers full participation at all age groups in the U.S. Soccer Development Academy. The beginning of the season includes trials and a starting point for players to compete and then progresses into an atmosphere where student-athletes have the ability to transition amongst teams for the greatest development opportunities.
National Elite Teams (U15 - U18)
Participation in US Club and Florida Youth Soccer Leagues

Events such as the MLS EYDP, Sunshine Conference Academy Division, Capital Areas Soccer League (CASL), Bethesda, IMG Cup, IMG Showcase, and State Cups

Showcased to college coaches in a controlled environment
One at IMG Academy in December and one away in February

4 annual college showcases

Determined by coaching and technical staff for each team

U17 & U19 Super Group compete in additional college showcases
US Club Soccer's premier league (FNPL)

League winners invited to play in the Elite National Premier League (ENPL) playoffs, consisting of clubs from the NPL and ECNL

Opportunities to scrimmage National Teams during their team training visits to campus as well as being called to compete on teams as needed

In 2018, student-athletes competed with São Paulo FC, the Canadian Men's National Team, and US Youth National Teams
Development Academy Teams (U14, U15, U16 Pre-DA, U17, U18 Pre-DA, U19)
DA players must be cleared through the International Transfer Certificate (ITC) process and Fédération Internationale de Football Association (FIFA) in order to be able to compete.
2 annual showcase events in November and June

U15, U17, and U19 age groups
Showcased to college coaches in a controlled environment

35-40 games from Labor Day until Memorial Day
Participation in IMG Cup event
Players have an opportunity to join international trips, including an optional summer tournament with an academic component
Athletic & Personal Development
APD plays an integral role in the overall development of each soccer student-athlete. APD instructors focus on crucial areas such as mental toughness, strength & conditioning, nutrition, leadership, life skills and character development, and more to ensure that IMG Academy soccer student-athletes not only have an advantage over the competition but understand what it takes to succeed in college, on national and professional teams, and in life.
Learn More about APD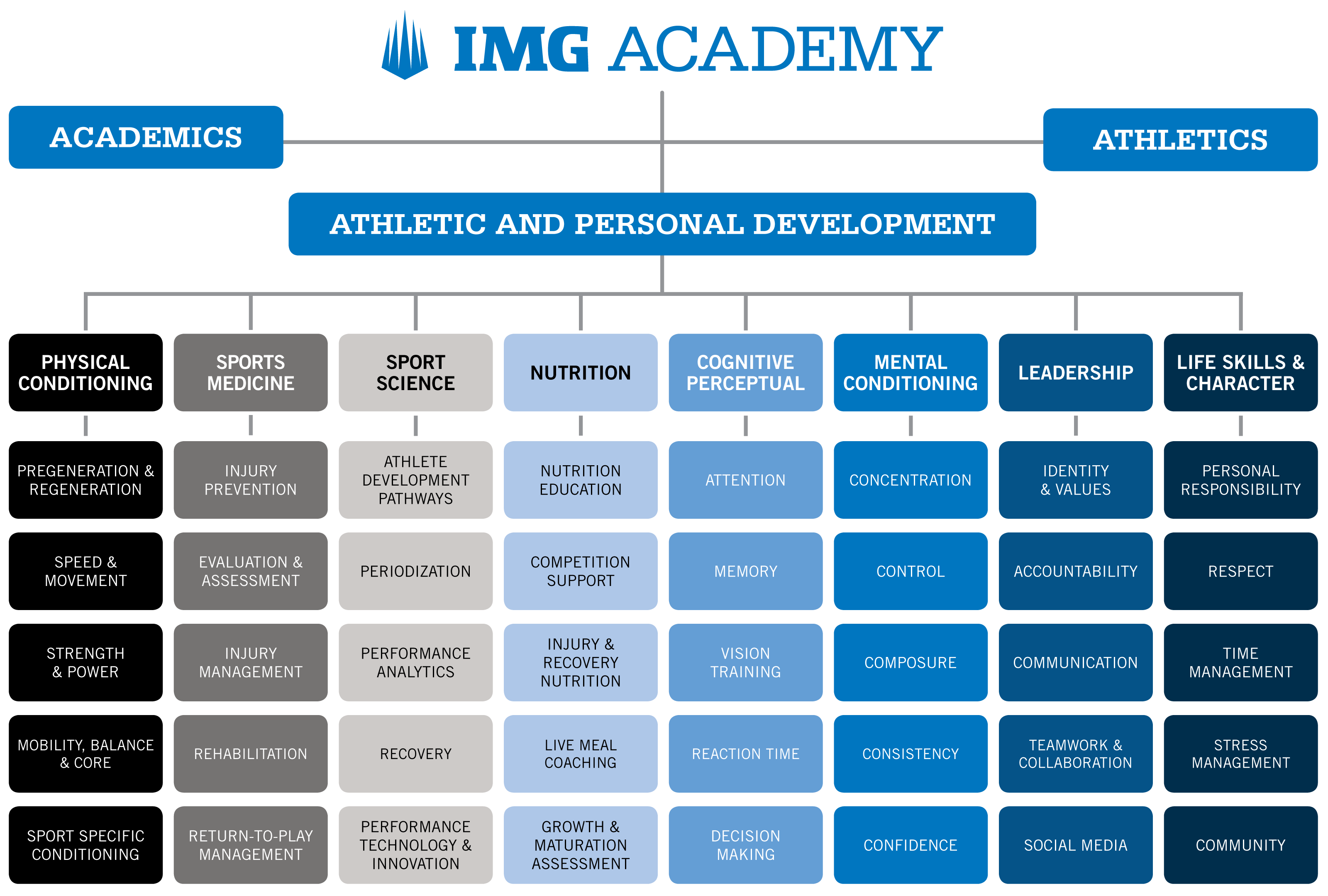 Academics
Grades 6-12
IMG Academy's collegiate-style schedule provides the ultimate preparation for student-athletes to succeed at the next level. Soccer student-athletes have the ability to select their courses and electives to identify their areas of interest ahead of enrolling into the collegiate program that best aligns with their academic and athletic goals. A dedicated college placement advisor as well as experienced coaches aid in the recruitment process from the beginning of a student-athlete's career through graduation and even beyond.
View Grades 6-12 Curriculum
Post-Graduate
Post-graduate soccer student-athletes benefit from a gap year at IMG without jeopardizing their NCAA eligibility. Post-graduates work with IMG's soccer coaches to create an individual development plan to improve physically, mentally, technically, and tactically. They also have access to standardized test prep courses for the SAT and ACT as well an opportunity to earn college course credit from IMG's campus. Post-graduates receive quarterly progress reports, prepare for college soccer ID camps, and may compete in certain U18/U19 leagues and games pending age eligibility and league exceptions.
Learn More about Post-Graduate
Program & Alumni Accomplishments
Indiana Vassilev Aston Villa, Premier League
2 Dallas Cup Championships
2 U.S. Soccer Development Academy division titles
10+ Players signed to professional clubs out of high school since 2013
150+ D1 commitments
200+ Professional clubs and National teams trained and competed on campus in the past three years including: US Men's, USYNT, Eintracht Frankfurt, Boca Juniors, Atlanta United, Concacaf Championships, ICC Futures, and more
2017-2018 U17 FNPL League Champions
6-Time MLS All-Star and 2007 Defender of the Year, Michael Parkhurst
Technology & Facilities
20+ grass fields for soccer practices and games
Soccer-specific stadium attached to a dedicated soccer building with locker rooms, meeting rooms for players and teams, and coaches' offices
Performance and Sports Science Center
Mind Gym for mental conditioning and vision sessions and foot-eye coordination training

Fit Lights, DynaBoard, and cognitive perceptive technology

Yoga studio
Strength and conditioning equipment
Classrooms for nutrition and leadership training
Athletic training facility for recovery and regeneration, including hot and cold tubs
Modern Recovery for All
TimTam is the official recovery sponsor of IMG Academy, and student-athletes have access to tools that take their game to the next level. TimTam's products were developed to provide student-athletes with effective training and fast recovery.
Soccer Academy Photo Gallery
Admissions
All prospective student-athletes must submit a completed application, including academic records and recommendations.
Soccer Program Tuition
For academic year 2020-2021, tuition ranges from $62,400 to $82,400 per year depending on age, boarding and grade of student-athlete. Go to our tuition page for the full sport-by-sport cost breakdown.
Soccer Camps
A great way to learn more about IMG Academy is to attend a camp and see first-hand how to take your game to the next level.
Notable Soccer Program College Commitments
Student-athletes receive individualized roadmaps for reaching their goal of playing their sport at the collegiate level. This work begins when a student enters upper school at grade 9 and above.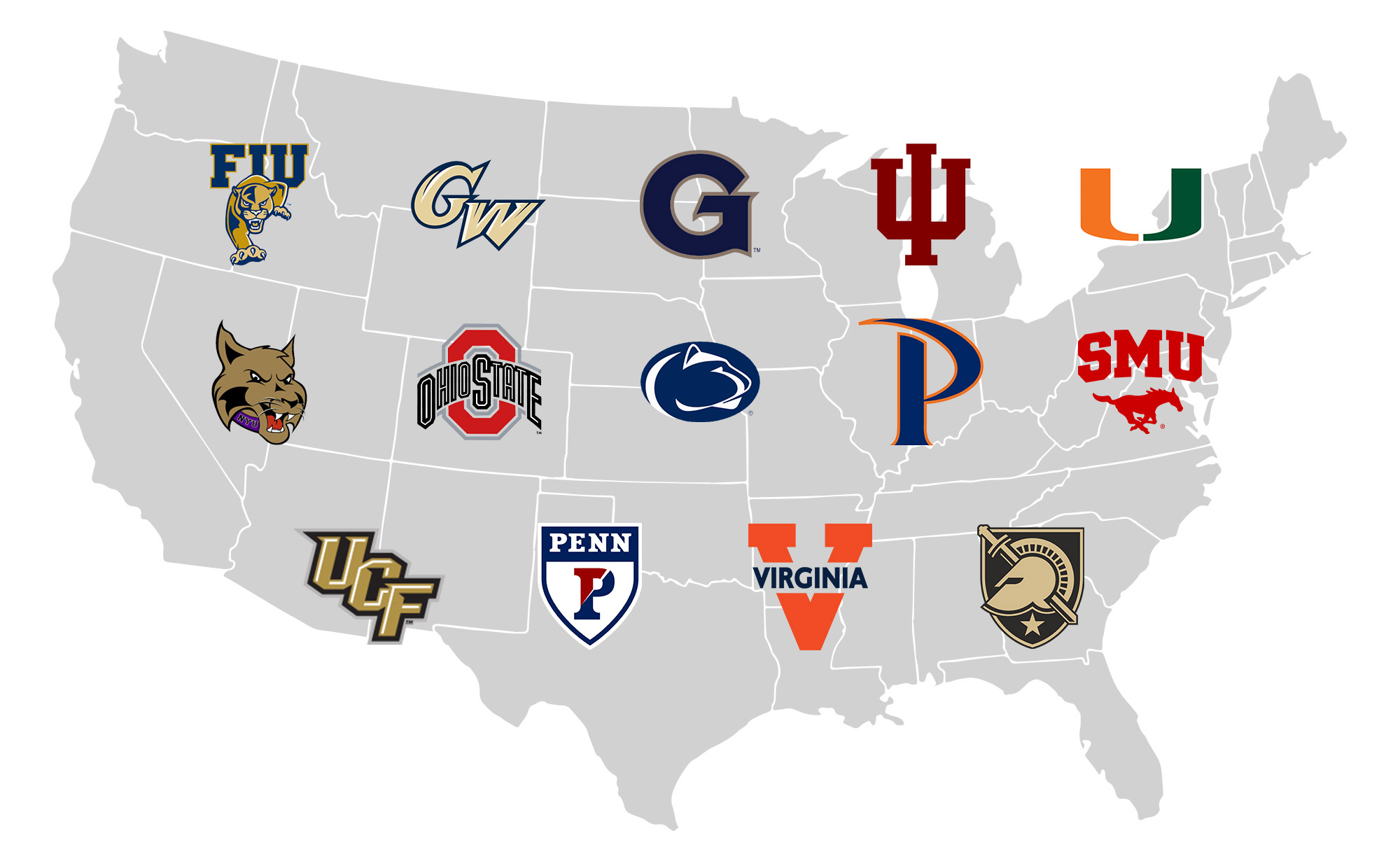 Testimonials

If I wasn't at IMG getting help from the soccer side and coaches, as well as the college counselors, I wouldn't be here right now… This is like my home now. I've been here for 5 years, doing my everyday routine at a different place is going to feel a little weird at first just because it's not IMG, but it's definitely exciting.

- Michael Cormack

IMG Academy Alumnus

I'm going to miss my brothers, for sure. And, it's not only the players that I had on my team, but it was almost every single guy at the Academy… Even though I'm here for myself, we're all helping each other succeed, so it's a special thing.

- Zach Zimmerman

IMG Academy Alumnus

It gives you more drive – way more drive, to try to be better than the person you're walking next to at school.

- Indiana Vassilev

IMG Academy Alumnus