115 D-I Commitments Since 2012
About Our Program
The IMG Academy Bollettieri tennis program pioneered the concept of a residency program nearly 40 years ago and still sets the standard by which all tennis academies around the world are measured. Through the program's focus on technical, tactical, physical, and mental instruction, we've developed champions at every level. With a program infrastructure that allows for student-athletes to grow and compete with others with similar skill sets, IMG Academy tennis represents the ultimate program for everyone from nationally ranked elite players with aspirations of being a professional to those who want to compete at all levels of collegiate tennis. To facilitate total athletic development, we offer performance training developed over the course of nearly 40 years that can integrate with sport training. Our goal is to help you reach your full potential in sport and life.
Program Structure
The surest pathway to maximizing tennis potential is through skill development and challenging competition. With a fluid, skill-based group system led by the industry's best coaches, the IMG Academy Bollettieri tennis program methodology produces tennis players who are talented and strategic on the court. Each student-athlete participates in a challenging competition schedule made up of UTR-sanctioned tournaments and match play, and receives a customized developmental plan that is executed through a ladder system in which the top players in each group advance to the next competitive group (utilizing the UTR level-based tournament system) for continual challenges.
By pairing on-court technical, tactical and competitive instruction with off-court Performance training, IMG Academy Bollettieri players develop into dominant forces at the collegiate and professional level.
Program Accomplishments
Program Accomplishments
10 worldwide #1 tennis players developed
51 combined Eddie Herr and Easter Bowl titles
4 NCAA singles titles won in the past seven years
115 D-I commitments since 2012
Notable 2016 ITF rankings of IMG student-athletes:

Girls:

Katie Swan: #2, Sofya Zhuk: #4, Fanny Stollar: #7

Boys:

Miomir Kecmanovic: #1, Michael Mmoh: #2, Duarte Vale: #24
Tennis Facilities
Tennis athletes have access to more than 50 tennis courts (hard, clay, and indoor), a 10,000 square-foot weight room, a covered turf facility, and meeting rooms for match strategy and video review. All of our facilities are maintained at a professional standard to ensure the perfect training environment for every athlete.
College Matriculation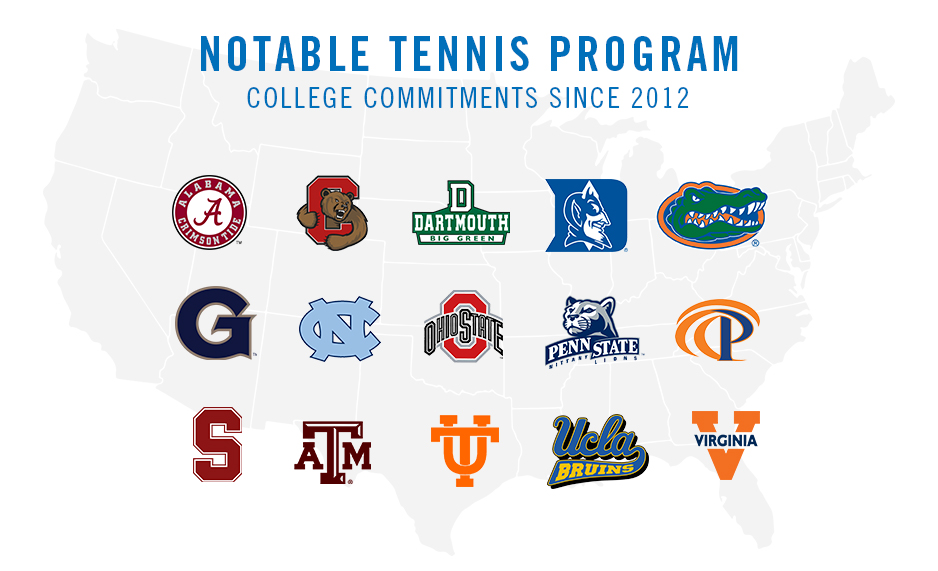 Athletic & Personal Development Training Methodology
Develops sport-specific strength, power, movement, speed, agility, flexibility, and conditioning. Delivered in a 10,000 square-foot weight room, covered turf area and a four-lane composite/turf track.
Pregeneration
Speed & Movement
Strength & Power
Flexibility, balance & core
Conditioning
Regeneration
Helps reduce the potential of injury and promotes continued healthy through massage, physical therapy and corrective exercises.
Sports therapy evaluation
Injury prevention
Proactive rehabilitation
Injury management / education
Optimizes personal nutrition to meet highlevel lifestyle and sport demands, with topics including optimal everyday nutrition, eating plans to meet sport-specific demands, body composition, energy balance and body weight issues, dietary supplements and hydration strategies.
Personal profile
Nutritional goals & strategies
Body framework
Nutrient intake & timing
Supplements
Develops an athlete's eye muscles and visual system to enhance hand-eye coordination, peripheral vision, reaction time and depth perception.
Visual activity
Vision strengthening
Visual application
Visual enhancement
Builds the mental skills – including confidence, focus and determination – that help athletes reach their goals and compete at their best on any given day.
Awareness
Energy management
Thought management
Teamwork
Application
Helps develop personal presence, communication skills, character building, accountability and conversational skill to provide more guidance and stability as a leader.
Communication
Personal presence
Character building
Accountability
Conversation / Interview skills
Placement
SAT/ACT Test
Recruiting
Applications
Teaches athletes the skills and characteristics that develop high-performance habits in both sports and life.
Personal responsibility
Career planning
Organization / Time Management
Adaptability
Testimonials

"I owe a huge part of my success in college to IMG Academy. The lessons and skills I acquired at IMG allowed me to be successful not only on the court, but off as well. Going straight to college from IMG, I knew how to be part of a team, get my studies done, work hard on the court and still have a social life. I was disciplines, but had fun."

- Mallory Cecil

Duke University graduate and 2009 NCAA Individual Women's Tennis National Champion
Contact Us & Learn More