The Original And Still The Best
---
Established nearly 40 years ago the IMG Academy tennis program still sets the standard by which all tennis academies around the world are measured. We've trained or hosted 16 ATP/WTA #1 players in the world and helped 62 student-athletes commit to D-I colleges & universities since 2012. Our goal is to help you reach your full potential in tennis and life.
Scroll Through key IMG Academy Tennis Program Details

About Our Program
Tennis was the original sport at IMG Academy. Led by Nick Bollettieri, the programs success laid the foundation for what has grown into one of the world's most renowned sports boarding academies. Since its founding, IMG Academy coaches have guided the development of 10 world No. 1 ranked players, including the likes of Andre Agassi, Jim Courier and Boris Becker. Today, top ATP World Tour players, such as Kei Nishikori, and numerous standout collegiate players continue to choose IMG Academy as their training home.

Program Accomplishments
Trained or hosted 16 ATP/WTA #1 players
Trained or hosted 32 men's players who have earned ATP top-10 rankings
Won 19 men's Grand Slam titles
Produced the highest-ranked Japanese player in the country's history (Kei Nishikori, #4)
Held the ITF boys #1 and #2 ranking in 2016 (Miomir Kecmanovic #1, Michael Mmoh #2)
ITF boys #1 ranking in 2017 (Kecmanovic)
62 D-I commitments since 2012
51 combined Eddie Herr and Easter Bowl titles (boys and girls)

Technology & Training
Track your practice sessions to an entirely new level with the IMG Academy PlaySight court, fully equipped with a console, video analysis and sharable content. Evaluate your game through video replay and streaming, service speeds, statistical data, tactical review, and stroke analysis. With coaches who can review the instant feedback and statistics regarding ball trajectory, movement, speed, spin and more, Play Sight aligns student-athletes with another added piece of technology to enhance on-court training.

Hear From Our Director
"We're training our students how to win and, more importantly, how to be better people. By bringing in top juniors and developing them into ATP/WTA touring pros and successful collegiate competitors while training champions like Kei Nishikori and Danielle Collins, 2-time NCAA singles champion, the program helps players to maximize their potential. We have the staff to uphold a 4:1 ratio while still priding ourselves on our size, as it's a big positive to have such diversity among the types of players, skills levels and cultures on our courts." - Rohan Goetzke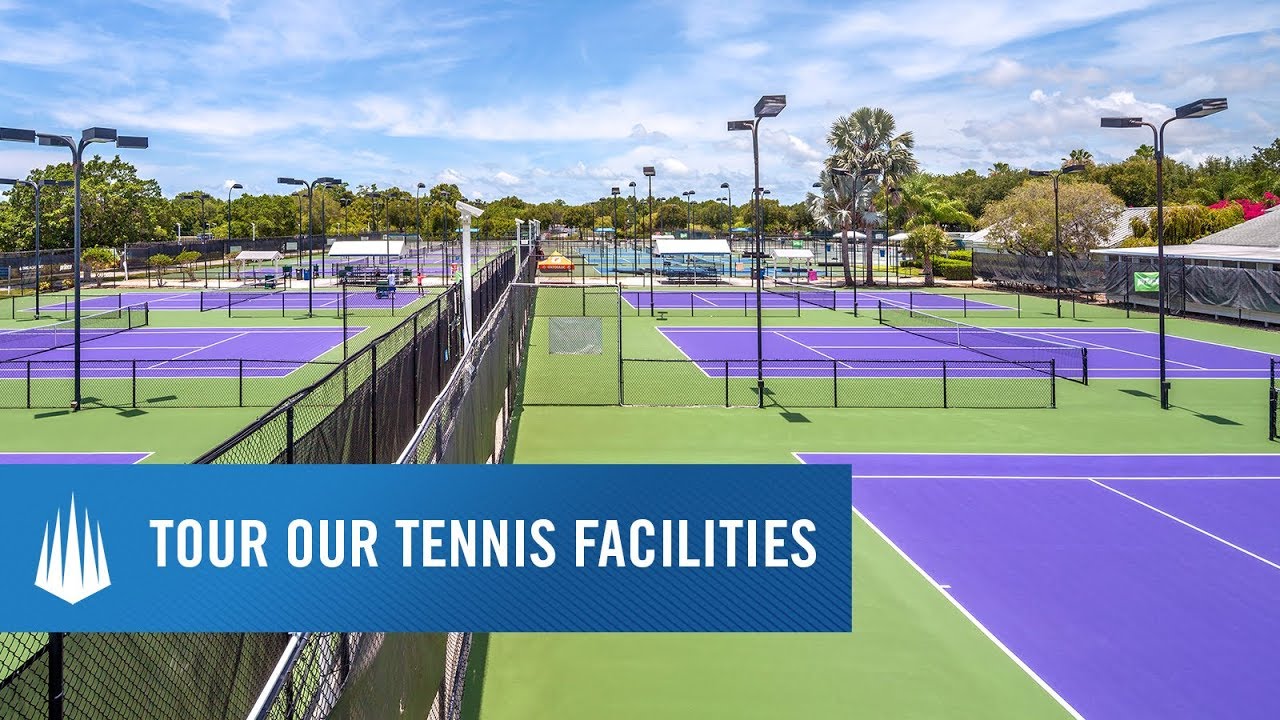 Tennis Facilities at IMG Academy
Boys tennis student-athletes at IMG have access to over 50 tennis courts, including hard, clay, indoor and a PlaySight smart court, a tennis innovation center, two 10,000 square-foot weight rooms, a covered turf facility, a mind gym and vision lab, and meeting rooms for match strategy and video review, all maintained at a professional standard.

Athletic & Personal Development
With customized training programs from IMG Academy's performance experts, tennis student-athletes are trained to excel at all areas of their game. Speed and agility, vision, and mental training give our athletes an edge on the court, while nutrition, endurance, and strength training help them to outlast the competition.
What People Have to Say About Our Program:
"IMG has made me mature not only on the court, but off the courts as well. I think it's the best place to train in the world"
"This summer, I spent 3.5 weeks at IMG, and it was a life changing event for me. My family and I live in Unteraegeri, Switzerland, but my mother grew up nearby in Sarasota. During my time at camp, the coaches gave me a lot of positive feedback. It is simply so professional, and they know what they are doing!! Due to my positive experience, I am enrolled to attend the Academy as a student-athlete as of January 2017!"
"We have been training here for 8 years, starting at the age of 6. This is our home. If we had to do it all over again, we definitely would follow the same footsteps!"
What's Happening In Tennis