180+ Rolex AJGA All-Americans since 1993
About Our Program
Simply, no golf school in the world can match the IMG Academy golf program's history of junior tournament success and college placement. It starts with coaches who complete the most rigorous of instructional certification programs and have years of experience coaching golfers of all skill levels. Combine customized technical instruction with our course management and competition methodology, as well as our Performance programs to increase core power, flexibility and focus/confidence, and the IMG Academy golf program develops golfers who can compete anywhere. To facilitate total athletic development, we offer performance training developed over the course of nearly 40 years that can integrate with sport training. Our goal is to help you reach your full potential in sport and life.
Program Accomplishments
Program Accomplishments
180+ Rolex All-Americans
10 Rolex Player of the Year winners
7 AJGA Scholastic All Americans
950+ junior tournament wins
13 USGA champions (U.S. Women's Open, U.S. Amateur, U.S. Women's Amateur, US Women's Four Ball, US Girls, U.S. Women's Public Links)
15 NCAA Champions (Both individual and as part of a team)
16 Jr. World Champions
8 Olympians
Golf Facilities
Golf athletes have access to our own 18-hole golf course, a double-sided driving range, putting greens and multiple target greens, as well as our 65,000 square-foot Performance Center with a 12,000 square-foot weight room and covered performance turf. All of our facilities are maintained at a professional standard to ensure the perfect training environment for every athlete.
College Matriculation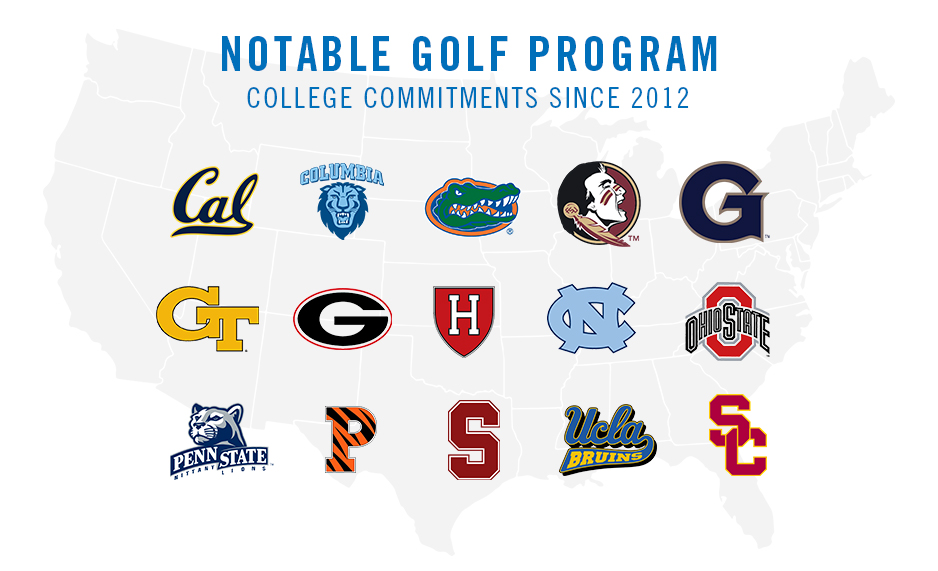 Athletic & Personal Development
Pregeneration
Speed & Movement
Strength & Power
Flexibility, balance & core
Conditioning
Regeneration
Sports therapy evaluation
Injury prevention
Proactive rehabilitation
Injury management / education
Personal profile
Nutritional goals & strategies
Body framework
Nutrient intake & timing
Supplements
Visual activity
Vision strengthening
Visual application
Visual enhancement
Connect With Us & Get A Guide