What are the advantages of boarding school versus traditional school?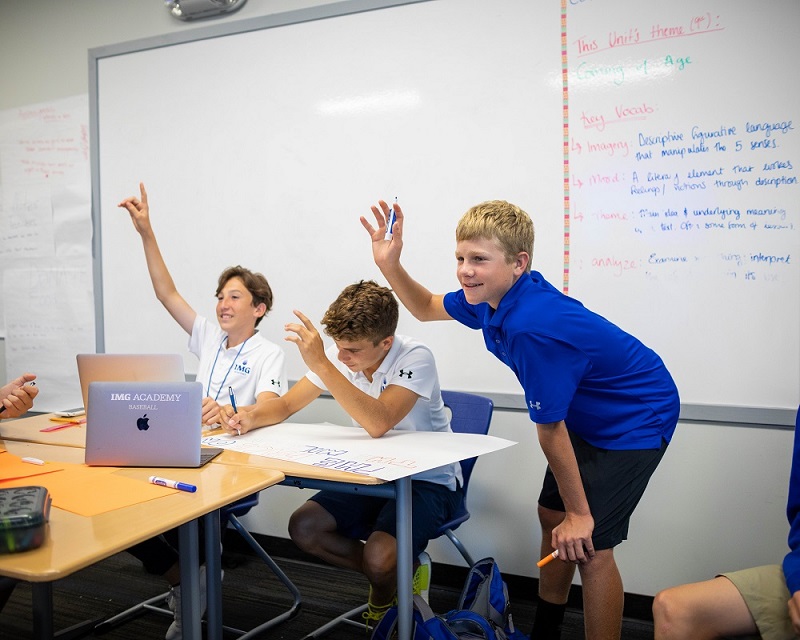 Are you interested in understanding the benefits of sending your child to a boarding school as opposed to a traditional public or even private school? IMG Academy, home to one of the best boarding schools for athletes, is an option you may be considering if your child aspires to be a collegiate or professional athlete. But, why should you even choose a boarding school instead of a traditional school? Let's take a look at some of the advantages:
Fewer Distractions: The boarding school environment is made for learning. Structured schedules, minimal access to television and video games, and an environment surrounded by peers who are also focused on their studies provides the perfect setting to concentrate on education.
Self-Reliance: Children who enroll at a boarding school quickly learn to be self-sufficient, including ensuring chores are completed, doing homework in a timely manner, and preparing for exams. They learn the value of managing their time, money, and resources, and, as a result, they tend to mature much faster than their peers who go to public or private schools. These independent living skills will continue to benefit them in college and as an adult in the "real world."
Diversity: Boarding school students come from a wide range of backgrounds, so they are going to classes, living, and eating with individuals from many different cultures. This helps them to learn acceptance, be respectful of differences, and could even lead to learning the basics of another language as well as other cultures' customs that may provide future benefits in the workplace or socially. 
Positive Peer Influence: Excelling academically and striving for the highest level of success may not typically deemed "cool" in traditional schools, but, in boarding schools, it most certainly is. According to statistics from The Association of Boarding Schools, 75% of boarding school students say that their peers are motivated versus only 49% of public school students polled with the same question. Boarding school students want to be at school and thrive in their environment, and they also want to attend college. These students will work hard and will also motivate their peers to do the same.
Character Development: In the boarding school environment, characteristics like honesty, respect, and dedication are valued at an incredibly high level. Children who go away for school will also develop confidence and resilience - traits that will benefit them throughout their entire lives.
Preparation for College Life: When boarding school students enter college, they have already been exposed to the unique experience of living away from home. They've already developed skills such as self-discipline, responsibility, and independence, so they can focus on their studies and extracurricular activities rather than getting acclimated.
Smaller Classes: A public school classroom can have 30 or more students in it while boarding school classrooms are typically about half the size or smaller. With such a small number of students, everyone will be inclined to participate, and teachers are able to provide individualized teaching for students who need help in specific areas.
Passionate Teachers: Boarding schools are typically staffed by teachers who have a higher level of education than those employed by public schools, and they are also incredibly passionate about the subject they're teaching. As a result, they will challenge their students while also being a valuable resource regarding information pertaining to their subject. 
World-Class Facilities: Because boarding schools are privately funded, they have more money available to allocate to learning, boarding and residence halls, and sports facilities. Libraries and media centers are also better outfitted at boarding schools, offering a wider range of books and print materials as well as additional cutting-edge technology. 
Strong Athletics Programs: The best boarding schools for athletes will have excellent sports facilities as well as highly competitive teams. If your child aspires to be an athlete, there will be a team (or more) for them to join, or, if your child is more of a sports fan, there will also be plenty of exciting sporting events for them to attend. Boarding school students also spend an average of 12 hours per week in their sports programs, versus public and private school students who spend an average of 9 hours per weeks in their sports programs, according to The Association of Boarding Schools.
IMG Academy's Josh Pridokas explains, "The goal for the majority of our student-athletes is to attend college, and in most cases be a student-athlete at that level. As a boarding school primarily filled with student-athletes, we strive to create an environment and experience that simulates what they might expect at a college or university. We best prepare them for that not only through athletics and academics, but also through acclimating them to living on campus – often away from their family, away from their friends back home, and in charge of their own schedule. It's tough to replicate that comprehensive experience outside of a boarding school setting."
Sending your child to a boarding school has a wide range of both immediate and long term benefits. By sending your child to one of the best boarding schools for athletes, such as IMG Academy, not only will they receive a stellar education, but they will also receive some of the best athletic training available for high school athletes who plan to further their careers while also developing characteristics that benefit them throughout their entire lives.